How Long Does it Take to Get Verified on Binance?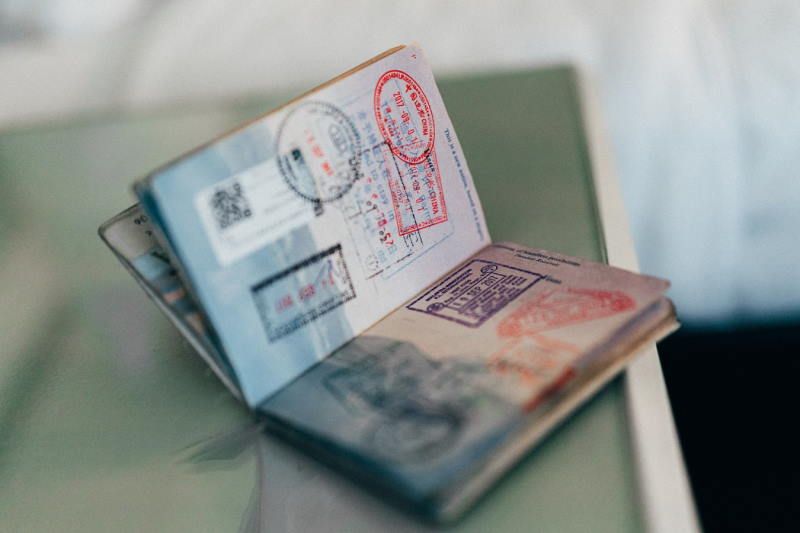 If you are new to the cryptocurrency space, you might have discovered that "Know Your Customer (KYC)" procedures are such a big deal. Thanks to stricter regulations, it is now almost impossible to use most centralized exchanges without completing your KYC.
While some exchanges may allow customers to enjoy some basic features without KYC, others require some form of identity verification before you can deposit or even trade. In the case of Binance, the world's largest crypto exchange, users can enjoy withdrawals of up to 2 BTC daily without any verification. All you need in this case is an email address.
An unverified account is perfect for casual investors who are not looking to control large amounts of cryptocurrencies.
In this article, I am going to cover everything from why verifying your account is important to how to complete Binance verification, how long it takes, setting up 2FA to protect your account, and what to do if your verification fails.
Without further ado, let's dive right in…
Why is Binance Verification Important?
The anonymous nature of cryptocurrencies has made them a honeypot for the transfer of illegal funds. To keep tabs on who is sending what and for what purpose, most governments now require exchanges to verify the identity of their customers.
A clear case study in this regard is the stiffer KYC stance of France towards crypto transactions. 29 people were arrested in the country in September 2020 in connection with using cryptocurrencies to fund Islamist extremists.
Well, unless you have something to hide, basic level verification shouldn't be a problem. Besides, Binance's withdrawal cap of 2 BTC should be enough for most average traders and investors.
Some of the benefits that come with a verified Binance account include an increased withdrawal limit of up to 100 BTC of crypto daily, increased deposit and withdrawal limits for certain fiat channels, and the ability to trade fiat currencies.
How Long Does Binance Verification Take?
Completing your Binance verification is actually quite easy. But on the question of how long it takes to get verified on the exchange, there is no one-answer-fits-all response. The verification time varies depending on how chocked up support staff is. Although it is possible to get approval in a few minutes, it is also possible that you could wait up to a week. But hey, you can still trade and withdraw up to 2 BTC without verifying your account.
Binance Verification Time
You have a 15-minute window to complete the entire identity verification process on Binance. It includes filling in your basic info and completing the photo verification. During the verification process, ensure you do not refresh your browser.
The second thing to note is that if your verification fails the first time, you can try again 9 extra times within 24 hours. That is 10 trials per day. Peradventure your application to verify your identity is denied up to 10 times within 24 hours, you will have to wait for another 24 hours before you can try again.
2FA Binance
Taken literally, identity verification is more beneficial to Binance than to you the customer. The only benefit you get to enjoy is the increased withdrawal limit. Binance, on the other hand, stays protected and will be able to report any money laundering incidents to the authorities.
Two-factor authentication, aka 2FA, is a secondary layer of protection on your Binance account. Beyond your email address and password, you can set up 2FA by enabling SMS authentication or Google authentication. It is also worth stating that you cannot verify your identity on the exchange without first enabling 2FA.
So, I'll quickly run through how to setup 2FA for your Binance account before showing you how to verify your identity.
Binance Google Authenticator
To activate the Binance Google authenticator, follow the simple steps below.
Open your Binance account and click on "Security" from the icon dropdown menu.
Locate the 2FA section on the security page and click "On" to begin the authentication process.
Download the Google Authenticator app to your PC or mobile phone. Alternatively, install the authenticator as a Chrome extension if you are using Chrome browser.
Copy and paste the key provided by Binance or simply scan the QR code with your mobile phone. This key is very important so ensure you keep it safe.
Backup your key by writing it down on a piece of paper. Ensure that you store it in a secure location.
The last step is to activate your Binance Google Authenticator and then click on "Submit"
Check out our ultimate beginner's guide to find out more on how to create and secure your Binance account.
Binance Google Authenticator for a New Phone
For emphasis, the steps above are the same even if you purchase a new phone or device. If you've never activated 2FA on your Binance account, refer to the section above. However, if you have and somehow lost your old device all you need to do is to install Google Authenticator on your new phone and then insert the key you backed up when enabling your 2FA. Things can however get really messy if you've lost your 2FA. Your only option, in this case, is to contact Binance Customer Support.
Binance Email Change
Life happens and you may lose access to your email or your current email becomes compromised. If you want to change your Binance email address, follow the steps below.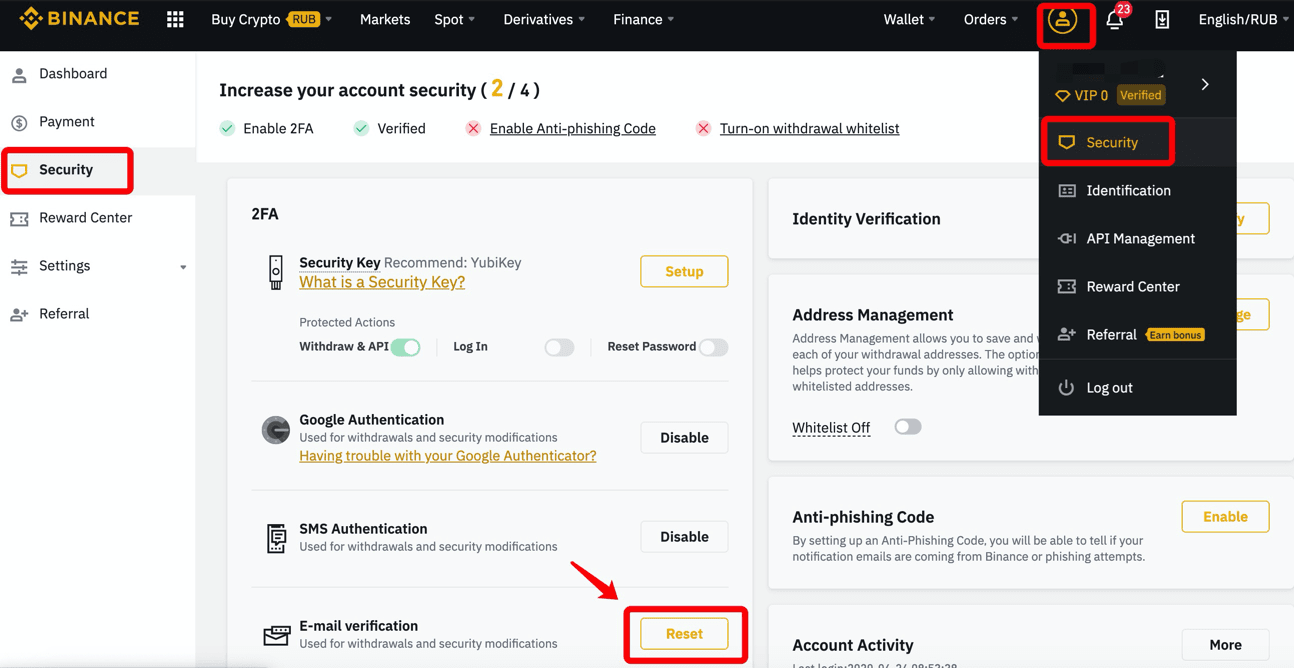 Open your Binance account, click Security from the profile dropdown menu
Locate the Email verification section and then click on "Reset"
Read all the reminders and click the "Next" button to begin the process
If you can still access your old email, click on "Get Code." A 6-digit verification code will be sent to your email. Enter the code on Binance and click on "Submit."
Next, you will be prompted to input your new email address and password.
Another verification code will be sent to your new email. Enter the 6-digit code and click on submit. Your new information will be reviewed and you will be notified once approved.
On the flip side, if you do not have access to your old email. Select "Security verification unavailable?" in step 4 above. You will have to use either your SMS or Google authentication to complete the process.
Binance Phone Number
In addition to being able to create a Binance account using your email address, the exchange allows you to create an account with your mobile number. The steps are relatively the same. To make your account even secure, you can decide to integrate SMS authentication on the same number. This way, whenever you need to log in or make a withdrawal, a 6-digit code will be sent to you via SMS. More on this in our ultimate Binance beginner guide.
Binance SMS not Working
Even after setting up SMS authentication, there are a number of reasons why it may not work. This can be really frustrating if you are in the middle of an important transaction. Some primary culprits include poor network signal or a nearby firewall or call blocker app. You can try moving to a new position, restarting your mobile phone, or simply opt for voice verification.
If the steps above do not solve the problem, then consider contacting Customer Support.
How to Complete Your Binance Verification
To complete your Binance identity verification, visit the open your Binance account (if you don't already have an account click here to create one). Click on the profile icon on the dashboard and navigate to "Identification."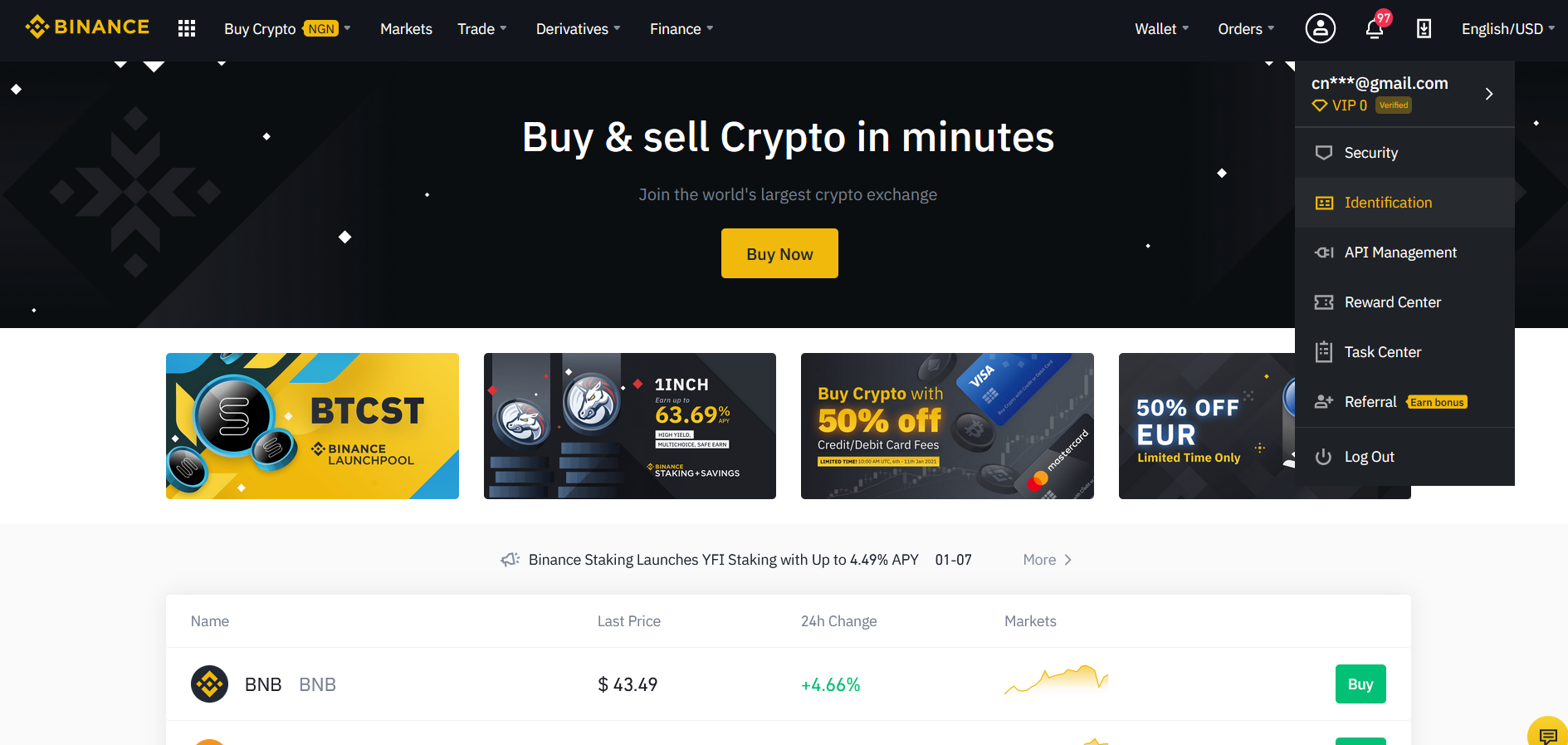 Upon clicking on "Identification," you will be redirected to a page where you can verify your identity.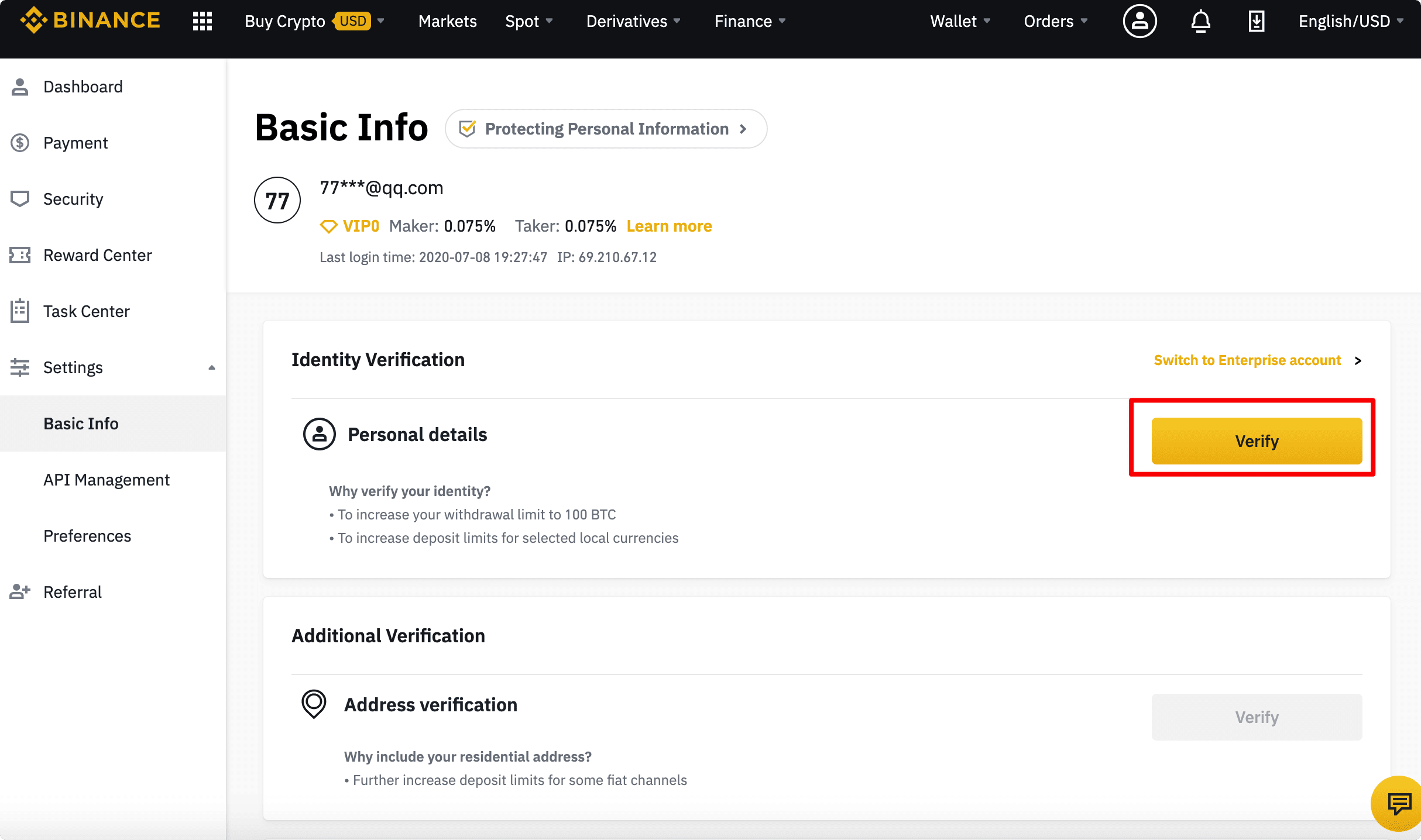 You will notice that Binance has two levels of verifications – personal details and address verification. Providing your data increases your withdrawal limit to 100 BTC daily. Follow the steps below to complete your Binance Verification
Click on "Verify" from the personal detail section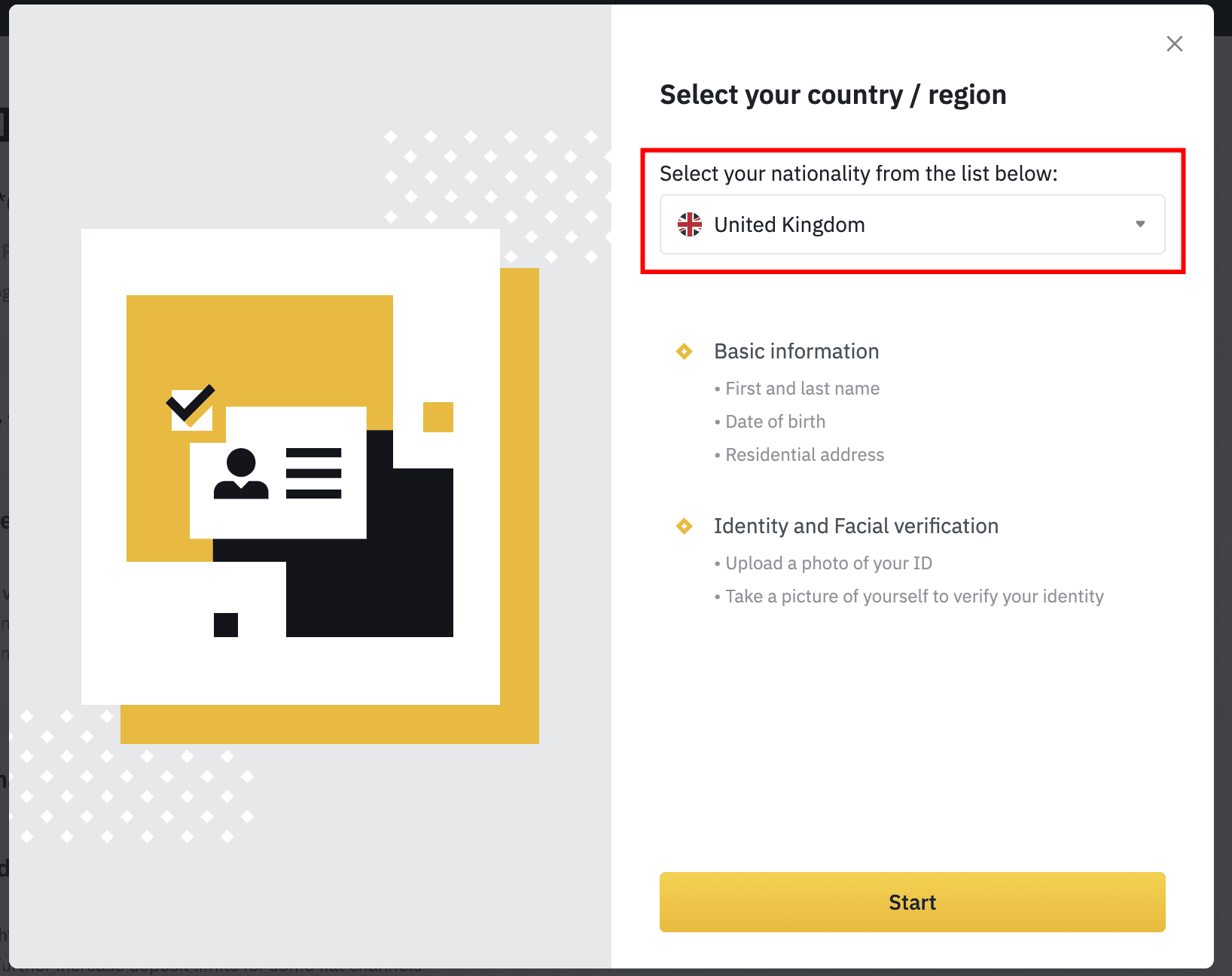 2. Select your nationality from the dropdown menu and click on "Start"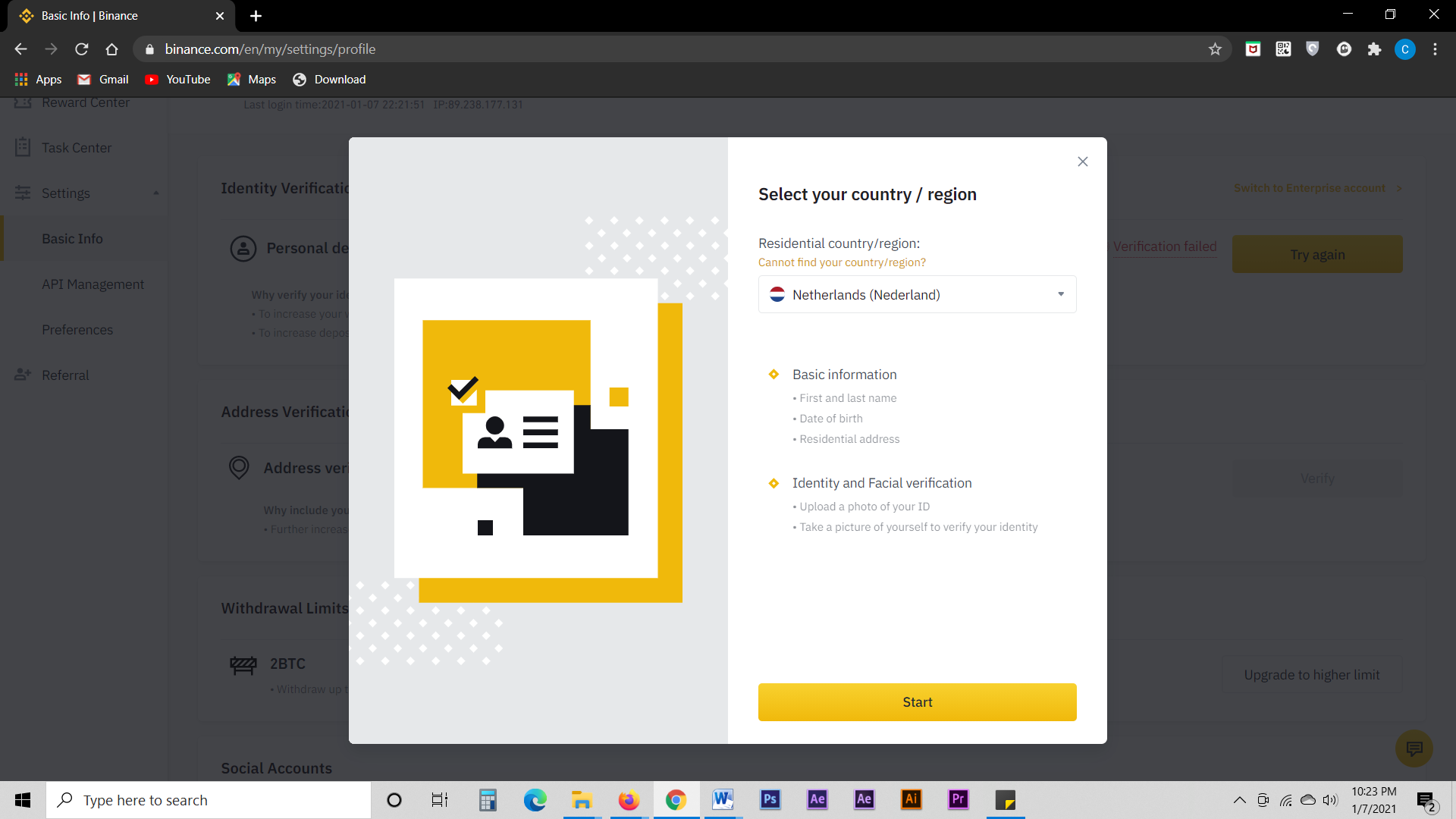 Depending on your selected nationality, you will be given a list of the information you will be required to provide. It is important to ensure that all the details provided are consistent with your ID documents. Once confirmed, changing it is impossible.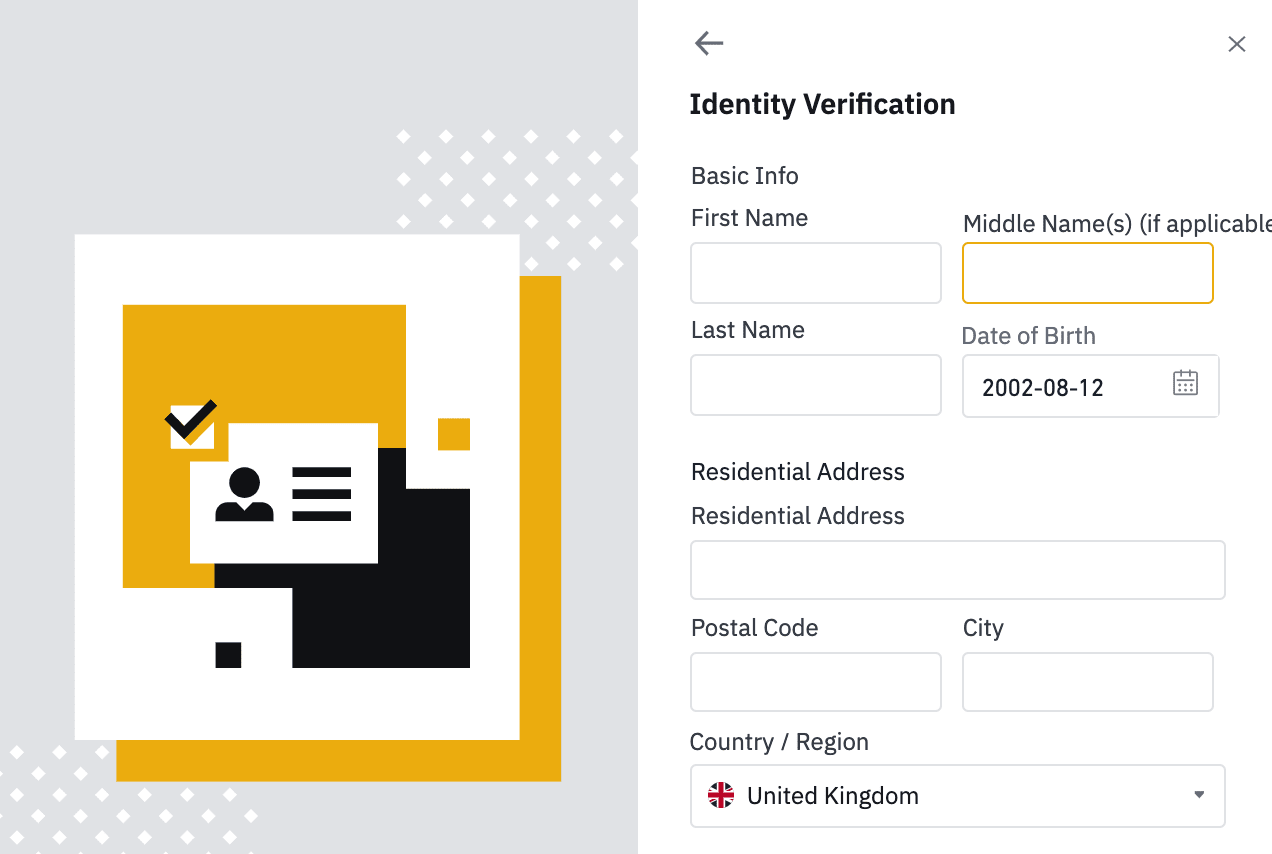 3. Fill in the required details such as "First name", "Last name", and "Residential address" on the next page and then click on "Submit & Continue."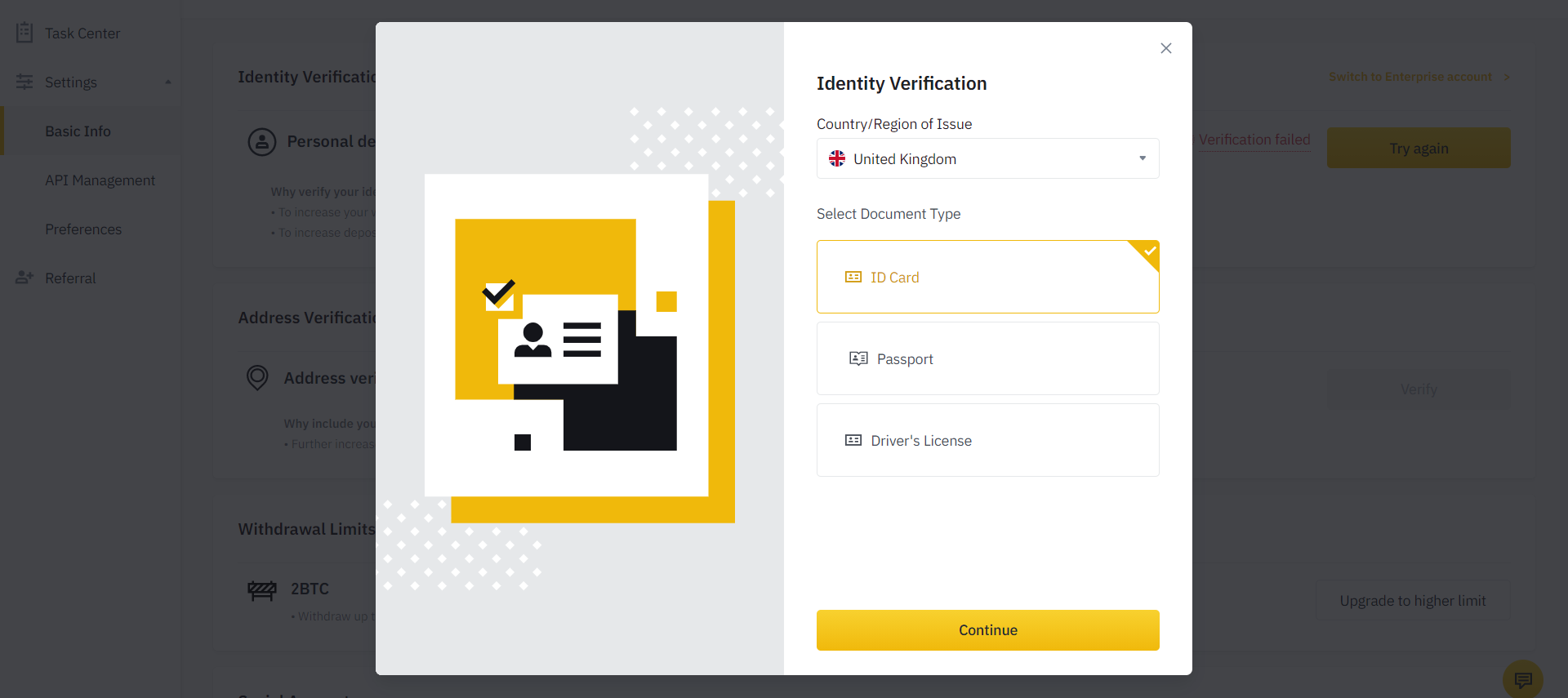 4. On the next page, select your document type. It could be an ID card, a passport, or your driver's license.
5. You will be required to take a photo or upload images of the front and back pages of the document.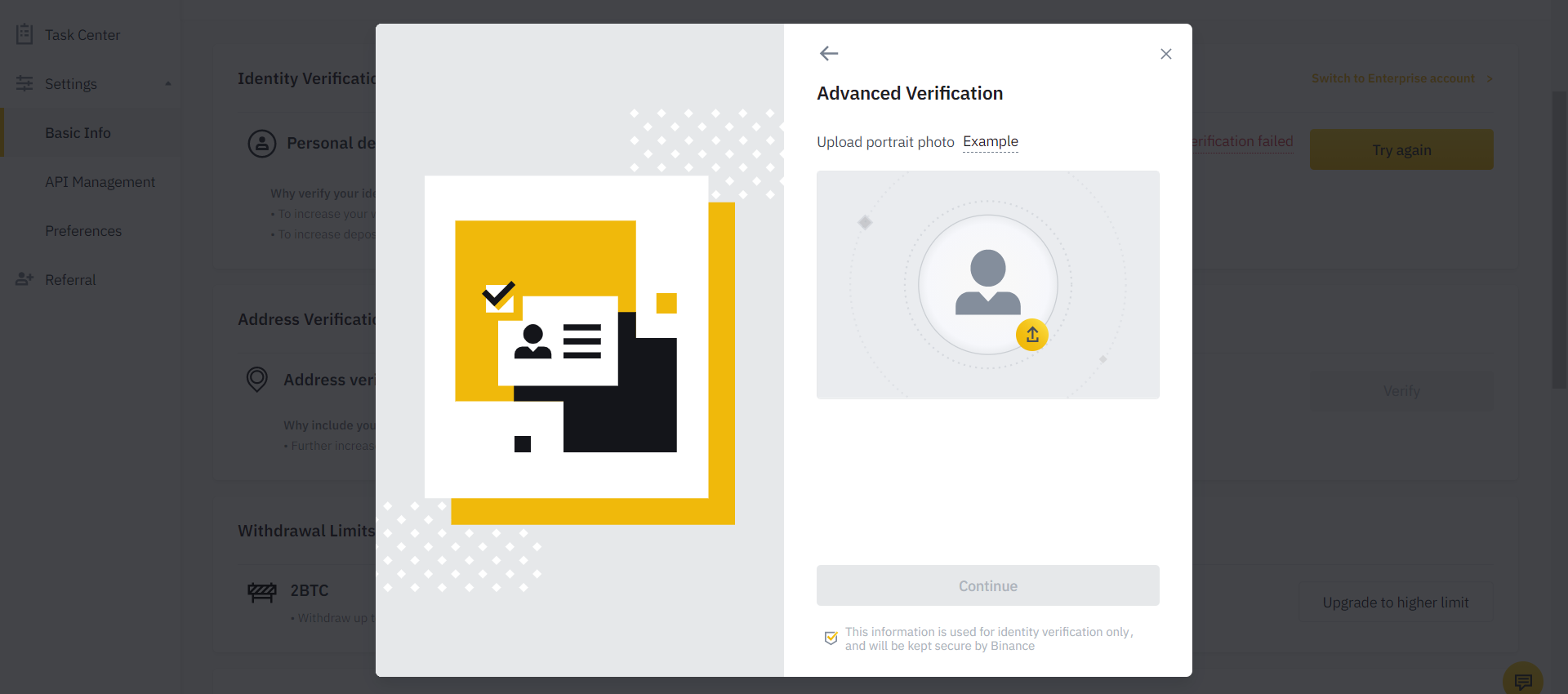 6. Next, you have to upload or take a portrait photo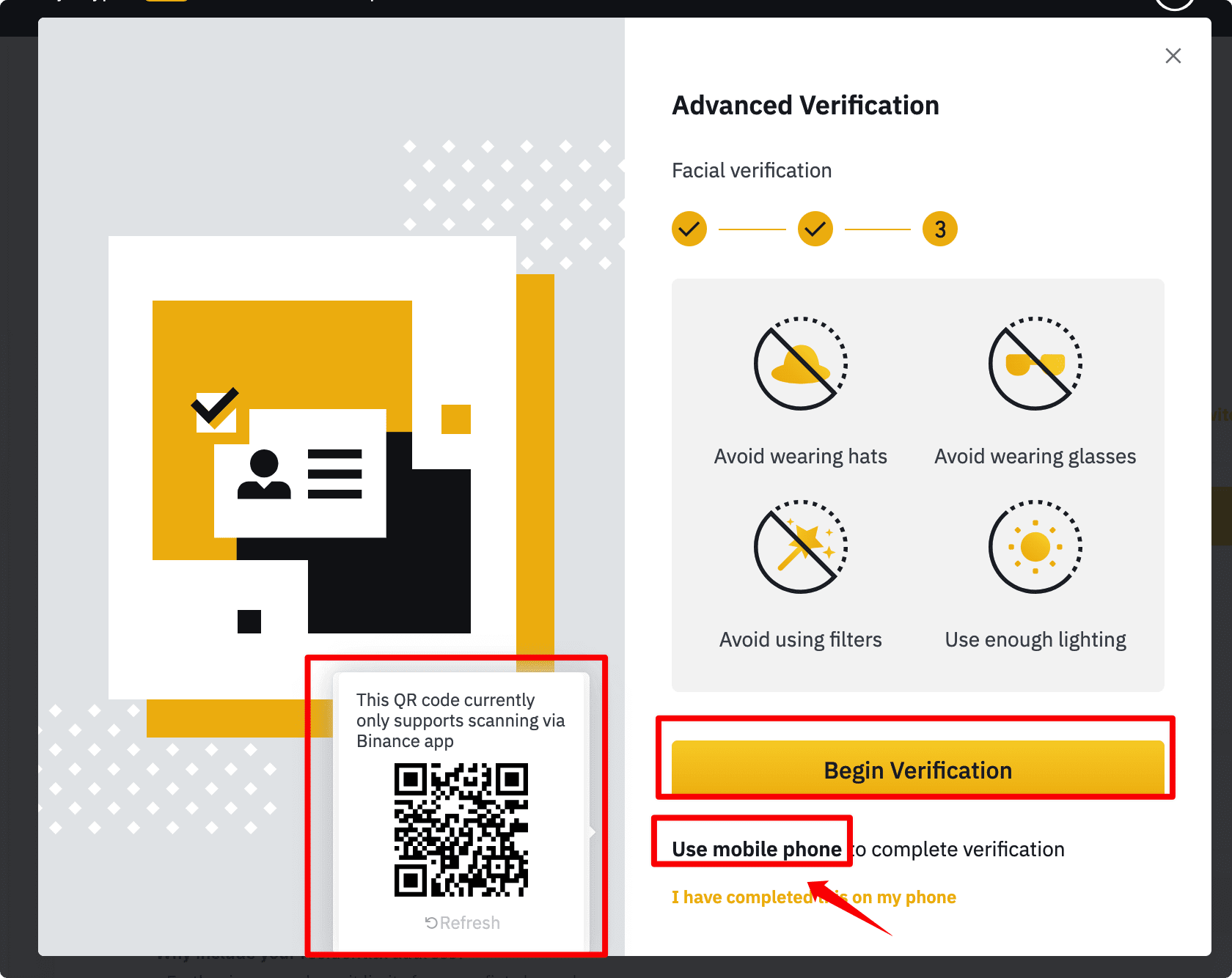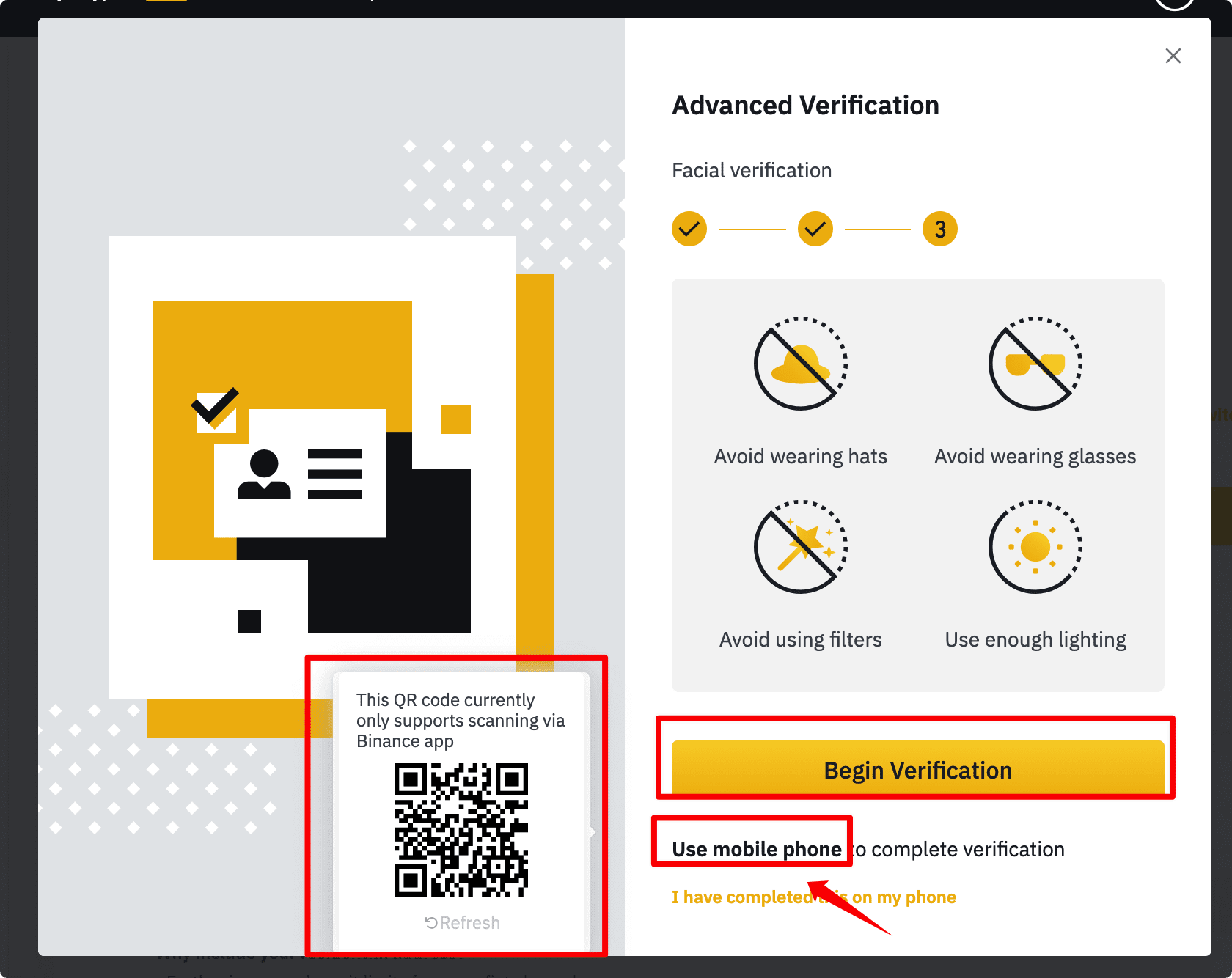 7. Once your photo is uploaded, you have to proceed to complete your facial verification. Click "Begin Verification' to continue the process on your PC. Otherwise, if your phone's camera is better, hover to the "Use mobile phone" section and get your QR code. Open the Binance app on your mobile phone and scan the QR code to wrap up the facial verification.
Binance identity verification happens almost instantaneously. However, there are times you may need to wait for a while. You will receive an email notifying you of the status of your application whether it was approved or not. And this brings me to my next point.
Binance Address Verification Failed
As I already pointed out above, address verification is the next level of verification on Binance. According to the exchange, address verification will "further increase deposit limits for some fiat channels."
To verify your address, click on the "Verify" button in the address verification section. Fill in the necessary details such as your country, address, and postal code, and then submit. Depending on your country of origin, you may be required to submit extra documents such as a utility bill, bank statement, or a government-issued proof of address.
So, what happens if your Binance verification fails?
Here is a list of some common markers to keep in mind when verifying your identity on Binance.
You have a 15-minute window.
Do not refresh your browser while verifying your identity.
Binance only accepts photos in JPEG and PNG formats
Your photos must be clear with all information clearly displayed.
Avoid editing the photos that your send.
Your face must be completely visible.
Your ID or documents must be valid.
In the case of address verification, your ID must match your address.
Have these in mind and your Binance identity verification should be like a walk in the park.