Binance Coin's Modest 0.16% Price Increase to $215.08: Key Takeaways for September 9, 2023
Binance Coin (BNB) saw a slight 0.16% price increase over the past 24 hours to $215.08. With a market capitalization of $35.89 billion, BNB remains one of the top cryptocurrencies by market cap. In this report, we will analyze the key metrics for BNB and uncover insights into the current price action and potential future trajectory.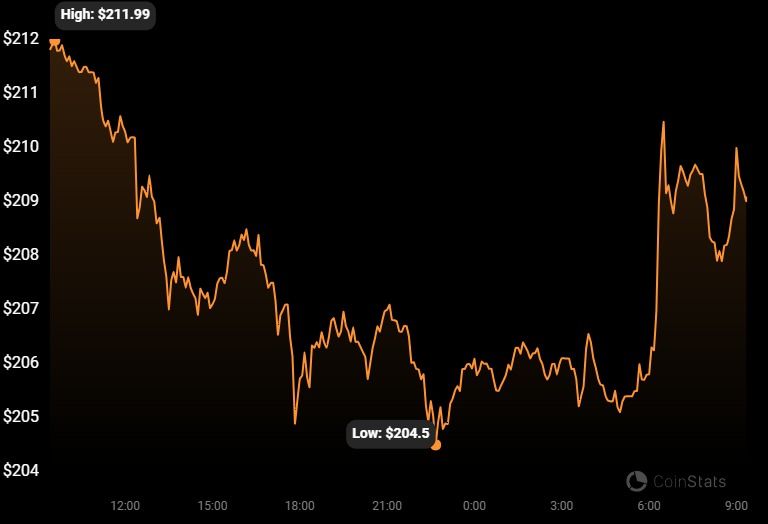 The 24-hour trading volume for BNB was $211.40 million, suggesting decent liquidity and trading activity. Over the past hour, BNB has seen minimal price fluctuation, decreasing by just 0.05%. Zooming out further, BNB's price has remained relatively flat over the past 7 days (+0.19%) and past month (-11.79%). However, looking at the 6-month time frame reveals that BNB has declined notably, dropping 22.42% from its price 6 months ago.
Overall, BNB appears to be in consolidation mode given the sideways trading over the past week. However, the longer-term technicals reveal a concerning downward trend, with selling momentum accelerating over the past 1-6 months. BNB will need to see a breakout from its current narrow range between $210-220 to signal a potential trend reversal.
What's Driving Binance Coin's Lackluster Price Action?
The cryptocurrency markets as a whole have been mired in a bear market for most of 2022. High inflation and rising interest rates have led risk assets like cryptocurrencies significantly lower. BNB has not been immune from this broad market downtrend.
Additionally, regulatory concerns continue to plague the crypto industry. The high-profile collapse of major crypto firms like Celsius, Voyager Digital, and FTX have shattered trust in centralized crypto companies. Binance, which issued the BNB token, has also faced heightened regulatory scrutiny globally. These developments have weighed on sentiment and applied selling pressure across digital assets.
However, it's not all doom and gloom. The Merge upgrade for the Ethereum network was successfully completed in September 2022. This transition to proof-of-stake is bullish for Ethereum and could spark renewed interest in crypto as a whole. If risk appetite returns to markets in 2023, BNB and altcoins could stage a meaningful recovery. But macroeconomic and regulatory risks remain formidable headwinds.
BNB Price Prediction for the Next 6-12 Months
Given the lackluster price action and continued bearish technical setup, my prediction is that BNB will remain under pressure over the next 6-12 months. I expect BNB will violate the psychologically important $200 level in the near-term and could retest the 2022 lows around $170.
Upside appears limited given the deteriorating long-term technical picture and ongoing bear market conditions. Any relief rallies back above $250 are likely to encounter stiff resistance. Only a sustained break back above the $300 level would signal a potential bullish trend change.
The path forward for BNB depends heavily on macroeconomic conditions and regulators' stance on the crypto industry. If we enter recession in 2023 and risk aversion persists, BNB could see further drawdowns as traders continue reducing exposure. However, if inflation cools and the regulatory environment improves, BNB has upside potential thanks to Binance's market dominance. But overall, caution is warranted for BNB over the medium-term.
Will We See New All-Time Highs for Binance Coin in 2023?
Binance Coin hit an all-time high price of $669.30 in May 2021, but has since declined over 65% from this peak. The probability of BNB reclaiming its highs in 2023 currently looks very low.
For BNB to stage such a monumental comeback, several stars would need to align. First, the Fed would need to decisively pivot on interest rates, sparking a surge back into high-growth assets. Second, regulators would need to provide clear guardrails for crypto without stifling innovation. Finally, crypto adoption and trading volumes would need to accelerate substantially.
While possible, these conditions occurring simultaneously in 2023 seems like wishful thinking following one of crypto's worst years on record. 2023 is more likely to be a rebuilding year for BNB and crypto as projects focus on delivering real-world utility rather than hyper-charged speculation. Only later in the decade do conditions seem ripe for a push back to all-time highs. Patience and measured expectations are prudent for BNB holders.
Is Now a Good Time to Buy the Dip on Binance Coin?
With BNB languishing 65% below its all-time high, some investors may be tempted to try bottom-fishing for long-term holds. Dollar-cost averaging can be a sound strategy for accumulating positions in top crypto assets. However, caution is still advised buying major dips in BNB today.
Although oversold, BNB remains in a firmly bearish technical posture on the weekly and monthly timeframes. Value-hunting too early could lead to catching a falling knife. Further capitulation cannot be ruled out if the economy enters recession or regulators intensify crackdowns. Patience is a virtue when bottom-fishing beaten-down cryptos.
Waiting for concrete signals of a macro bottom or accumulation by whales is prudent. Ideally, traders want to see BNB stabilize and form a long-term basing pattern before aggressively buying dips. Rushing into positions too soon can end painfully. While alluring, BNB's dip may not be finished baking yet.
In summary, Binance Coin has weathered the 2022 crypto storm relatively well compared to its high-flying peers. But considerable risks remain on the horizon heading into 2023. While tempting, buying the dip in BNB requires careful timing and discipline to avoid catching a falling knife. Patience and vigilance are key virtues for navigating the turbulent waters ahead.