Bitcoin billionaire wants to become the next governor of California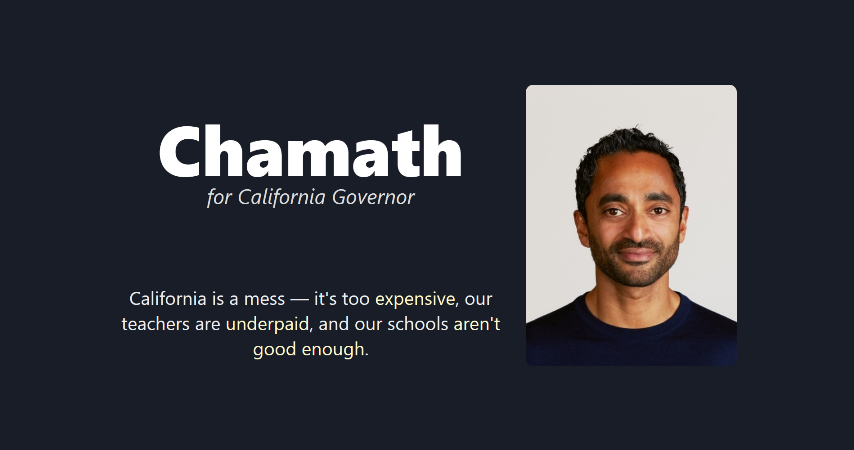 Prominent Bitcoin billionaire and venture capitalist, Chamath Palihapitiya, is interested in becoming California's next governor.
Judging from a tweet yesterday, the CEO of Social Capital appears to be serious about running for the position of California governor. The tweet linked to his new website which has a bold caption "Chamath for California governor."
While faulting the present administration, he left a number of promises for the U.S. state including 0% taxes, an end to student loans, and increased salaries for teachers, amongst others.
California is a mess — it's too expensive, our teachers are underpaid, and our schools aren't good enough.
So far, no extra details have been provided by Chamath beyond his intention to become the next governor. However, his tweet included a hashtag to "#RecallGavinNewson." With this Chamath is joining efforts to initiate a recall vote for the current governor Gavin Newsom. If successful, a special election will be held later this year.
A growing number of Californian residents are dissatisfied with Newsom's performance. The movement to recall him had garnered 1.2 million signatures as of Friday. To force a recall, the petition needs to reach 1.5 million signatures by March 17.
Chamath is an early Bitcoin investor. According to him, he began buying the asset in 2013 when the price for each Bitcoin was just $80. Recently, he predicted that the price of Bitcoin could get to $200,000 in the long-term.
Check our guide of the most promising crypto