Bitcoin shows bearish signals as crypto market loses $100 billion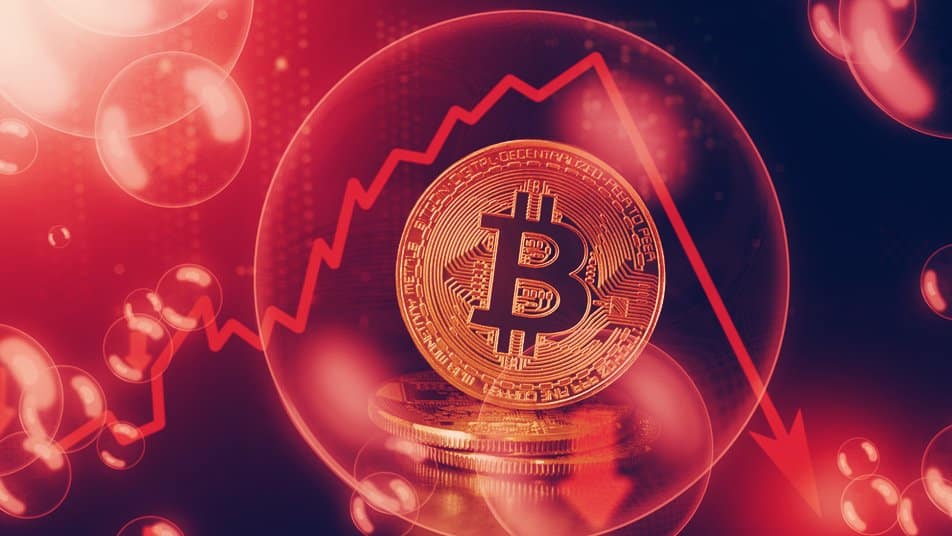 After an encouraging bullish run, most major cryptocurrencies including Bitcoin (BTC), Solana (SOL), and Cardano (ADA), were trading in the red on Monday as the crypto market fell by $100 billion.
The total market cap of the cryptocurrency space currently stands at $2.02 trillion, a 4.67% decrease over the last 24 hours. Specifically, the total crypto market volume in the previous 24 hours is $114.49 billion, which indicates a 6.17% increment. Bitcoin which currently trades at $44,494, slid down 1.7% since yesterday and 14.39% down in the last week alone, according to CoinMarketCap.com.
Additionally, the total volume in DeFi currently stands at $18.39 billion, which is 16.06% of the whole crypto market's 24-hour volume. The volume of all stable coins is now $88.76 billion (approximately 77.53% of the total crypto market 24-hour volume).
Despite being down, crypto markets showed signs of stabilization on Monday as most traders and investors look to disregard the previous week's volatility and get back to business as usual.
The most important cryptocurrency in terms of market value Bitcoin, found support below the $45,000 mark after $103.1 million was liquidated from traders, according to data analytics to Bybt.
Renowned crypto trading analyst Michaël van de Poppe expressed his belief that Bitcoin is still holding on to support in its current trading range.
While Josh Rager a crypto trading expert communicated disbelief on Bitcoin's most recent drop, labeling it as absurd.
The cryptocurrency market suffered a brief flash crash On Tuesday, 7 September 2021 after a steady rally over the past few weeks, and most digital assets were hit hard by the general market's losses.
The market lost $330 billion in two hours according to CoinMarketCap, trimming the total market worth down to $1.95 trillion. However, the market regained approximately $170 billion to $2.12 trillion, though. The catalyst for the plunge seems to be Bitcoin which fell from $52,000 to almost $44,000.
Moving away from Bitcoin, Solana lost over 15.29% of its market value after a substantial rise over the previous week or two, thus Solana might be heading into consolidation territory soon.
Meanwhile, Cardano also opened in red on Monday changing hands at $2.35 down 8.5%, and 19.2% in the last seven days. The asset was dumped despite the launch of smart contracts earlier on Sunday evening. The drop in Cardano comes after recent interest in the cryptocurrency's price.  ADA fell simultaneously with other major coins like Bitcoin and Ethereum; though the decline in ADA was far sharper.
Since the adoption of Bitcoin as legal tender in El Salvador, Bitcoin has struggled to surpass the critical $50,000 level, and the market has experienced a dip in general.
However, the Ukrainian parliament passed the second reading of the Virtual Assets Bill, setting the country on a path to legalizing cryptocurrencies like Bitcoin as reported by BTC PEERS.