Despite hitting a new all-time high at above $52k and managing to stay above the $50k mark, whales have continued to accumulate Bitcoin.
One of the basic rules of investing is "buy low and sell high." However, big-money players have continued to gobble every available Bitcoin as the price continues to rise. According to available data, the increase in the number of Bitcoin whale addresses is an indication that institutional investors are actively buying Bitcoin despite the bull market.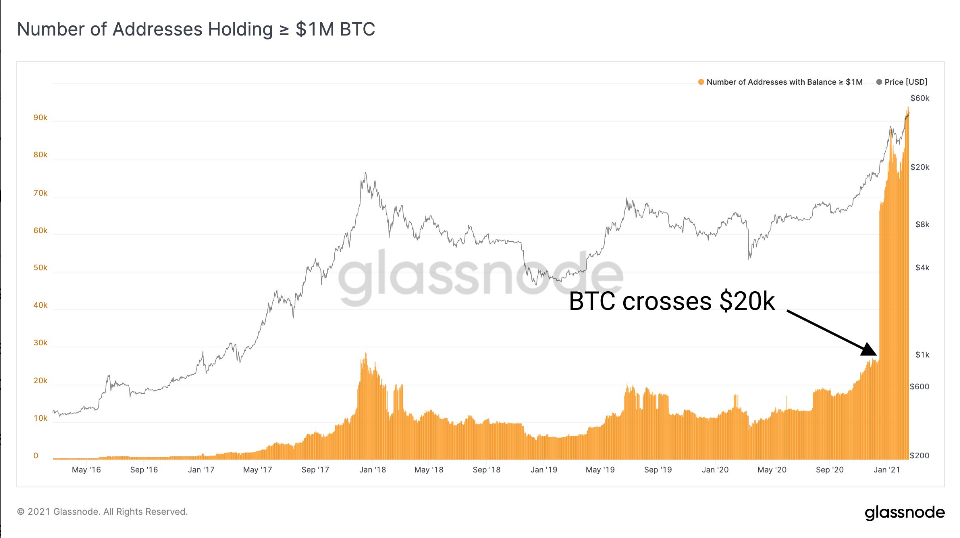 Bullish Sentiments
As reported by BTC PEERS, several industry experts have cautioned retail investors against selling their Bitcoin. In early December, a crypto analyst by the name of PlanB said that retail investors who sold their Bitcoin holdings would be losing them to institutional investors. The digital asset was trading at less than $20k when he made issued his warnings.
Since then, several institutional investors, including Tesla have moved into the crypto space, forcing the price of Bitcoin to above $50k.
While bull cycles are often characterized by severe sell-offs, investors are holding onto their Bitcoin. Analysts at Glassnode remarked:
ATH: There are now more 94,000 #Bitcoin addresses holding at least $1 million worth of $BTC. The steep increase in mid-December marks the point when BTC crossed $20,000 – making all early miner addresses (50 BTC rewards) millionaire addresses.