BNB Chain to Celebrate 3 Years of Growth and Resilience in Web3 Blockchain Ecosystem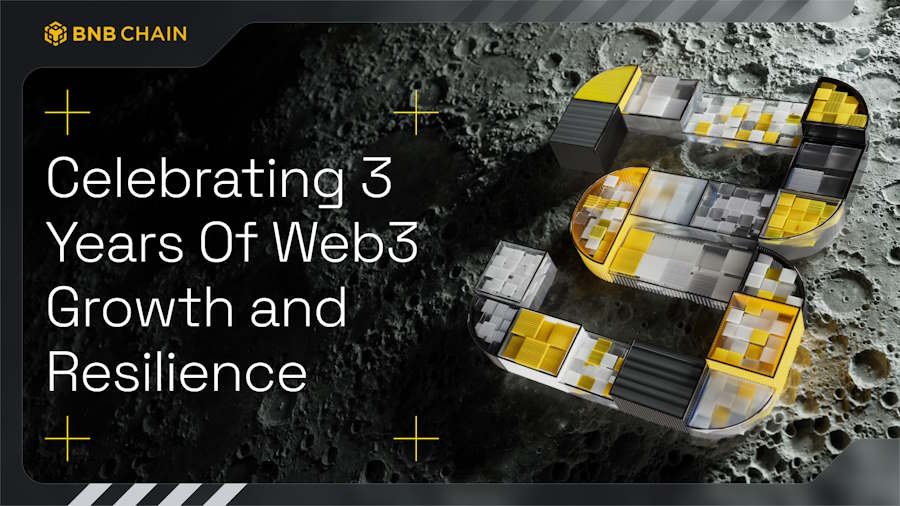 BNB Chain, a leading decentralized blockchain network, has announced plans to celebrate its 3 year anniversary through a series of global community events from August 24 to September 2. The celebrations aim to highlight the growth and resilience of the wider blockchain industry over the past three years.
The decentralized network invites the community to join in the anniversary events, including online experiences with industry experts, influencers and thought leaders. Participants can expect insightful discussions into the achievements of Web3 so far, as well as future possibilities enabled by blockchain technology.
Anniversary Events Foster Community Building
A key goal of the 3 year anniversary is spurring community engagement through interactive sessions. Users worldwide can take part in virtual meetings, live talks, and presentations focused on blockchain's evolution and its transformative potential.
By convening experts and users, BNB Chain seeks to promote dynamic idea exchange and relationship building. The collaborative atmosphere aims to inspire attendees through blockchain's advancements and real-world utility.
Global Community Invited to Participate
To expand reach globally, BNB Chain has prepared several community-focused events. A blockchain-themed video game developed by Ethlas Studio offers users worldwide a chance to engage. Participants finishing the game qualify to claim a limited edition NFT from the anniversary collection.
BNB Chain has also introduced the Ecosystem Catalyst Awards, voted on by users, to highlight standout projects built on the network. Awards will be given to innovators across categories like DeFi, gaming, infrastructure, and more.
Community members can nominate and vote for their favorite BNB Chain-based apps and platforms. Award announcements and on-chain voting will occur in the week leading up to the September 1 anniversary.
Social Media Activities Promote Web3 Education
Complementing the core events, BNB Chain will run social media quizzes busting common blockchain myths. Participants can help debunk misconceptions while learning about Web3 and BNB Chain. Creative social media contributions using the hashtag #BNBChain3YA are encouraged for a chance to win prizes.
Anniversary Report and Special Announcement
As a capstone to the 3 year celebrations, BNB Chain will release an anniversary report on September 1 covering Web3 progress and future outlooks. The network also teases a special announcement timed with the anniversary date.
Should You Participate in BNB Chain's Anniversary Events?
BNB Chain's 3 year anniversary events offer an excellent opportunity to learn about Web3 and connect with the blockchain community. Participants can gain insights from industry trailblazers while helping drive technology adoption. However, users should be aware the events are organized by BNB Chain itself and may feature biased perspectives. Maintain a balanced viewpoint by engaging broadly across blockchain networks.
What Does the Future Hold for BNB Chain and the Web3 Ecosystem?
BNB Chain's growth over 3 years into a top decentralized network spotlights blockchain's momentum. However, risks remain around regulation, security, and market volatility. Mainstream adoption is still nascent. But with increasing real-world utility, blockchain could potentially transform industries. BNB Chain is well positioned in this emerging ecosystem but must continue innovating. The next 3 years will prove critical in whether Web3 achieves widespread disruption or fails to live up to hype. Agility and community collaboration will determine BNB Chain's lasting influence.
In conclusion, BNB Chain's 3 year anniversary events offer a forum to recognize blockchain's development while connecting users worldwide. The network's community focus aligns with Web3 values of open participation. However, the technology remains in its early stages facing uncertainty. Maintaining an open yet critical perspective, as BNB Chain continues maturing, will best serve users on the path ahead.
Check our guide of the most promising crypto