CoinMarketCap Unveils H1 2023 Crypto Market Report: A Comprehensive Examination of Exchange Activities (CEX & DEX)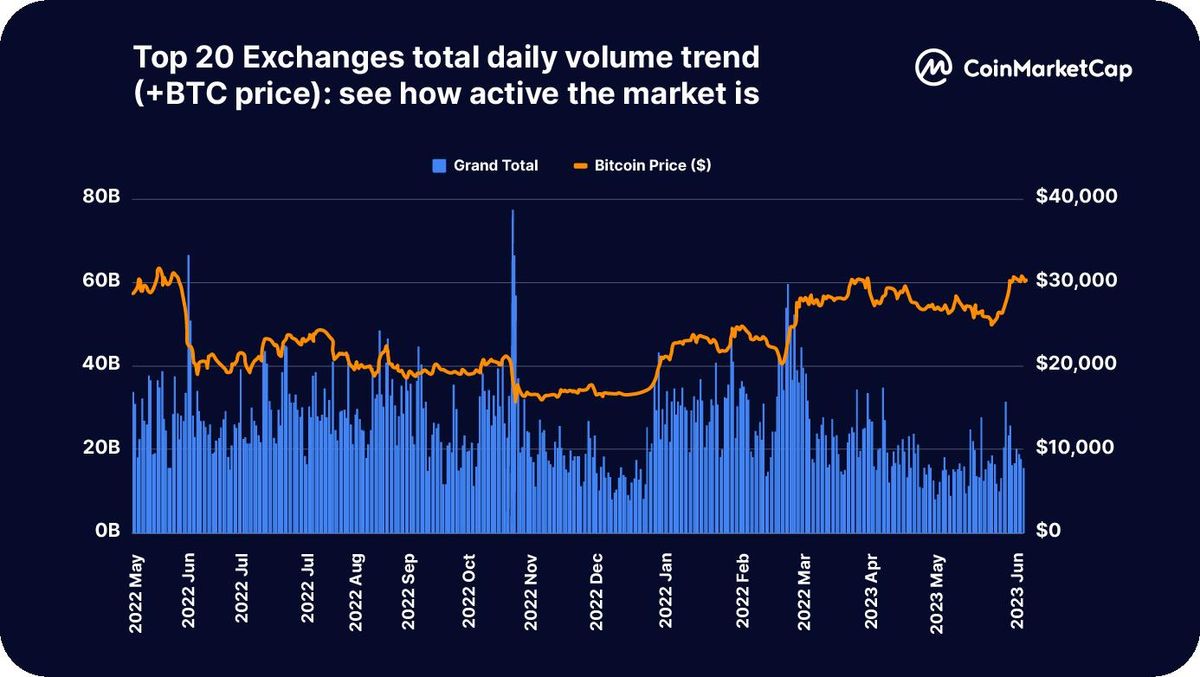 In the latest report from CoinMarketCap (CMC), crucial insights into the health, size, and activity level of the crypto market are explored. The report presents an in-depth analysis of both centralized exchanges (CEXs) and decentralized exchanges (DEXs), covering significant factors such as trade volume, market size, and coin offerings.
The report reveals that the top 20 exchanges contributed a total spot trade volume of $1.67 trillion in Q2 2023, reflecting a significant 36% drop compared to the previous quarter. This indicates a significant slowdown in market activities after the previous quarter's intense activity primarily driven by Bitcoin's price doubling. These current trade volume figures echo the market conditions experienced during the recovery phase following the FTX crash.
Despite the overall downturn, Binance has upheld its dominant market position throughout H1 2023, maintaining a total spot trading volume share of 59.99%. The top 5 exchanges, including Binance, Coinbase, and Kraken, accounted for approximately 85% of the total spot market volume, contributing to a favorable liquidity and 24-hour trade volume.
Further, the report highlights that the market retains a healthy number of trading pairs and available coins, witnessing a continuous increase in new listings. Binance continues to rule the liquidity in the large-cap space, with its new listings primarily focusing on high-quality mainstream coins. During the memecoin season from April to June 2023, BitForex and Bitget were among the most active in adding new coins, considering the proportion of new coins to their total listings.
In terms of Proof of Reserve assets, Binance ($57 billion), OKX ($10 billion), and Bitfinex ($10 billion) lead the pack. Bitcoin and stablecoins form the majority of these reserve assets for most exchanges. Despite a $20 billion reduction due to capital outflows in Q2 2023, Binance maintains a healthy amount of Proof of Reserve assets, illustrating a safe and diversified coin composition.
As for exchange tokens, H1 2023 shows that most of them achieved net positive returns, although they could not outperform Bitcoin, which saw a 182% increase year-to-date.
The report also dives into DEX activities, noting that the peak trading volume for the top 15 DEXs happened in March 2023. The total DEX volume for Q2 reached $189 billion, a 24% decrease from Q1's total of $249 billion. Despite this, Uniswap retained its dominance in the DEX market, with a 57.5% market share. However, the preference for CEX over DEX solutions has slightly shifted, with the DEX to CEX ratio now standing at around 1:8. This shift can be attributed to recent advancements in DEX products, growing market concerns over CEXs due to regulatory developments, a favorable environment with lower gas fees, and a larger proportion of crypto-native participants.
Approximately 80% of DEX trade volume happened on Ethereum and its Layer2 chains during H1 2023. However, BNB has been rapidly gaining a larger share of the DEX trading market in Q2, demonstrating a dynamic shift in the market landscape.
This report serves as a comprehensive guide to understanding the current state and trends of the crypto market, offering critical insights into both centralized and decentralized exchange activities in H1 2023.
You can download the report by the link https://s3.coinmarketcap.com/uploads/Final_Eng_Unveiling_The_Crypto_Market.pdf