Cool Cats NFTs Launches on the Tron Blockchain-Powered NFT Market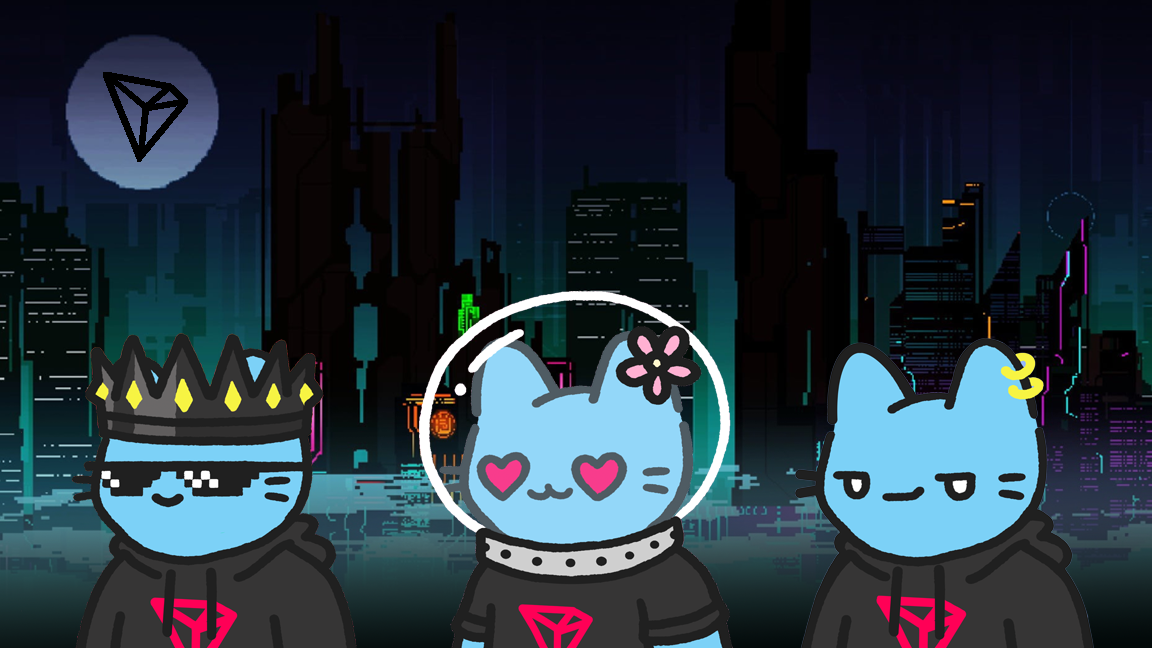 According to a report on Reuters, the NFT sales volume surged $2.5 billion within the first half of 2021. According to Nigel Green, the CEO of financial advisory organization deVere, the NFT market will witness a massive increase in trading volume within the next year. With these bullish pointers about the future of non-fungible tokens, it is no surprise that more NFT projects are entering the market every passing day.
The Cool Cats NFT project supported by Palmar Labs announced its launch into the Tron NFT market recently.  On the Tron blockchain, these Cool Cats are known as Tron Cool Cats.
What Exactly Are Tron Cool Cats?
Tron Cool Cats are a collection of 10,000 Cool Cats non-fungible tokens (NFTs) uniquely generated random collectibles on the Tron blockchain network. Different expressions, outfits, accessories, and several other traits give these Cool Cats their awesome appearance. Like the Ethereum Cool Cats, these Tron Cool Cats are unique and highly adorable. Yeah, all cats are cool, but when you have a cat covered with rare traits, accessories, and an amazing outfit, it becomes the coolest of cats. This is precisely the case with Tron Cool Cats. It is important to note that each of these Cool Cats is minted in a unique way to be a rare collectible.
Originally, Cool Cats generated and systematically curated non-fungible tokens on the Ethereum blockchain network. Each randomly-generated cat has a unique body, hat, face, and outfit that shows how cool they are in the ranking system. Ethereum Cool Cats wasted no time in becoming the industry's top collectibles. On the OpenSea NFT marketplace, the cheapest Cool Cat NFT goes for a floor price of 3.89 ETH. Now that these Cool Cats are making their debut on the Tron blockchain, they are certainly something to watch out for in the NFT marketplace.
Although there are close similarities between the Ethereum Cool Cats and Tron Cool Cats, the price of Tron-based Cats differs greatly from those you find on Ethereum. As a digital collector, you can own a freshly minted Tron-powered Cool Cat for a fixed price of 1,500 TRX tokens or approximately $135. In recent times, Ethereum-based NFT projects have dominated the NFT market. The tide is currently changing as Tron appears to have risen to the occasion.
The first NFT project on the Tron blockchain is Tpunks, and it was a huge success. After Tpunks came, TronMeebits hit over $1.2 million within 24 hours, and 20,000 digital art pieces were sold in less than 36 hours. The most recent is the Bored Ape Yacht Club Tron NFT which conquered the market within a few hours. Currently, Tron-based Apes are appreciating in value and each of their copied NFT primates are minted for 1000 TRX and then sold for at least 10,000 TRX.
The Benefits for Tron-Based Cool Cats Owners
The team is currently building a community of Tron Cool Cat owners and will be launching a 10% Pool for 30+ and 150+ Tron Cool Cat owners, respectively. They plan to give back 10% of all the TRX tokens generated through the minting to Tron Cool Cat NFT collectors. While the owners with 10+ Cool Cats will share 3%, those with 150+ will share the remaining 7%.
The launch of the Tron Cool Cats is undoubtedly a unique investment opportunity for collectors. Although each of the Cool Cats is unique, their prices are the same for everyone. Tron blockchain is one of the leading blockchain protocols in the space today, and it currently has one of the fastest NFT markets. The community will also allow its members to network with one another.
Check our guide of the most promising crypto