Coronavirus Exposes The Flaw With Sharing Economy Platforms And How Decentralization Can Fix The Sector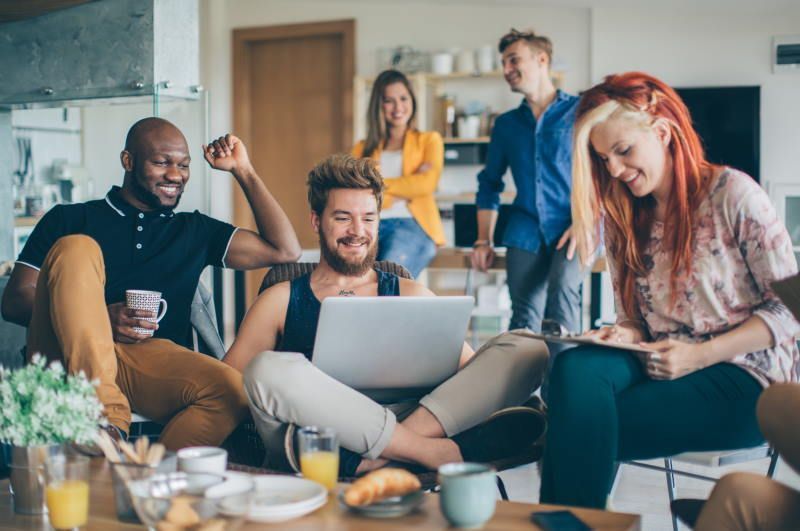 A few months ago, things were going great within the sharing economy sector. Uber and fellow ride-sharing competitors were dominating the ground transportation while Airbnb was outperforming even the world's biggest hotel brands when it came to the number of rooms rented and even consumer spending.
There were new startups that were using digital matching services to facilitate everything from food delivery, package delivery, to even toilet rentals. The industry was booming with various startups in every corner of the world, linking consumers with services from ride-sharing, luggage space, motorcycle-based services, storage spaces, gig workers, and even construction equipment rentals.
Things seemed to be falling in place according to early projections on the industry from one sector to another; individuals were turning hobbies to income opportunities, thereby helping consumers to pay less for better services and putting unused goods to use therefore reducing the need for material consumption. For a moment, it seemed as if the sharing economy was a new economy that was friendly to workers, consumers, and even the environment.
Then coronavirus came along, and things came to a halt. The sharing reduced drastically as a company like Uber saw an 80% decline in business, and Airbnb saw many rentals canceled. To cope with the dire situation, Uber let 6,700 employees go, and this is not counting its drivers and closed 45 offices. Similarly, Airbnb cut around 1,900 jobs.
These losses, though, are minimal when compared to their traditional counterparts. For example, the Airbnb layoffs represent only 25% of its full-time employee base. At the same time, Marriott International, the largest hotel chain in the world, has had to let tens of thousands of employees go of its 130,000 employees. No official numbers have been produced, but it's estimated at least 80% of the workforce has been laid off.
Decentralized Solution To The Sharing Economy
The coronavirus has revealed one thing, sharing economy workers are all at the mercy of these platforms. The new ways these mega-companies skimp on labor offer no employment benefits like paid sick leave, unemployment insurance, and health insurance, given the risks involved at these times.
If only these workers didn't have to be charged exorbitant fees and got fair remunerations and benefits, maybe these individuals could afford to buy themselves some of these covers. Platforms like Uber and Upwork take as much as 25% and 20% from their workers, others like Wag, a dog walking service, take as much as 40%. This is the one issue decentralized sharing economy platforms are trying to combat.
Also, the decentralized platforms seem to have the solution to the other issues that plague this industry, including the ability to transfer your hard-earned credentials from one platform to another. Additionally, the industry is dominated by a few large companies like Uber, Airbnb, and Upwork with high barriers of entry, making it difficult for small players to enter and thrive in the market.
One platform pioneering these changes within the sharing economy is TimeCoinProtocol (TCP), a project that allows the development of any form of sharing economy service on a decentralized platform. On the protocol, users can move from one service to another with their reputations intact, and this saves them time rebuilding their profiles on different platforms. So far, the first two apps on the protocol will be eSportStars and TimeTicket.
eSportStars will be the first dApp on TCP and will allow users to earn money playing esport games. The platform has already signed contracts with professional esport teams like JapanKillerAngel, GameWith, Tekken team YAMASA to help it gain control of the fast growing esports market. Ahead of launch, this platform is aiming to 300,000 pre-registrations.
Another sharing economy dApp that will be launched soon on TCP is TimeTicket. On the platform, users will be able to transact their time and skills using 'time tickets.' Service seekers will be able to buy or even exchange these tickets for different services on the platform, including relationship counseling, photography, programming, consulting, coaching, financial advice, and even fortune-telling.
Why The Sharing Economy Has Been Performing Better Than Its Traditional Counterparts
The sharing economy is seen as the future of work and thus has been projected to grow by a massive 2233% by 2025 to be worth over $335 billion. Compared to competing traditional industries, the sharing economy is faring better since companies involved only incur a fraction of the costs of services they deal with. A company like Uber doesn't own the cars involved in the ride-sharing business, nor does it pay for insurance. As for Airbnb, the company doesn't own the properties. Their business models are designed to take on the profitable part of any business where individual producers can be matched with consumers and leave as much of the rest like labor, capital, and even risk to others.
It shows how centralized platforms benefit from profit-making efficiencies and are doing better during the lockdowns. But, it also shows how companies like Uber and Airbnb are so good at casting off economic burdens, especially during this crisis; unfortunately, it has been the workers who have been left to fend for themselves.
Unfortunately, sharing economy businesses squeeze profits from their workers' because they can' according to the admission of Uber CFO. Therefore, moving forward, we need to think deeply about these business models that seem to exploit workers while keeping large chunks of their profits, and decentralized platforms appear to be offering a way out.
Check our guide of the most promising crypto