Cylum Offers High-Yielding Investment Opportunities For Crypto Investors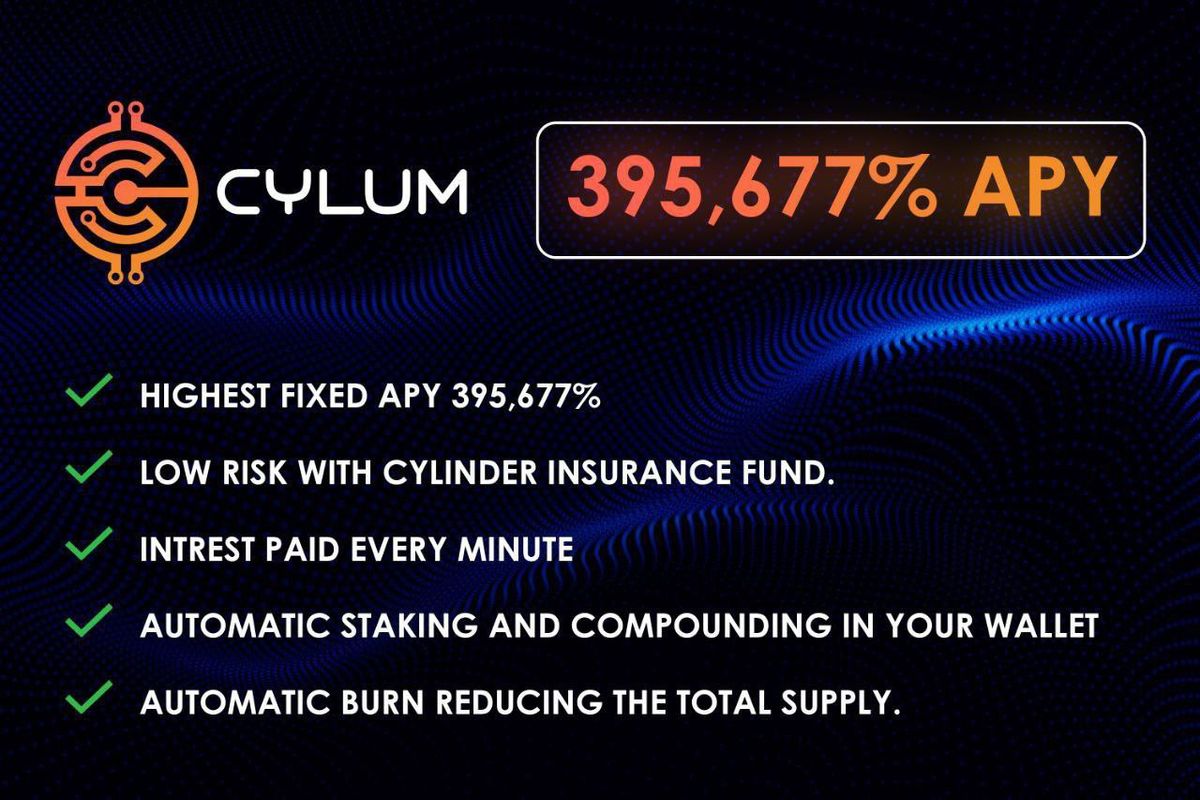 Cylum finance is an automated network that provides sustainable investment opportunities for its community of users. The network enables users to gain increasing investment benefits by letting their assets function in an attractive and high-producing investment space. Cylum Finance proves to be the best of DeFi 3.0 projects and the first among its competitors, such as Titano and Libero, to develop a bearable DeFi 3.0 automated staking, burning, and compounding system. The Cylum finance protocol offers users an accumulated fixed Annual Percentage Yield (APY) of 395,677% in a compound interest model.
Salient Features of Cylum Finance
Cylum Finance is a DeFi 3.0 protocol with intriguing features that makes it significantly outstanding. These features include:
Auto-Staking
Cylum finance auto staking is a simplified technological development that guarantees returns in cryptocurrency. The protocol's Buy-Hold-Earn feature empowers $CYM token holders with an easy guide to stake their assets on the protocol. Users that buy and hold $CYM tokens in their wallets will be credited with accumulated interests directly into their wallets.
Auto-Compounding
Against the usual simple interest formula, the Cylum algorithm adopts the compound interest method to reward holders of the $CYM after one year. Interests on stored $CYM increase by 0.75% every minute, making it the world's fastest auto compounding protocol. At the end of 12 months, holders will receive a total compound interest of 395,677%, respectively, after which there would be a reduction in the interest rate.
Auto-Burn
Cylum's Automatic Hyper Burn initiative ensures that holders will not be affected by market instability. Cylum's auto burn guarantees that as $CYM total supply decreases in comparison to holders' balance, the balance will in turn increase in comparison to $CYM total supply. However, 32% of the total $CYM in supply will be burned during the process. At launch, 2% of the total token in circulation will be burnt, 15% will be burnt after the 1st IMO, and another 15% consumed after the 2nd IMO.
Cylum Cylinder
This is a storage wallet. It helps reduce the incidence of risk by preventing a price crash and stabilizing the market price of the $CYM.
Cylum Cypher
This is an exclusive wallet that sustains Cylum's growth and endurability by funding its marketing and ensuring that interest on investments is paid as at when due.
Cylum Chimney
This is the Cylum ecosystem's firehouse. The 2% $CYM will be burnt in the chimney; an increase in trade means an increased fuel for more burning, which will directly increase the firehouse and its intensity. The idea is to increase stability and reduce cylum's total supply.
Other features include Auto liquidity and Cylum Mainnet. You can see details here.
Tokenomics
There is a total supply of 5,000,000,000 Cylums ($CYM). 32% of the total amount in circulation will be burnt, 20% allocated to IMO, 15% for staking rewards, 2% for development, 10% for DAO reserve, 18% for liquidity, the team gets 2%, and 1% for Airdrop.
Conclusion
The Cylum team of crypto enthusiasts developed Cylum Finance with the aim of creating a unique technology in the crypto industry that will provide a sustainable investment platform and the world's quickest reward system through an auto-compounding method. Cylum token is a hyper-deflationary token with many use cases. For more information about the project, visit https://cylum.io/app