Dogecoin's 4.12% Surge to $0.06522: Key Insights for Traders on August 30, 2023
Dogecoin saw a notable 4.12% price increase over the past 24 hours. As of August 30, 2023, DOGE is trading at $0.06522, up from $0.06267 yesterday. With a market capitalization of $9.19 billion, Dogecoin remains one of the top 10 cryptocurrencies by market cap.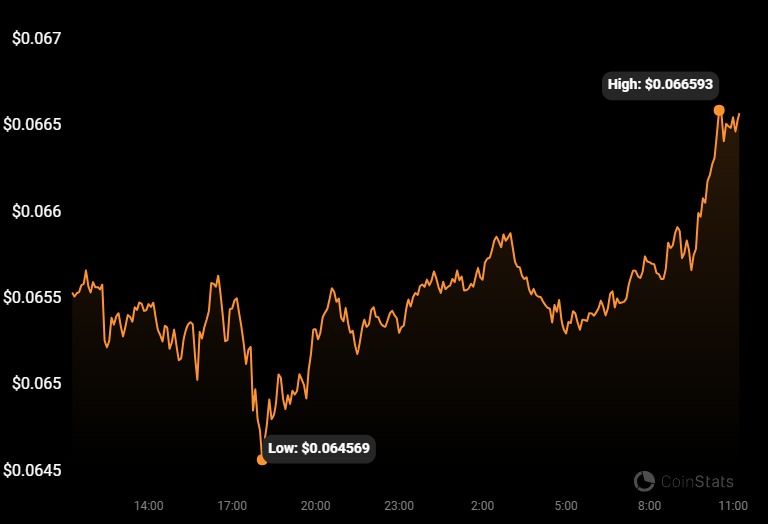 In the past day, DOGE saw $460.45 million in trading volume, indicating significant interest in the meme-inspired cryptocurrency. Short-term traders took note of Dogecoin's 0.31% pullback in the past hour, although this is relatively insignificant compared to the asset's larger daily gain.
Analyzing the longer-term price action provides further context around Dogecoin's recent momentum. Over the past week, DOGE increased 2.99%, reversing a portion of the losses incurred in the preceding month. The past 30 days saw DOGE fall over 18% as the broader crypto market corrected.
Zooming out further, Dogecoin remains down 19.27% over the past 6 months. However, the recent surge hints Dogecoin may be bottoming out around the $0.06 level after a prolonged downtrend.
Key Support and Resistance Levels
From a technical analysis perspective, DOGE is pushing up against short-term resistance around $0.07. This level rejected price advances multiple times in early August.
If Dogecoin can decisively push past this barrier, it may challenge the next resistance around $0.08 - which lines up with the 50-day moving average.
On the downside, DOGE has built up notable support around $0.055. This level caught several price drops since late July. As long as Dogecoin holds above $0.055, the technical picture remains constructive.
Dogecoin Seeing Renewed Hype and Speculation
Looking at Dogecoin's fundamentals may explain part of its recent surge. The meme coin is seeing heightened interest again among retail traders, speculators, and crypto enthusiasts.
Several factors are driving this renewed hype:
Speculation around Dogecoin's long-awaited "Doge-Ethereum bridge", which would allow DOGE to be used on Ethereum's network. This could expand the coin's functionality.
Rumors that Tesla CEO Elon Musk may start accepting DOGE for payment again. Musk has been an outspoken Dogecoin advocate.
Overall return of speculative and hype-driven trading in crypto markets over recent weeks.
This speculative frenzy has likely contributed to Dogecoin's outperformance over the past few days. However, hype-based runs are often short-lived. Traders should be cautious about excess speculation sending DOGE too far, too fast.
Final Thoughts: Caution Still Warranted Despite Recent Strength
Dogecoin's 4%+ surge over the past 24 hours is a positive development after an extended downtrend. However, DOGE remains highly speculative, as seen in its past volatility. Traders should be cautious about overextending long positions without sufficient support.
That said, Dogecoin's technical picture has improved with the price regaining its footing above $0.06. If DOGE can maintain this level and build upon its recent gains, further upside could be in store. The key variables to watch are trading volume, social sentiment, and whether Dogecoin can successfully convert resistance around $0.07 into support.
Is Dogecoin Building a Base for a Sustained Trend Reversal?
Dogecoin has seen previous false breakouts and failed rallies in 2022 and 2023 to date. However, DOGE holding firmly above $0.06 could signal a base building, laying the groundwork for a true trend reversal.
If Dogecoin can consolidate for an extended period between $0.06 and $0.07, this would increase the chances of a sustained upside move. Dogecoin surging past $0.07 on high volume would add further evidence of a shift in market structure.
Patience and prudent position sizing remain key. But Dogecoin reclaiming its bullish form is plausible over the coming weeks if positive fundamentals and price action align.
Is Now a Good Time to Buy Dogecoin?
Dollar cost averaging can help mitigate risks when buying DOGE at current levels near $0.06. Given the potential for volatility, traders should consider spreading out any purchases over an extended timeframe.
Monitoring key support levels like $0.055 and being prepared to cut losses if DOGE breaks below its recent trading range are also wise. Use stop-losses and avoid investing more than you can comfortably afford to lose.
That said, Dogecoin regaining its uptrend would create substantial upside from current prices. The possibility of strong gains could make DOGE an attractive speculative buy at today's prices - as long as appropriate risk management is utilized.