Hero Arena x Binance NFT Boxes - which were sold out 10,000 boxes in just 5 seconds"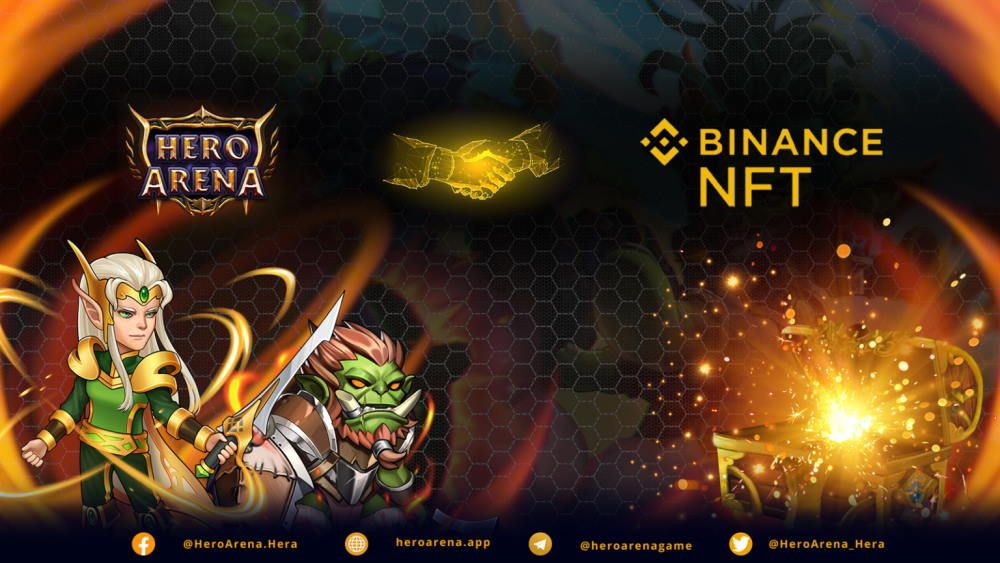 Hero Arena is a metaverse where players earn tokens by playing games and generating community contributions.
Hero Binance Collections (NFT)
Every player can purchase a Hero (NFT) on Hero Arena GameFi. The NFT will mine automatically and yield $Hegem.By feeding $Hegem or other cryptocurrencies, players can upgrade the rarity of the Hero. On this occasion, Hero Arena will release 10 heroes just all for Binance NFT Marketplace. These 10 heroes in total will be designed based on Binance's criteria. It is expected that this collection will destroy players with effects that are only available at Hero Arena. Diverse images, exclusive colors, and effects bring players an extremely realistic open space. With 3 classes, 5 races it promises to give players a unique game block-chain platform.
The collection is designed exclusively for the Binance community with a limited number of only 10,000 Boxes. 10,000 Boxes will open up 10,000 Heroes of 5 races included in games like Warlord, Orc, Elf, Beast, Undead.
Play To Earn
The Hero Arena game is entirely PlayToEarn. By winning the PVE fight or Treasure battle, players get rewards.

Upgrade Heroes
Hero Arena GameFi utilizes a level system. As a result, players upgrade levels while they play the game. In addition, players can purchase items to up their Heroes power and upgrade them while they progress in the game.
10,000 Hero Arena Mystery Boxes which were earmarked for the event were snapped up by buyers in barely 5 seconds.
NUMBER OF EACH MYSTERY BOXES SALE ON BINANCE NFT
Rare: 5000 (50%)
Elite: 3000 (30%)
Legendary: 1500 (15%)
Immortal: 500 (5%)
Just only $50 for a Hero Arena Mystery Boxes
Binance Hero Collections will be activated in-game in Version 2.0
Participating accounts were entitled to a maximum purchase of 20 boxes. Each box contained 1 NFT which was either Hero Arena of varying rarities, special characteristics.
The Benefits of Binance Hero Collections
Extra 5% power more than Hero Arena collections
Staking Binance Hero Collections (The 1st quarter of 2022)
Special giveaway Binance NFT Event from Hero Arena x Binance NFT for lucky users with total prizes up to $10,000 BUSD
Lucky players who open NFT Immortal will be able to participate in the lucky draw to receive $100 (limited to 100 slots).
The lucky draw will be open at the end of the sale box on Binance NFT.
Timeline: From 29 December 2021
The success of the Hero Arena x Binance NFT Mystery box event have proved Hero Arena's rise and potential in the NFT gaming market
Hero Arena game has been released for 1 month, the game enjoyed by many gamers through many outstanding features. The Hero Arena team has been doing research and developing its ecosystem. However, the protocol's core mission remains to create a consensus metaverse of solid engagement with community members to build a solid P2E game. With the game's launch on the horizon, we expect to witness an entertaining P2E experience on BSC.
About Hero Arena
Hero Arena is a role-playing game (RPG) protocol on the Binance Smart Chain. The protocol enhances user experience through its IDLE campaign which enables players to earn rewards without spending so much time online.
Visit Hero Arena via these links: