How can an NFT industry become a source for art development? A story of a real artist.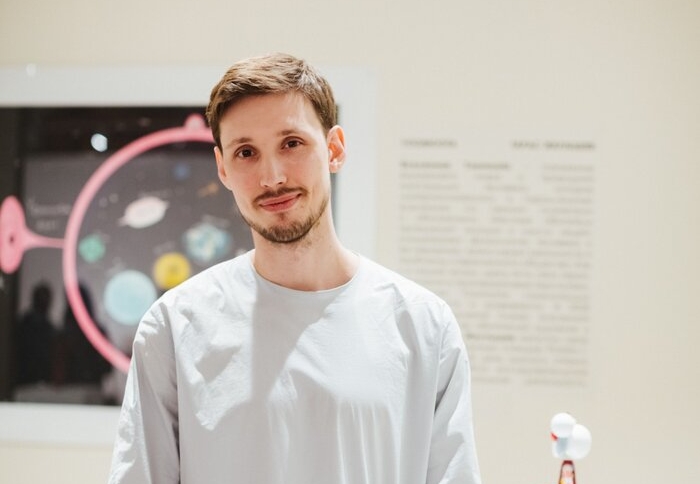 The value of digital art raises a lot of questions for today's world. Actually, the value of anything is controversial for many reasons. But NFTs especially. The NFT industry today is exploding. Even Paris Hilton showed off her new bored ape on fellow BAYC member, Jimmy Fallon's tv show.
Hundreds of new projects are launched every day, or maybe every hour. It's happening this way because people are ready to throw money into the screen, you just need to show them a cute jpeg. And that's both good and bad. The bad side is that the bubble is swelling and the good one is that it is easier for artists to raise funding.
The market situation led to projects copying one another, hoping for the same success. How do we know what's legit? What particular NFT should we buy? Are all NFTs scams? Will the development of NFT technology stand the artist's community in good stead? Let's try to figure it out.
It's always interesting to consider multiple opinions, that's why we decided to ask a real experienced artist about his understanding of the art value, the future of traditional and digital art industries.
Taras Zheltyshev has not always been an artist-artist, but art has attracted him since childhood. Taras is a pediatrician in the first place. Shortly before defending his dissertation, he decided to become a collectible furniture designer. By the age of 29, he founded his own interior decor studio and has become a prize-winner of numerous competitions. Taras also has participated in numerous international exhibitions. In 2020, he received the Designer of the Year award from the "Elle Decoration Russia" magazine. In this article, Taras will try to bring his view on the digital art field and what is the value of NFTs for artists.
What was before art? Experience to date
Taras is originally from Tomsk, a Siberian region of Russia. After studying at the Siberian Medical University to become a Pediatrist for 6 years, he has decided to switch his occupation nearly before the dissertation defense. But nevertheless, Taras still follows the medical path, his shelves are filled with medical literature to this day. The main area of his interest is in works related to the biosphere.
We affect the world through our actions, either healing or killing it. That's the laws of biophysics and it resonates in me and my art.
Taras has been involved in art since childhood and tried different genres and directions. He was looking for a way to communicate with the world through artistic self-expression.
Creative background
Taras began his career with drawing and art design. In 2014 he started actively participating in various artistic events in his hometown and abroad. These were competitions and exhibitions held in Italy, China, Russia, and even Japan. Mainly he was focused on sculpture and furniture, which were also primarily art forms. These particular directions helped Taras to get his art abroad and attracted a lot of enthusiastic people. But eventually, tryings and multiple experiences helped him to find passion in creating beings and the world within. Taras has had more than 200 furniture pieces in the galleries or private collections at that moment. And he also created about a hundred sculptures in the last couple of years. Works were presented at international exhibitions of design and art in Brussels, Beijing (Beijing Design Week), Milan (Milan Design Week), and Moscow (Cosmoscow). Taras received numerous awards and prizes for his hard work – Designer of the Year by EllеDecoration is the latest. The last big project was the "New Kingdom" – chess pieces with NFT-chips and playing board which is the first public case in Russia when NFT-technology was integrated into a physical art object, and the city sculpture dedicated to the diabetes problem that was made for the pharmacological company "Geropharm".
YOOMOOTA
YOOMOOTA always has been in artist thoughts, growing inside his head since birth. But he couldn't describe it clearly. Physiology, self immersion, and awareness helped Taras to start turning feelings and thoughts into the reflexive YOOMOOTA universe.
It was just a word in the beginning. Then inhabitants and their sculptural representation came along. And now NFT is helping the team to introduce the universe and its inhabitants to the world. But YOOMOOTA is far more than just the NFT universe. We think that in the current state of the NFT and digital art market, there are rarely artists who have something behind them. Taras and his universe are perfect examples of a responsible and honest approach to creativity and artworks presentation. Be sure to check out his socials!
I see it as the various worlds and planets I described and shown in the way I feel. "Curiosities'' are the embodiment of people's curiosity, and I believe they will serve as a driving force for exploring the Surrealistic, Reflective universe of YOOMOOTA. We wanna take people on a real journey along with the WAGMI Team.
Future plans
Taras sees YOOMOOTA as an international community where people will participate as creators or viewers. All objects in the metaverse will be manifestations of people's traits, thoughts, and environment.
Who may know us better than ourselves? And humanity has always been curious to play, explore and observe others. We absorb others' experiences like sponges, it can be thoughts, habits, phrases, etc.
That's why Taras created a place where people will be able to share their views and show them through the prism of the surreal and recognizable YOOMOOTA universe. In half a year, the YOOMOOTA team has plans to expand, the coverage may expand exponentially. The universe will begin to grow from person to person.
Play2earn support
Taras and his team are planning to release a p2e game approximately within a year. The game will consist not only of pictures but also filled with inner and surrounding world knowledge. There also will be animations, comics, and many other items that will tell about YOOMOOTA from different angles. The goal of the YOOMOOTA and WAGMI teams is to give people a unique experience!
How will the NFT industry affect artists?
NFTs are the new way of storytelling in the web3 world as I see it.
Images, stories, art projects have always been there. But not everyone has had the opportunity to show their thoughts and art to the world. Like at physical exhibitions, very few artists are able to organize such events. People are dependent on the material world, and if art can't feed the author the development is slowing down. Web3 gives us an opportunity, all we need is to take it. But Taras also believe in physical exhibitions and in their great importance in the art field. He is looking forward to it so keep up with updates!
I just want to highlight that now there is a chance for everyone to develop themselves through their art and get attention to it. Take a look at any popular projects nowadays. Most of the founders are anons and have no special background or fame. So it doesn't matter if you are an accomplished artist or just starting your way.
Popularity is gained by those who can be trusted. It's important to express your position to the audience. To be a good listener and respond with actions, through your art in particular. If you are familiar with the things mentioned above, you will definitely meet people who will believe in you and will improve you and your art.
Check our guide of the most promising crypto