Keeping Up with OKLG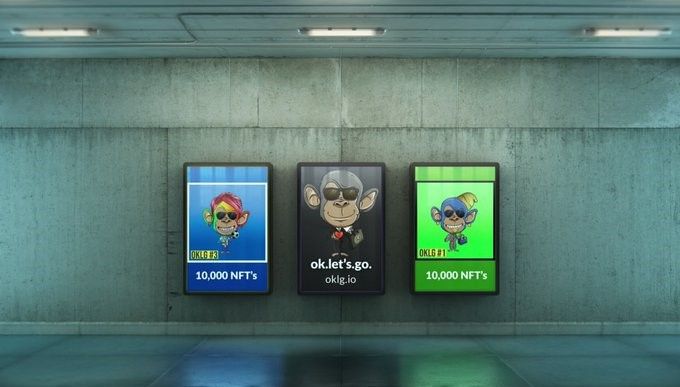 Considering how quickly things move in the crypto realm, it's no longer unexpected when a new coin is introduced or an established cryptocurrency platform makes a significant game-changing move. People that understand the mechanics of the space are taking advantage of the crypto surge. This is true of the OKLG platform's creators.
It wasn't long after the platform's formal launch late last year that they revealed their plans for rebranding and new platform advancements. Simply put, OKLG and Moontograhy were going to merge. And now, within the first quarter of this year, the rebranding process has already begun, with GitHub fast-tracking this process.
OKLG's most recent upgrade has changed this platform into an exciting mega ecosystem with newer features. The ecosystem in question blends OKLG's basic pillars of culture, meme, community, and utility with the latter's highly utilitarian model to create a crypto phenomenon not yet seen.
OKLG is an abbreviation for okay. let's.go. The project is an offshoot of Moontography, a platform with decentralized applications (dApps) built with the core tenant of utility and fundamentals. Moontography is a platform that aims to decrease the entry barrier for crypto projects by allowing them to expand with cost-effective, quick, and trustworthy applications. OKLG will tap into industry views about memes and culture tokens to get the word out about Moontograpy.
OKLG is committed to offering a feature-rich platform that provides solutions effortlessly,  allowing you to concentrate on your primary project and business objectives. With its new advances, it strives to transform the public's skewed impression of meme currencies by providing innovative packages with several rewarding features to all stakeholders involved while also assisting other crypto communities.
The Alpha-as-a-Service tool is an example of one of these updates. AaaS is a ground-breaking technology that holders of at least 30 million $OKLG tokens may utilize to improve their trading or investment experience. You will be alerted when new contracts are generated on the $ETH and $BNB blockchains using this Moontography tool. More importantly, you'll be notified when new liquidity is available, allowing you to purchase the token.
AaaS also adds a layer of security to the environment. You may use this service to simulate a purchase or a sale. This procedure helps you to determine whether or not the contract is fraudulent.
Moreover, it creates value for OKLG holders by notifying them once new token contracts are created.
OKLG has further scaled up in its products and services rendered. It packs an impressive and unmatched portfolio dApps which includes:
The Airdropper
It provides the simplest and least expensive way to distribute ERC-20 and NFTs/ERC-721 tokens to your community. Project owners can now spend more time focused on the project rather than worrying about scripts to perform cheap airdrops.
Buybot as a Service
This service provides a fast interface for tracking purchases within your project.
Atomic Swap as a Service
This service creates a bridge contract that allows token holders to trade their tokens one-to-one across various chains.
Farming as a Service
It makes it simple for project owners to build staking programs for their communities in a short period. Holders are given an efficient and easy means of getting rewarded for HODLing their tokens. ERC-20 and NFTs/ERC-721 coins are supported.
Password Manager
Ensures that your online account information is encrypted and kept on a chain that no entity controls, ensuring that those who shouldn't be able to read it can't.
Trusted Timestamping
Provides a means for easily authenticating and validating data using SHA-256 hashes.
On-chain File Storage
Intelligently segments and saves your data across numerous blocks on Jupiter's blockchain, if necessary, and offers a library to add/fetch binary data and put it together with a simple interface.
Decentralized Code Storage
Provides a mechanism to utilize git and to store their source code on the blockchain.
Furthermore, OKLG intends to establish a formal consultation procedure with project owners before providing their services. The profits generated from those services will need the project(s) market to acquire OKLG and pay them with it, which they will burn or leverage in various capacities. The floor price of the OKLG token will thus be maintained through the formal consultations
As the metaverse and NFT industries heat up, the platform has recently shown a significant interest in them. This was mirrored in the addition of the ok.let's.ape. NFT collection, which allows OKLG token holders to mint NFTs. The collection is an essential part of the OKLG ecosystem, both in terms of utility and incentives. NFT holders would be eligible for incentives such as "VIP" bonuses, discounted or free OKLG items and overall greater benefits than individuals who do not own an NFT.
Even with all the latest enhancements, the mega ecosystem OKLG is always striving to link communities together to promote cross-community interoperability. Their unique tokenomics, incentive structure, and dynamic buyback have all been updated to reflect their desire and capacity to collaborate with other projects and form long-term, mutually beneficial connections. It has already established synergies with Floki coin, Zombie Inu, SHED coins, and other DAOs.
Final Thoughts
The OKLG crew has clearly put a lot of work into this platform. They are bringing about a revolutionary transformation in the world through decentralization, culture, memes, community, and utilities. But at its core, it is a people platform, with community members at the centre of all decisions, innovations, and technology.