MagicCraft Collaborates with Devoted Studios to Revolutionize the Gaming Industry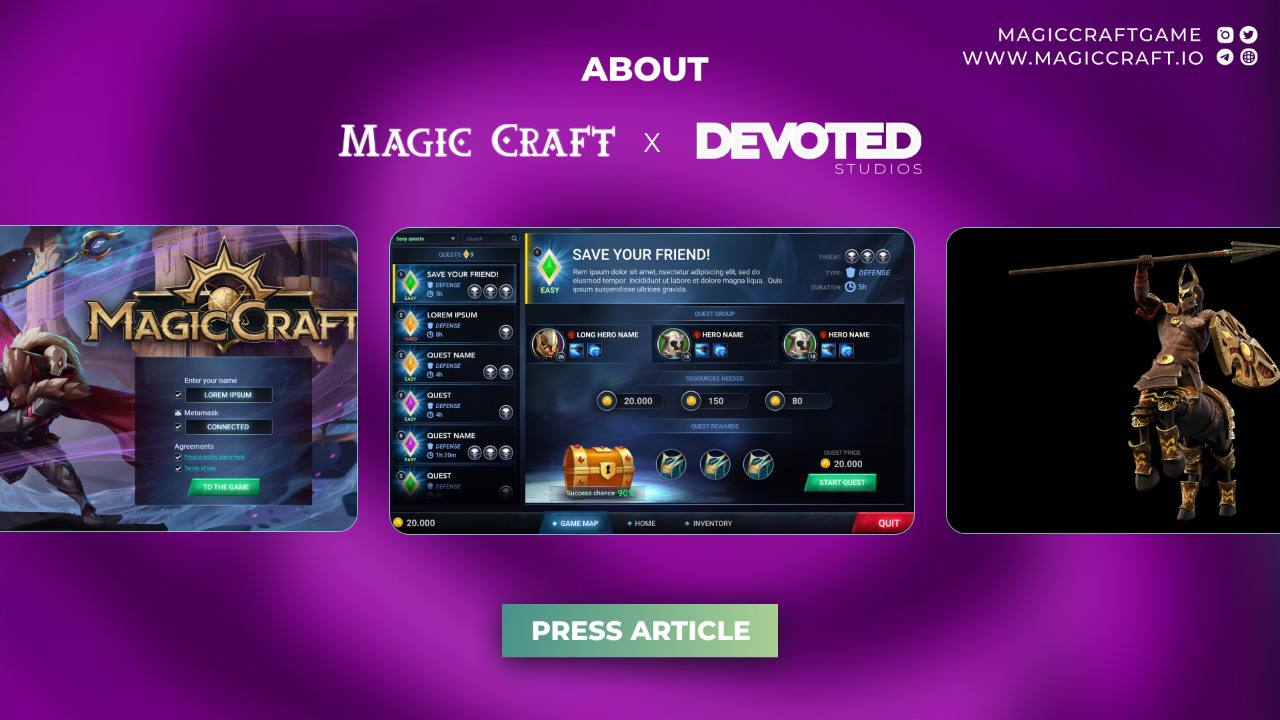 After the initial success, MagicCraft, an NFT-based Play-to-Earn game on the Binance Smart Chain, collaborates with Devoted Studios, a US-based production management company, for further in-game development and to add new and thrilling features to it. The two have released the new game development trailer, which highlights these features and other exciting changes made to the game.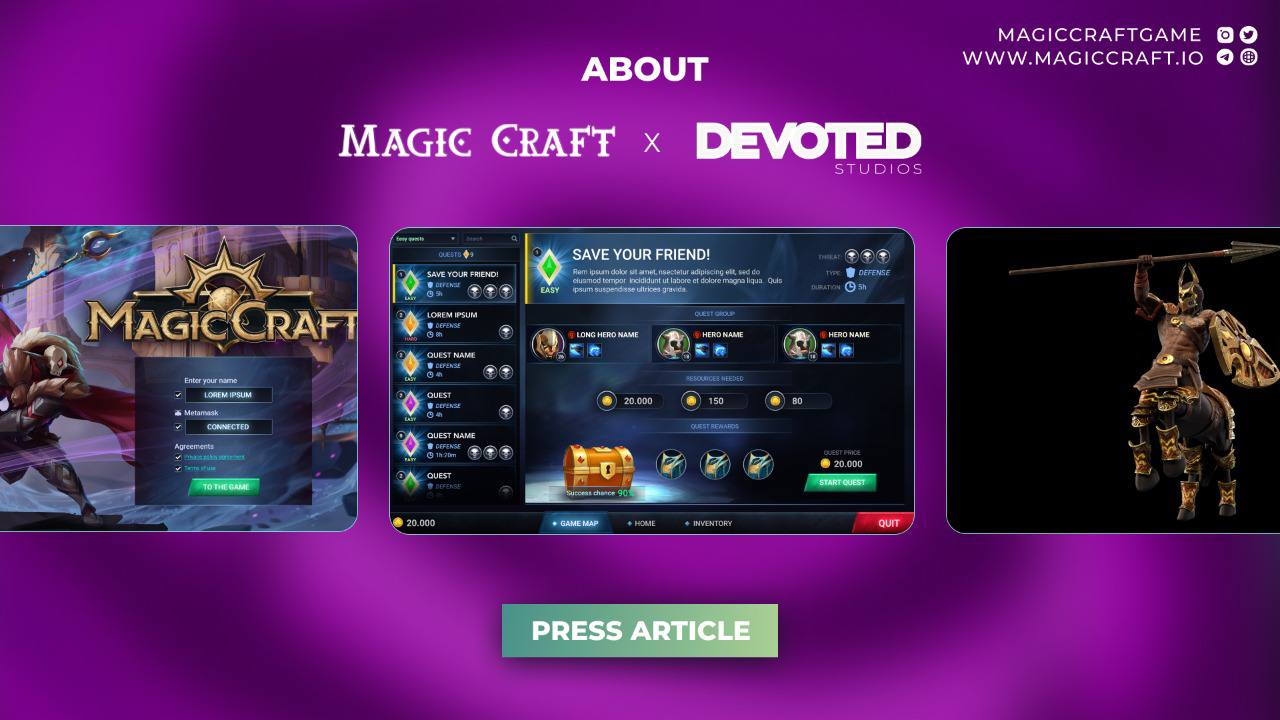 Devoted Studios is one the most accomplished companies dealing with game development on a global scale. It has hired some of the brightest minds in every industry and has delivered several successful projects in the recent past. Their pool of talent and resources combined with MagicCraft's idea is bound to be a success.
In a market already saturated with a plethora of available options, it was difficult for MagicCraft to find a considerable user base. And not only that, MagicCraft's user base has been growing exponentially ever since its launch. This increase can be attributed to the exciting and thrilling gameplay, along with the amazing graphics.

The success achieved by MagicCraft could only become reality due to the combined efforts of the seven teams involved in the development of the game. Each of these played a critical role, right from the basic visualization of characters to their 3-D creation using specialized software. Not to forget the development team that created the whole ecosystem and the composers who managed to deliver the amazing background music, both of which have pretty much been the USP of MagicCraft.

MagicCraft encompasses every aspect of the industry, be it delivering a successful token, integrating NFTs as collectibles and traits, or Staking as means of earning a steady passive income, among others. And the various teams are working in tandem to deliver regular updates to keep up the thrill and attract even more gamers to MagicCraft. The trailer will provide a sneak peek into what's about to come.

About MagicCraft

For those of you who are a fan of wars, alliances, and forming strategies to overpower opponents, MagicCraft would be a perfect choice. The primary objective of the players is to acquire as much Magicus, a prized ancient resource stored in heavily guarded castles. This resource can be used to cast spells, and if obtained in large enough quantities, it can even create new life on the platform. Getting their hands on Magicus is what players will be fighting for. Also, the top winners will feature on the Leaderboard and stand a chance to earn exciting rewards, both in-game and the ones that hold monetary value.

Players can also earn rewards through other means, which include, renting out their heroes, Live Streaming the game, and predicting the outcome of a match. Besides, players can also use the marketplace to trade in-game items that they collect with others from across the globe. The rarer items fetch a higher price in the marketplace, so be on the lookout for these since they could be your ticket to success.

The governance token for the platform, $MCRT, will be used to reward users as well as facilitate transactions on the platform and its total supply is capped at 10,000,000,000.

Also, MagicCraft allows players to stake their current $MCRT holding and earn big. Staking, as a protocol, has been a major hit with more and more platforms employing it for optimal results. In this, users deposit their tokens to the staking pool which is then used to verify the transactions on the blockchain. And in return, users are rewarded through a steady stream of funds. MagicCraft has built an innovative staking model which helps users to be more involved in the MagicCraft ecosystem. After staking their tokens, users can receive not only extra $MCRT, but also NFTs as a reward. Staking is one of the best ways to earn a passive income by putting your crypto tokens to use.

MagicCraft has proven its worth in the last few months, and with the game development picking up pace again after the recent collaboration with Devoted Studios, things could only get more exciting. Players are all thrilled at the possibility of new features and exciting rewards. If you haven't already, apply for beta-testing of the game via https://www.magiccraft.io/game-testing and be part of one of the best Play-to-Earn games ever developed right now!

To find out more about the game, visit the official website https://magiccraft.io/

Also, you can follow MagicCraft on all social channels to stay updated with the recent development and releases.

Telegram: https://t.me/magiccraftgamechat
Discord: https://discord.gg/c4bgnsqzQR
Twitter: https://twitter.com/MagicCraftGame
Instagram: https://www.instagram.com/magiccraftgame/
Medium: https://medium.com/@MagicCraftGame
Linkedin: https://www.linkedin.com/company/magiccraft