For the past two years, Kevin Rooke, a tech researcher has been tracking the Bitcoin holdings of public companies. His findings reveal that the number of public companies holding Bitcoin increased by 400% in 2020.
According to Rooke, public firms have accumulated over $3.6 billion worth of the digital gold. For clarity, public companies held nearly 20,000 BTC in 2019. A year later and the amount has grown to over 105,830. Rooke tweeted:
Last year, public companies held fewer than 20,000 BTC on their balance sheets. Today, 19 public companies hold 105,837 BTC on their balance sheets, valued at over $3.6 billion.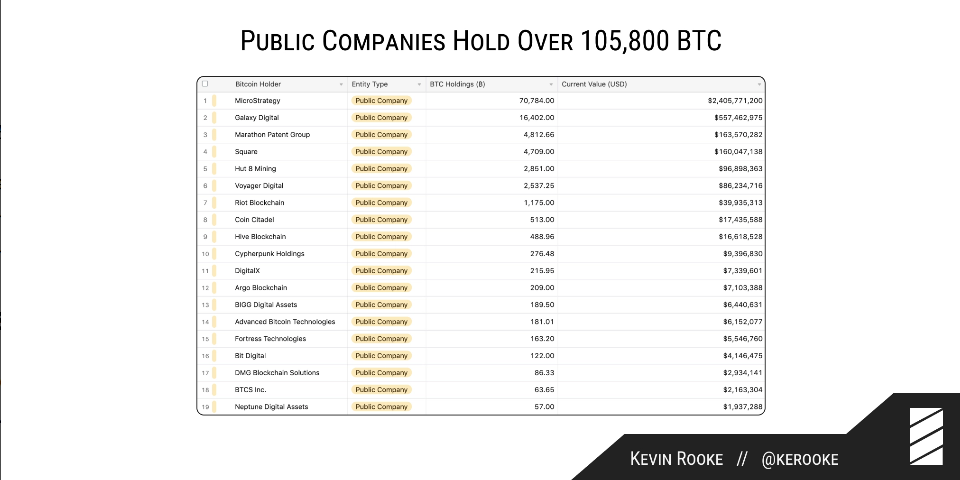 2020 was an interesting year for Bitcoin, with institutional investors rushing to accumulate the asset. The growth in the number of public companies holding Bitcoin, therefore, does not come as a surprise. MicroStrategy is leading the pack with 70,784 BTC in its portfolio. GalaxyDigital Holdings and Square Inc. are the first and second runners-up with 16,400 BTC and 4,700 BTC, respectively.
Late last year, a handful of institutional investors began turning to Bitcoin as a hedge against economic uncertainties. The exodus of institutional players such as PayPal, MassMutual, and MicroStrategy fueled Bitcoin's rally to new highs. The world's largest asset manager, BlackRock, also recently indicated its interest to delve into the space.