OKEx account feature: What you need to know
Renowned cryptocurrency exchange, OKEx, unveiled its Unified Account feature aimed at providing a seamless trading experience to customers in December 2020.
The decision to launch a new offering came after the exchange received multiple feedback from customers on how to improve.
Three key areas were highlighted for making improvements – segregated funds on different accounts, low capital utilization due to the inability to share margin funds across derivative accounts, and slow settlement of derivatives.

The Unified Account feature is a response to tackle the aforementioned bottlenecks. On that note, the upgrade has three modes to ease trading – a simple account mode, single-currency margin mode, and a multi-currency margin mode.
Depending on their preferences and needs, users can switch between different modes. However, they will be required to pass a short quiz to activate the multi-currency margin mode.
Simple Account Mode
The simple account mode allows users to trade on spot markets and purchase options contracts. For advanced features such a leverage trading, perpetual futures, or options contracts, a user will need to opt for the other two modes.
To utilize the simple account mode, you'll need to go through the following simple steps.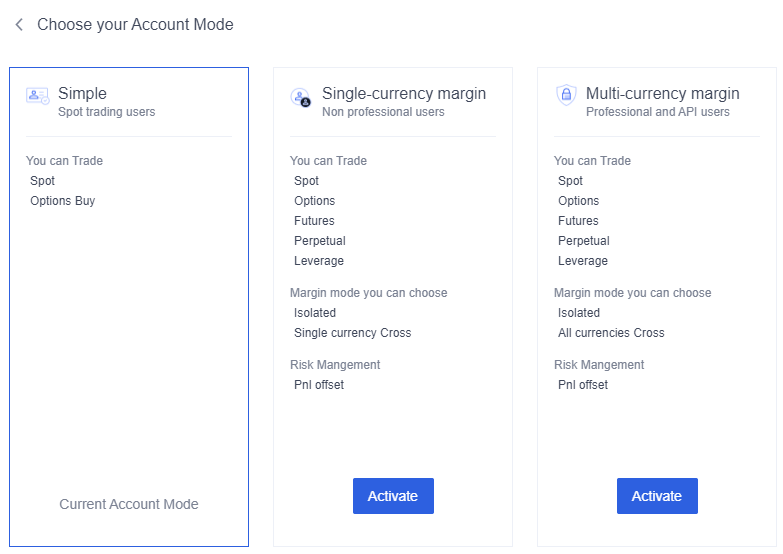 Log into your OKEx account and click on "Assets" from the top-right corner of the dashboard.
Select "start demo trading" then proceed to click on the toolbox icon next to "Information." This will take you to a new page where you can select the trading mode. The default option is "Simple."
Once in, you need to select a trading pair. You can change the pair from BTC/USDT to any other trading pair of your choice from the top-left corner of the trading page.
Next, enter your transaction details such as your limit price and quantity, and then click on the "Buy BTC" button to proceed.
Depending on the limit price, your order may be confirmed immediately or left opened in the "Open orders" tab. If can decide to cancel it at this point, if it is still opened.
Single-currency Margin Mode
Speaking of the single-currency margin mode, this option allows users to transact on all product offerings, including spot, leverage trading, perpetual swaps, futures, and options. There is also an option to switch between cross-margin or isolated margin with open positions. Furthermore, while the isolated-margin mode allows users to segregate their risks on different positions, all instruments using the same currency for settlement share the margin in cross-margin mode.
This account type is best suited for non-professional traders.
The procedures to enable this mode are similar to the simple account mode. You will need to select "single-currency margin" when choosing a trading type. You will also be required to read a disclaimer before this mode is activated.
Multi-currency Margin Mode
Just like the single-currency margin mode, the multi-currency option allows users to trade on all products. The only difference is that whereas users have to ensure that they have a sufficient balance of the corresponding currency in single-currency mode, assets in different currencies can be used as collateral in the multi-currency margin account.
This account type services the needs of professional traders and API users. In addition to reading a disclaimer, you will have to pass a short quiz before the mode is activated.