Phemex: A Committed Cryptocurrency Exchange Platform Lists 47 New Tokens
The rise in popularity of cryptocurrencies has turned digital assets into one of the fastest-growing markets in the world. With the total market capitalization having crossed $2 trillion, blockchain is showing no signs of slowing down, and this has sparked a lot of interest in the technology.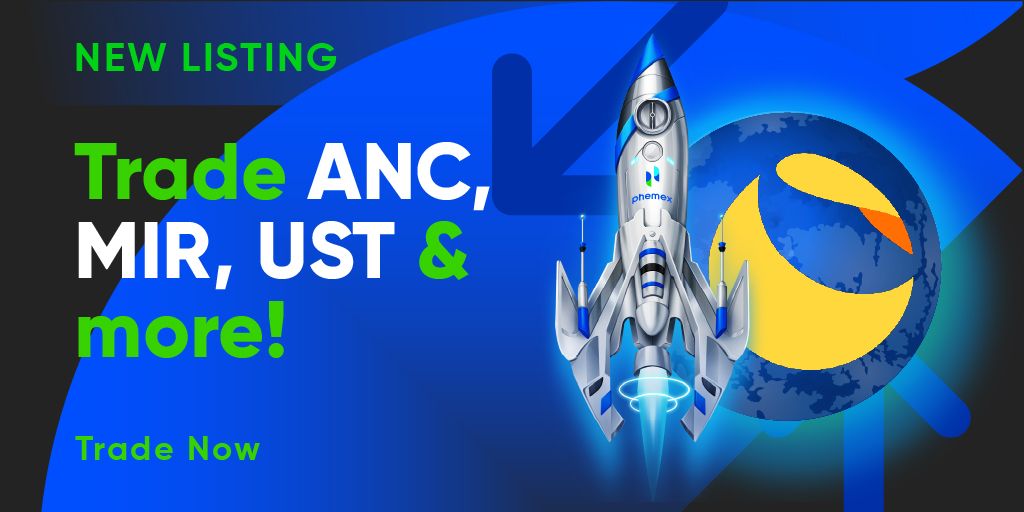 Cryptocurrencies attract speculative investors and emerging tech enthusiasts from across the globe, so new and upcoming projects with great potential are in high demand. To cater to this demand, Phemex, one of the world's most popular cryptocurrency and derivatives trading platforms, just listed 47 new tokens on its platform!
Notable Mentions:
Phemex is extremely excited to list these tokens, bringing increased investor exposure to a variety of projects in the space. Among the 47 tokens, there are a few that stand out in particular, some of which have been incredibly profitable for investors in the past.
One of the biggest highlights for this round of listings is Terra. Among the 47 tokens being listed, Phemex has focused heavily on making tokens related to the Terra ecosystem available for investors on its trading platform. The Terra universe is considered the best option for DeFi applications after Ethereum, recently surpassing even the BSC smart chain in total value locked.
To support the Terra ecosystem and give back to its community, Phemex is launching an exciting Terra Era campaign, in which you can receive $UST airdrop for Spot Trading.
TerraUSD (UST)
Terra runs on a proof of stake consensus mechanism, wherein validators are selected to verify transactions based on the size of their stake on the network.Terra is an open-source blockchain for algorithmic stablecoins pegged against traditional fiat currencies. On the Terra blockchain protocol, global payments are powered by its community-controlled stablecoins, including TerraUSD (UST). UST is a yield-bearing coin created to bring value to the Terra community and offer a more scalable solution for DeFi amid severe issues faced by other algorithmic stablecoins like DAI.
With a market cap of over $15 billion, the token offers interest-bearing capabilities and interchain migration. It simultaneously maintains a high level of scalability, incorporating features of existing technologies and innovations to provide users with an optimal experience.
Recently, the Terra community greenlit a proposal to burn 88.7 million LUNA , worth around $4.5 billion at the time, to mint 4 to 5 million terraUSD (UST) stablecoins. An earlier burn of 520,000 LUNA saw the token rise in value by over 7% in just 24 hours.
Holders of the native token LUNA are granted governance and voting rights, enabling them to participate in the protocol's decision-making processes. Luna is also used to regulate Terra's stablecoin pegs. With the recent spike in its performance, Terra has made its way into the list of top 10 cryptocurrencies by market cap, which has swelled to nearly $34 billion.
Mirror Protocol (MIR)
MIR is an Ethereum token that enables creators to issue synthetic assets that help track the prices of real-world assets. The aim of the project is to enable 24/7 equities trading by minting "synthetic" versions of real assets. It gives traders price exposure to real assets while enabling fractional ownership, open access, and censorship resistance.
Unlike traditional tokens, which represent a real, underlying asset, mAssets are purely synthetic and only capture the price movement of the real asset. It currently has a market cap of nearly $130 million.
Anchor Protocol (ANC)
Anchor Protocol is a lending and borrowing platform hosted on the Terra blockchain. The platform relies on an over-collateralized model that allows users to lend, borrow, and earn profits on their digital assets. ANC is Anchor's native token, functioning both as a utility and governance token with a market cap of over $680 million.
With some of the highest interest rates for stablecoins at 19.5%, the Anchor protocol also exhibits uncommon interest stability, rarely seen in any other lending/borrowing platforms. To avail deposits from Anchor, borrowers can also pledge liquid-staked PoS assets like bLUNA or bETH as security.
While this is not an exhaustive list, these are some of the more notable mentions among the 47 tokens.
Diversify Your Crypto Portfolio with Phemex
With the ever-growing crypto market, it is important for investors to diversify their portfolios by investing in different tokens. Phemex is proud to list 47 new tokens on the exchange, giving investors a variety of options when it comes to choosing profitable tokens.
This should help users grow their investment portfolios further, enabling them to make profits through diversification facilitated by this listing. Phemex thrives on its community and will continue to work towards making its platform the best possible experience for all.