Phemex Announces 'Stable With Phemex' Campaign With 100% APY on 7-Day Fixed USDT Deposits
Cryptocurrencies have stood the test of time when it comes to their utility as a store of value during times of geopolitical unrest. The conflict between Ukraine and Russia highlights the limits of our financial system as it exists today, and the blockchain could help investors in affected regions protect against major losses.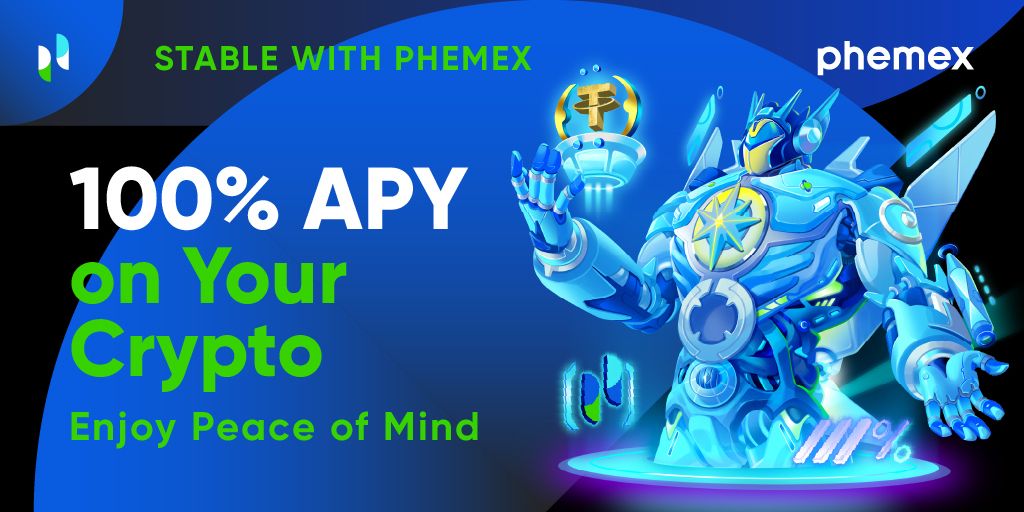 Russia's invasion of Ukraine has urged a host of nations to announce heavy sanctions to cripple the country's economy - The EU (European Union) imposed sanctions aimed at 'Kremlin interests' while the US announced a wave of sanctions aimed at Russia's banks and state-owned enterprises. Germany, as well as the UK, have also announced sanctions targeting the Russian economy. However, there is a growing consensus that Russian institutions may use cryptocurrency to mitigate the impacts of these sanctions.
Tether (USDT), a stablecoin backed 1:1 by USD reserves, witnessed a spike of over 30% in five days against the Russian ruble, which is seeing heightened inflation since the news broke. Market data shows the USDT/RUB trading pair recently crossed 105 rubles for the first time in history.
Image Source: TradingView - USDT/RUB price performance
For Ukraine, fundraising via crypto has emerged as a key route to show support for those who are in need of help. With Bitcoin and other digital tokens, the government has managed to raise over $10 million in cryptocurrencies.
Bitcoin was created in the wake of the 2008 global financial crisis, when confidence in governments and financial regulators was at an all-time low. During uncertain times like these, people turn to safe-havens, and what better place to store your capital than a decentralized currency designed to fight back against poor government decisions?
In accordance with our commitment towards our users, Phemex is proud to announce our 'Stable With Phemex' campaign giving out a 100% APY on our 7-day USDT fixed accounts to all newly registered users on the Earn Crypto platform.
Between the 1st and 8th March, Phemex has allocated a $10 million fund limit on a first-come-first-serve basis, through which users can earn 10x more than the usual 10% APY offered on the platform. After the first week rates will return to 10%.
On March 17, winners will be announced, and additional earnings will be sent to your spot wallet in USDT. Rewards will be distributed from March 24, 2022, onwards, and users may use up to $1,000 of the total fund limit.
To participate in the campaign, users need to complete KYC and submit their UID through the campaign form to be eligible for rewards. The campaign does not apply to individuals in India, Venezuela, Indonesia, Bangladesh, Pakistan, the Philippines, and Vietnam.
Since Phemex's inception, we have been committed to providing our users with the best possible user experience. Our 'Stable With Phemex' campaign is just another way of ensuring that our users feel safe and confident when trading cryptocurrencies. For more information, check out the official announcement page.