Phemex Lists 26 New Spot Trading Pairs
Phemex has always strived to cultivate a healthy community of traders, investors, and crypto enthusiasts, eager to prove that its commitment to customers isn't just lip service. As a result, since its launch in late 2019, the exchange has expanded from just three contract pairs to becoming a force to reckon with in the global crypto derivatives exchange scene.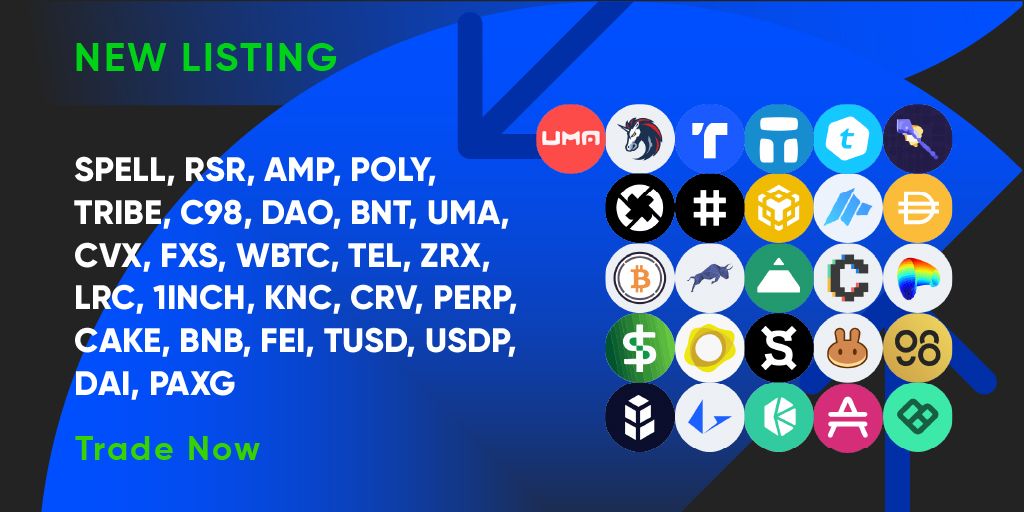 The decentralized finance movement is fueled by applications and networks built and run by distributed, disparate participants. DeFi offers millions of people access to financial services where no banking institution would serve them, and there is power in supporting such endeavors. From MakerDAO to PancakeSwap, DeFi is one of the most impactful utilities of blockchain technology, and Phemex wants to celebrate it.
Phemex's CEO and creator, Jack Tao, started building Phemex after spending more than a decade at Morgan Stanley. After noticing firsthand how the existing financial system stacked the odds against retail investors, Tao decided to take issues into his own hands and restore power to the people through distributed networks and decentralized finance.
Now, with over 39 contract pairs, 53 spot pairs, and 2 million+ customers, Phemex is listing an additional 27 token trading pairs to its spot exchange platform.
The 26 new spot trading pairs are:
SPELL /USDT
TEL /USDT
RSR /USDT
AMP /USDT
POLY /USDT
ZRX /USDT
TRIBE /USDT
LRC /USDT
FEI /USDT
TUSD /USDT
USDP /USDT
DAI /USDT
C98 /USDT
1INCH /USDT
KNC /USDT
DAO /USDT
BNT /USDT
CRV /USDT
UMA /USDT
PERP /USDT
CAKE /USDT
CVX /USDT
FXS /USDT
BNB /USDT
PAXG /USDT
WBTC /USDT
The Evolving Crypto Space
Among the 27 new tokens being listed on the platform, the Singapore-based exchange plans to offer BNB, a BEP-20 token that drives the BNB ecosystem, as well as PAXG, a crypto asset backed by actual gold holdings. Other notable tokens include 1INCH, the native ERC-20 governance token of the 1inch DEX aggregator network, and CRV, which runs the decentralized platform Curve Finance.
Phemex is also listing the 0x protocol's native ZRX token, along with ETH-backed algorithmic stablecoin DAI. Other listings include WBTC, an ERC-20 digital asset that brings Bitcoin onto the Ethereum network, and CAKE, a BEP-20 token native to the PancakeSwap DEX on BNB Smart Chain.
Phemex plans to publish these 27 new tokens between the middle and end of March, increasing the total number of tokens listed on its spot and derivatives platforms to 81.
Inspiring Values
Phemex mission is to help everyone trade and manage risk, while never compromising on or abandoning its commitment to providing the highest quality products and services in the industry. Phemex's take on community interactions and its ethos of growing alongside customers have attracted traders from all over the world. Something is definitely working.
From a viral online 2.1 BTC giveaway to promote awareness of private key self-custody to hosting events with millions of dollars in prizes, the exchange has remained in touch with its traders and their needs.
Their development team welcomes feedback, comments, and requests from the community on various social media platforms. Phemex's commitment to client satisfaction is unparalleled in the industry, allowing it to remain true to its Wall Street heritage while still offering a balanced platform for retail investors.