Phemex Presents Choose Your Reality On Its 2nd Anniversary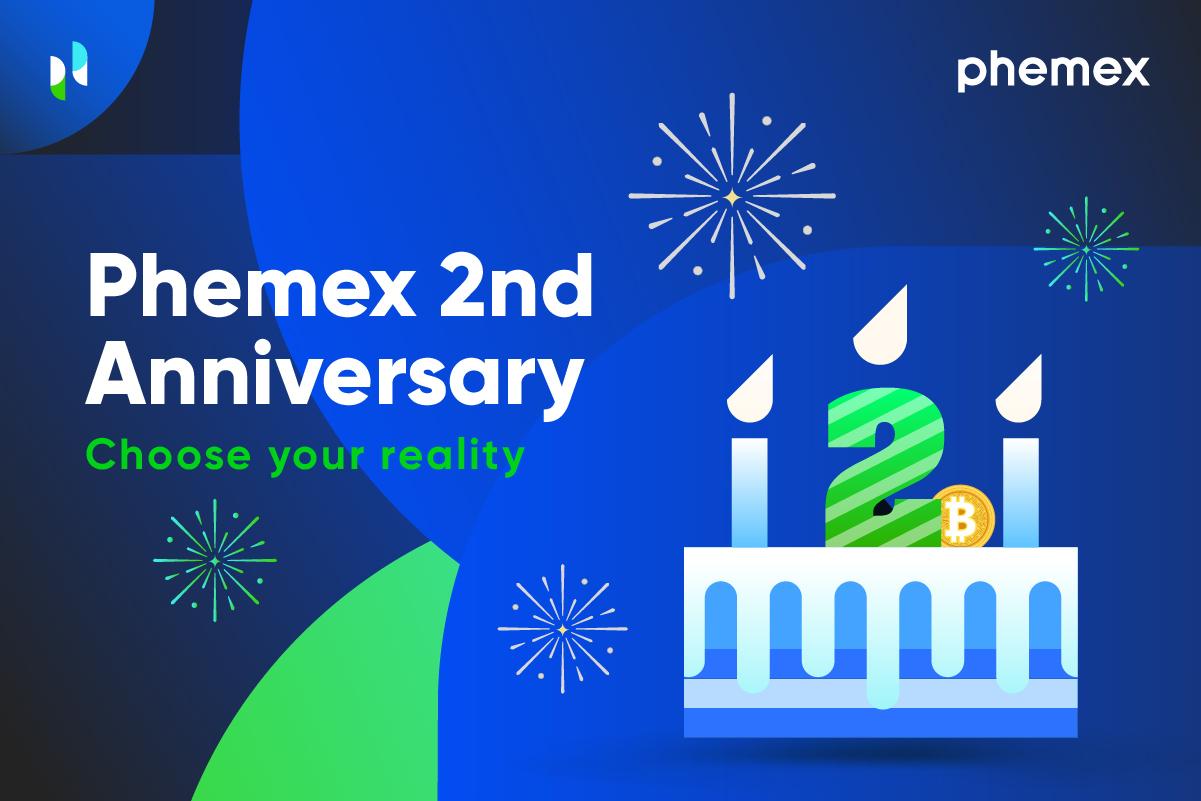 Phemex is all set to turn its users' dreams into reality as it celebrates its 2nd anniversary. The Singapore-based cryptocurrency exchange has had an extraordinary journey since its inception in 2019, positioning itself as one of the most efficient crypto trading and investment platforms in the world.
Phemex thinks it's time to give back to the users who have helped the platform achieve some crucial milestones. On its 2nd anniversary on November 25, the exchange is giving back with a never before seen campaign. Dubbed "Choose Your Reality," this new campaign demonstrates Phemex's triumphs over these incredible last two years, empowering users across the world with the vision of an enhanced financial future and helping users Break Through and Break Free.
Cryptocurrency and blockchain technology is a revolutionary force at work that aims to disrupt the shortcomings of the archaic traditional finance sector. Thanks to the growing public appetite for digital assets and decentralized finance (DeFi), the capital inflow has surged tremendously in this area. Financial freedom stands at the very core of this ground-breaking innovation, and towards that end, Phemex is making some impressive progress.
Led by eight former Morgan Stanley Executives, Phemex has attracted its fair share of ardent followers with its unparalleled reliability, responsiveness, and integrity. With the main objective of setting the stage for financial opportunities, Phemex has managed to develop some of the most outstanding tools, offering top-notch services and vast knowledge stores for the crypto community. The exchange is constantly pushing its own limits, and this time, Phemex wants to make its users' dreams come true.  
The Choose Your Reality campaign highlights the "Dream with Phemex" event, where users can submit a form or even send in a short video clip detailing their aspirations and goals, which will be featured on the page during the event. Phemex will then choose 10 lucky winners on February 16, 2022, and help them overcome the challenges they face in achieving their goals.
For more details about this event, check out the official announcement of the campaign.
A Recap of Phemex's Journey So Far
It's been only two years since Phemex came into existence, but the exchange has come a long way since. Today, it is one of the most prominent crypto exchanges worldwide, expanding from just three contract pairs in 2019, to boasting a whopping 40 spot pairs, 39 contract pairs, and approximately 2 million active users today. Phemex hosts an average daily trading volume of over $10 billion worth of assets, leveraging a user-oriented approach to develop more powerful and sophisticated tools and features than anything else out there. This mindset has allowed Phemex to compete fiercely with some of the most prolific crypto platforms on a global scale.
Phemex is no stranger to exploring new avenues for creating financial opportunities in the cryptocurrency industry. From the viral puzzle challenge and giveaway of 2.1 BTC in 2019, to conducting a relief fund for those in Wuhan reeling under the coronavirus pandemic, Phemex has constantly conducted events to benefit not just the platform, but the community surrounding it as well.
Last year, Phemex also launched "the Era of Zero," which essentially brought zero-fee spot trading to its premium members. Soon after, the Singaporean exchange announced a partnership with global fiat on-ramp Banxa with the idea of creating a seamless experience for its clients to purchase crypto with the help of credit and debit cards. Furthermore, Phemex also introduced over-the-counter [OTC] services in February 2021, citing growing demand in the community.
Its Earn Crypto program launched at the beginning of the year, enabling traders to amass 8.5% APY on USDT deposits worth up to a massive $1.5 million. Shortly thereafter, the exchange teamed up with the community to list its first-ever non-fungible token on the leading NFT marketplace OpenSea. The artwork consisted of the Ethereum (ETH) deposit addresses of over 1000 Phemex users. It was quickly auctioned off for around 44 Ether, which was worth $100,000 at the time. Meanwhile, the proceeds of the auction were split amongst the participants.
Phemex had rolled out yet another incredible campaign in May this year to commemorate the original Bitcoin Pizza Guy on the now legendary Bitcoin Pizza Day. It offered the Florida-based programmer, Laszlo Hanyecz, a second chance at spending 10,000 BTC on their Earn Crypto platform, giving him the ability to withdraw all profits from the platform on that particular day. The amount he earned would have been worth well over $120,000 in interest!
Though Phemex was not able to locate Hanyecz, it did come up with a new program called Learn and Earn a few months later. This initiative called for users to stay informed about blockchain technology and the cryptocurrency industry, incentivizing them to complete courses on the platform. In addition, Phemex also established an Academy portal with over 400 elaborately written articles about hundreds of topics in the space.
Over the past two years, Phemex has hosted countless trading competitions and giveaways, with a laser focus on its consumers' needs. The exchange has also launched events and implemented features to cater to its user demands. Naturally, Phemex has managed to climb the ladder of the world's top exchanges, consistently ranking within the top 10 derivatives exchanges across the globe.
Phemex: Breaking barriers to create financial opportunities
Part of Phemex's growing appeal is its belief that everyone in this world should have access to the right set of tools to effectively manage risk and trade assets seamlessly. The last two years have shown how Phemex has stayed true to its promise of delivering the highest level of quality both in terms of its products and its services. As it continues to grow its consumer base, its platform's sophistication and robustness coupled with its high standards and mature tools have enabled Phemex to propel itself to new heights, while upholding the broad ethos of the cryptocurrency industry.
Phemex is now gearing up to explore the metaverse realm. While speaking about the Metaverse movement that has taken the world by storm, Phemex CEO Jack Tao highlighted the importance of NFTs within it. At the World Blockchain Summit in Dubai, Tao said that the NFT space is not going to fade away and is very much here to stay. The exec also stated, "no one quite knows what it will look like, but that's sort of the point. The metaverse won't be constructed by a handful of centralized conglomerates -- it'll be assembled by billions of people."
To amplify its footprint, Phemex is looking forward to the innovative Choose Your Reality program, doubling down on its dedication to its customers as it steps into another challenging year.