Report: Analysing 100 best cryptocurrency news sites

I have compiled the top 100 English language news platforms and compared them across 12 metrics. The data was collected in November-December 2020.
The report and spreadsheet will help editors, journalists and media platform owners better understand their environment. It can aid marketeers, PR specialists and SEO specialists to quickly assess the real quality of sites. Investors can use it to understand whose news they can trust the most. Crypto project owners can use it as a tool to choose platforms for advertising or their press releases with announcements. And traders can use them to follow the highest quality news and make more informed decisions. Crypto enthusiasts will be able to find where to read the crypto news.
The raw data in the table can be found at this link:
Last year's report can be viewed here:
This year, for the analysis, I used only English-language news sites that specialize exclusively in the crypto niche. That means that Forbes, Hacker Noon, The Next Web or other platforms that produce content about cryptocurrencies, but are not specifically targeted to this niche, are not included in the list.
Some facts:
Cointelegraph and Coindesk together collecting more traffic than the 98 other crypto news sites combined
Cryptocurrency news sector is extremely centralised
One minute is the amount of time an average user spends on a news platform
Coindesk's SEO traffic value is higher than the traffic value of all the next 99 news sites combined
Cointelegraph.com, coindesk.com, newsbtc.com and news.bitcoin.com have collected more inbound links than the other 96 news platforms combined
Value of Coindesk's user from search is 9.7x above average
Let's take a look at some metrics
Traffic value
Traffic Value is arguably the best metric for determining the real quality of SEO traffic on a website. This underestimated feature by Ahrefs shows the approximate value of the traffic a site gets from search. The higher this number, the more valuable the traffic.
Why is it important to pay attention to this? Well, it certainly looks wonderful in SimilarWeb if you get 100M monthly visitors from Google. But if most of this traffic is of low quality, then it is not super valuable traffic, and is of no real use. On the other hand, if your site only gets 5k visitors per month, but this traffic consists of people with strong buying intentions, then this is probably the preferable option. If you want to use only one metric to assess the quality of a site, use this one.
Please note that this metric only reflects the value of SEO traffic, but sites have other sources as well, so the real value of all their traffic is higher.
According to Traffic Value, coindesk.com takes first place by a wide margin ($3,600,000), cointelegraph.com is in second place ($1,200,000), and news.bitcoin.com comes in third ($511,000). In fourth place is cryptonews.com ($165,000), and fifth place belongs to newsbtc.com ($95,900).
The SEO traffic value of the first site, coindesk.com ($3,600,000) is greater than the traffic value of all the subsequent 99 sites combined ($2,275,672).
Top 10 crypto news platforms by SEO traffic value:
coindesk.com $3,600,000
cointelegraph.com $1,200,000
news.bitcoin.com $511,000
cryptonews.com $165,000
newsbtc.com $95,900
decrypt.co $59,600
coingeek.com $25,600
bravenewcoin.com $19,500
blockonomi.com $16,600
theblockcrypto.com $15,000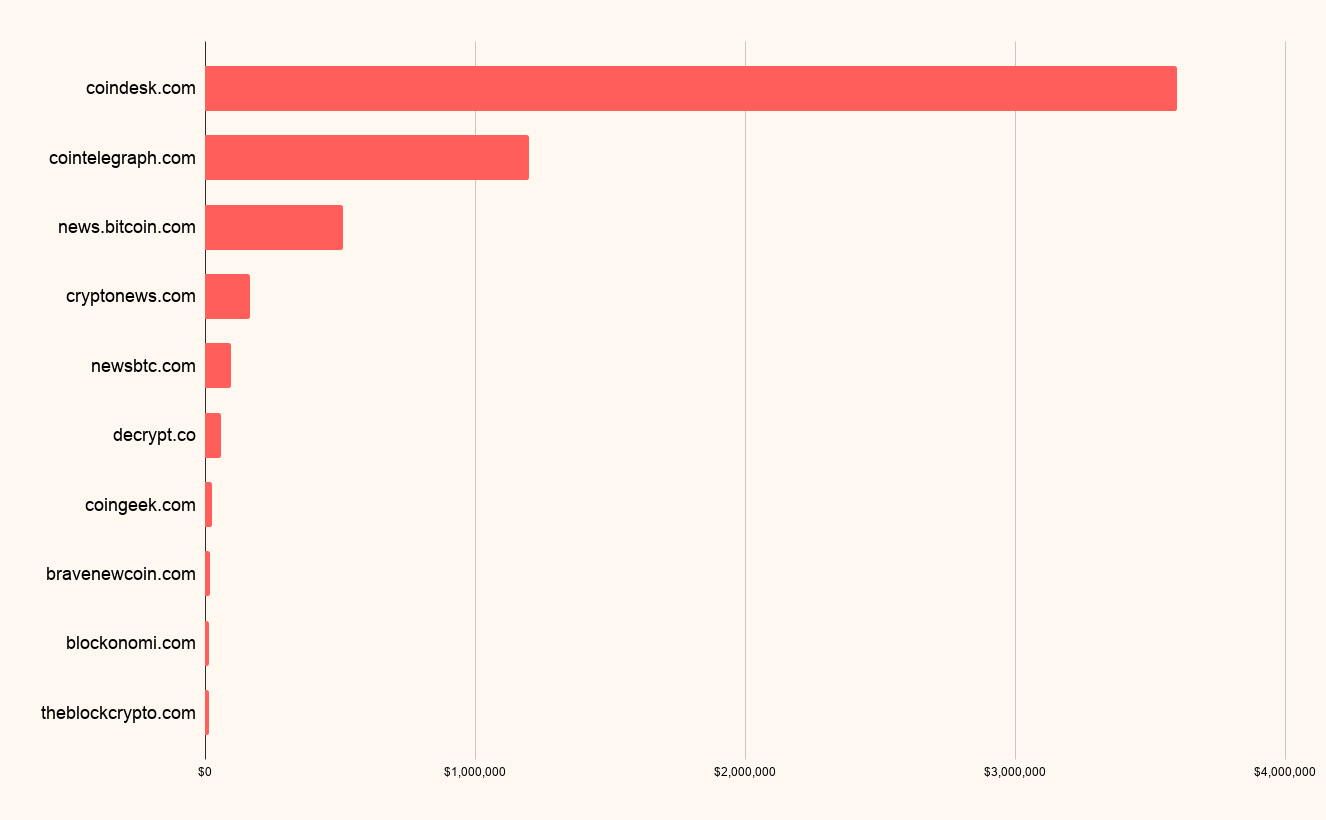 If you know the amount of monthly traffic, the proportion of SEO traffic, and the value of the SEO traffic, you can calculate the value of the average user who comes from search.
Coindesk.com is ranked first in this metric with $0.97. In second place is bitnewsbot.com ($0.80), and in third place coinjournal.net ($0.73). Then, fourth place is taken by the-blockchain.com ($0.56), and fifth by coingeek.com ($0.44).
The average value per visitor from a search on all 100 news platforms is $0.10, which makes each user from a coindesk.com search 9.7 times more valuable than from an average crypto news platform.
Using this metric, you can also see younger sites that are seriously looking for quality of their content. It is important to start working with them for the future.
Top 10 crypto news platforms by the average value per visitor from search:
coindesk.com $0.97
bitnewsbot.com $0.88
coinjournal.net $0.73
the-blockchain.com $0.56
coingeek.com $0.44
cryptonews.com $0.40
newsbtc.com $0.37
btcpeers.com $0.36
cryptovibes.com $0.35
cryptocoin.news $0.32
Domain authority
DA reflects the quality of the site and can predict how high the site will rank in search results. It is calculated using over 40 parameters, but the main one is the quantity and quality of sites that link to the site. It is a good metric to assess which platform is the source of data or news for other sites. But DA can be interfered with artificially, so it needs to be used in conjunction with other metrics.
The top position in DA is shared by coindesk.com and news.bitcoin.com; they both have DA 89, which is quite a good result. They are followed by cointelegraph.com (87), bitcoinist.com (83) and bitcoinmagazine.com (81).
For comparison, the average DA of the top 100 crypto news sites is 47.
Top 10 crypto news platforms by DA:
coindesk.com 89
news.bitcoin.com 89
cointelegraph.com 87
bitcoinist.com 83
bitcoinmagazine.com 81
newsbtc.com 79
coinspeaker.com 73
bravenewcoin.com 61
insidebitcoins.com 60
decrypt.co 60
Distribution of top 100 crypto news platforms by DA: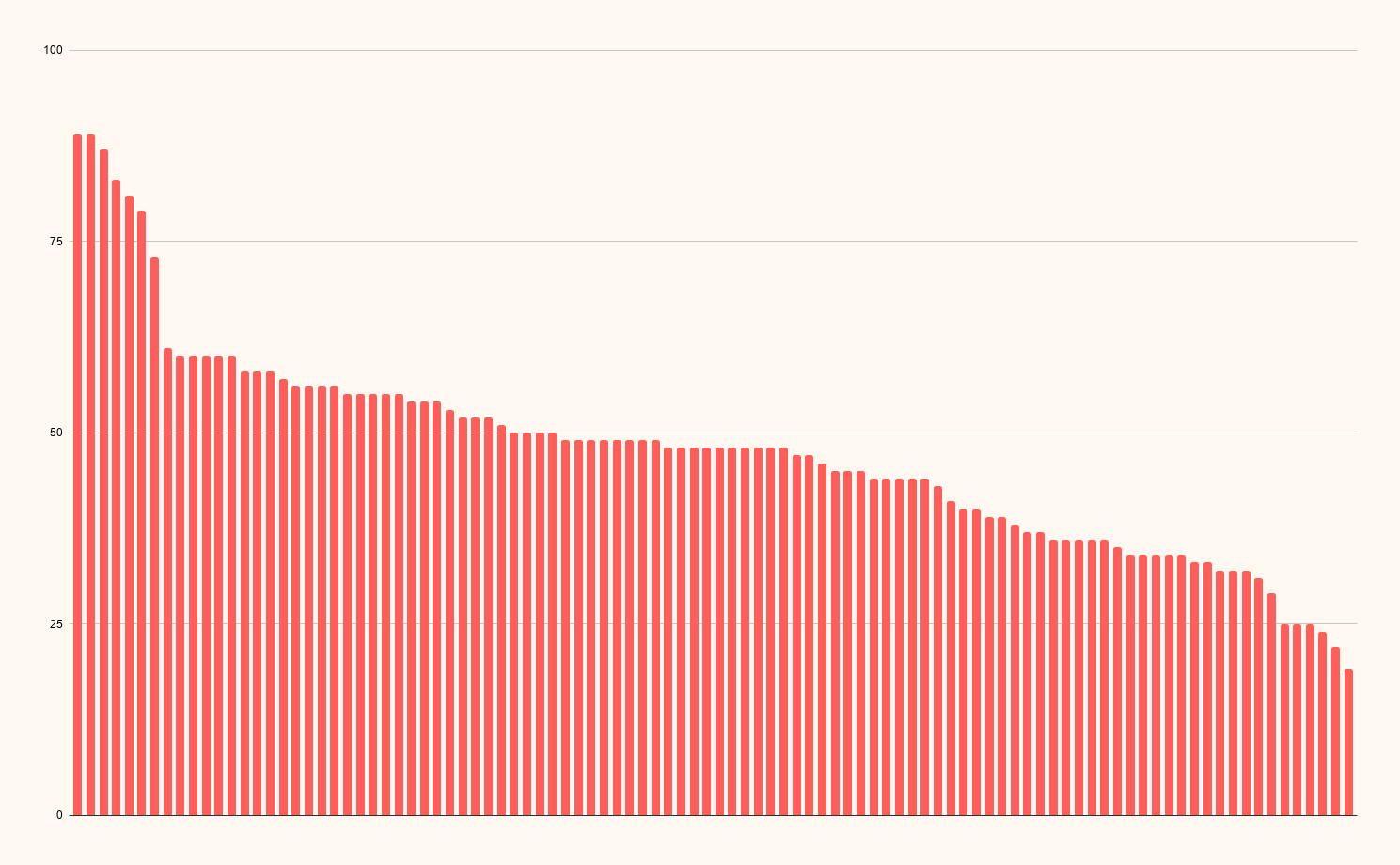 Alexa rank
Alexa Rank measures the number of visitors and the number of page views. The lower the Alexa Rank, the better. Also, it is best used in conjunction with other metrics. Often, based on the discrepancy between their positions on Alexa Rank and SimilarWeb, you can identify a site that is faking its visitor numbers.
The top-ranked site per Alexa Rank is cointelegraph.com (1,820), followed by coindesk.com (3,768) and news.bitcoin.com (7,631). In fourth place is the relatively young decrypt.co (8,846), which is growing rapidly. In fifth is theblockcrypto.com (15,292).
The average Alexa Rank of one hundred crypto sites is 679,599, which reflects how far the top sites are ahead of the average players.
Top 10 crypto news platforms by Alexa Rank:
cointelegraph.com 1,820
coindesk.com 3,762
news.bitcoin.com 7,631
decrypt.co 8,846
theblockcrypto.com 15,292
newsbtc.com 22,270
beincrypto.com 23,459
dailyhodl.com 28,091
publish0x.com 28,110
cryptonews.com 29,726
Visits per month
Cointelegraph.com is in first place per number of visitors per month (11,630,667). It is followed by coindesk.com (8,568,608) and news.bitcoin.com (3,317,789). Fourth and fifth place are taken respectively by decrypt.co (2,076,267) and ambcrypto.com (1,244,312).
Top 10 crypto news platforms by visits per month:
cointelegraph.com 11,630,667
coindesk.com 8,568,608
news.bitcoin.com 3,317,789
decrypt.co 2,076,267
ambcrypto.com 1,244,312
publish0x.com 1,193,462
theblockcrypto.com 1,095,322
beincrypto.com 1,030,350
dailyhodl.com 796,283
bitcoinist.com 788,444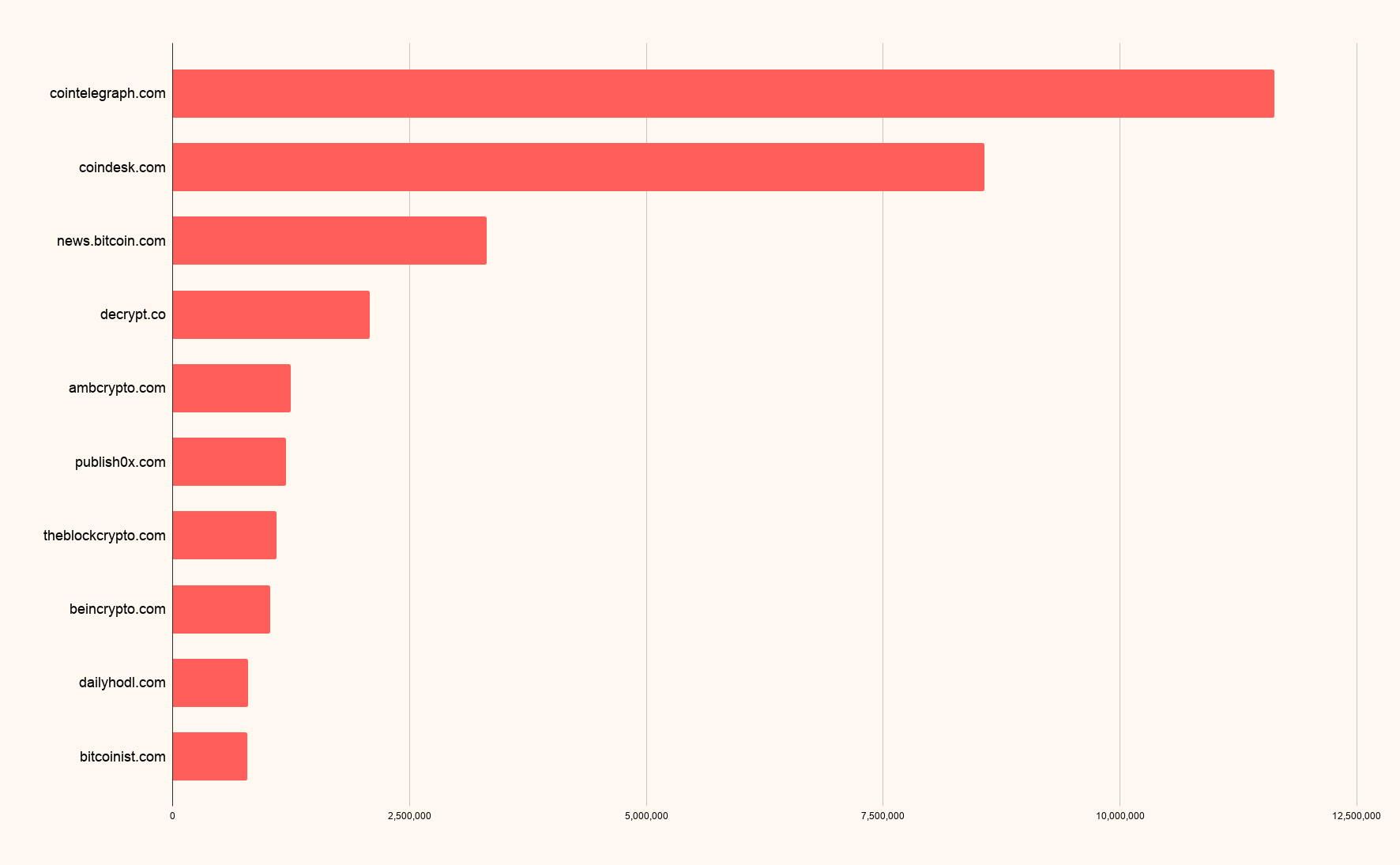 It is worth mentioning that, in terms of the number of monthly visitors, the first 2 news sites together enjoy more visitors than the other 98 combined: 20,199,276 versus 18,749,269.
Monthly traffic on 98 crypto news platforms vs cointelegraph.com and coindesk.com: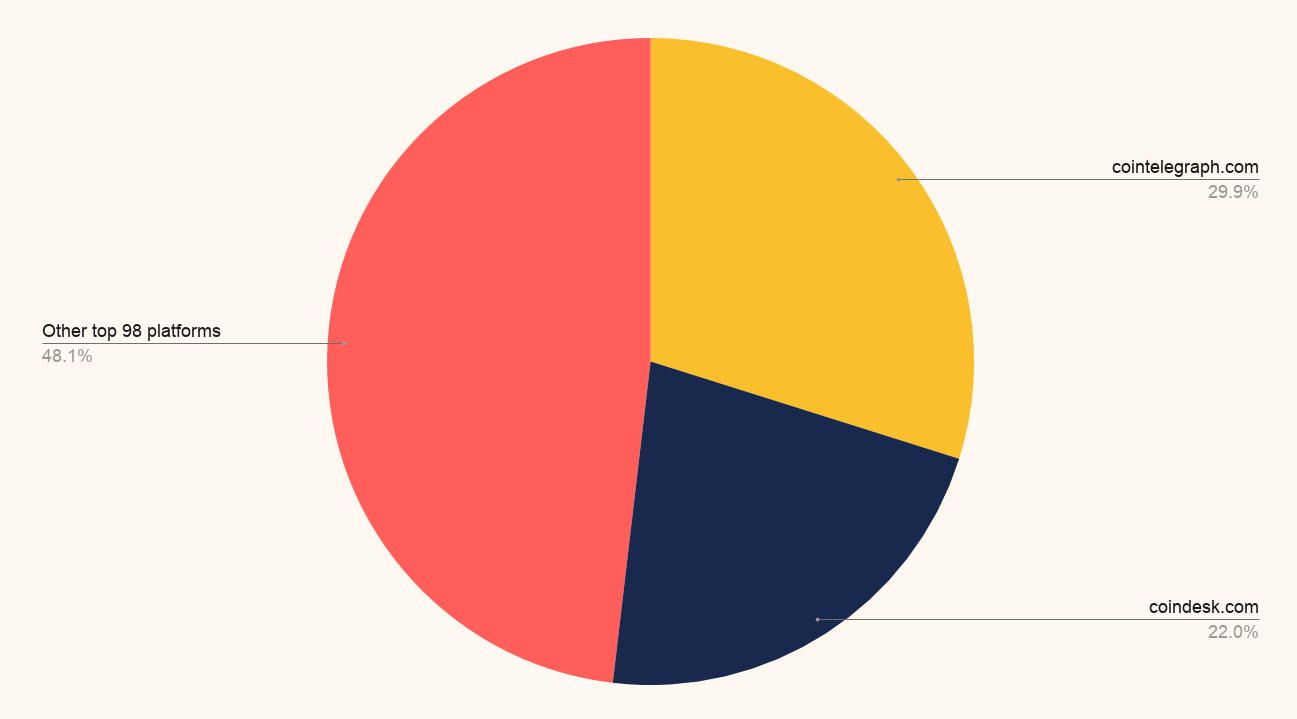 Bounce rate
Bounce rate is the percentage of the total number of visits within which no more than one pageview takes place. Bounce refers to a visit during which a visitor, having entered a site, viewed only one page, and did not make a transition to another page until the end of the session. In fact, it reflects how well the site is able to keep the reader on the site and the quality of the site's content.
According to this metric, bitcoingarden.org is in first place by a huge margin (8.20%), but keep in mind that they have a forum that positively affects this metric. They are followed by cryptocoin.news (18.9%) and coindelite.com (40.19%). Fourth place held by publish0x.com (47.13%), and fifth by 7bitcoins.com (48.89%).
The average bounce rate is 74.76%.
Top 10 crypto news platforms by bounce rate:
bitcoingarden.org 8.20%
cryptocoin.news 18.90%
coindelite.com 40.19%
publish0x.com 47.13%
7bitcoins.com 48.89%
coinfox.info 58.28%
livebitcoinnews.com 61.36%
cryptonews.com.au 61.41%
herbertrsim.com 62.57%
cryptoground.com 63.17%
Avg. Visit Duration
Avg. Visit Duration also reflects how well a site can keep users, and here publish0x.com (00:06:03) is at the top, 7bitcoins.com (00:05:34) also has a decent result on second place, and cryptocoin.news takes third place ( 00:04:17). Coindelite.com is in fourth place (00:03:44), and coinjournal.net is in fifth (00:03:40).
On average, users spend one minute on crypto news sites.
Top 10 crypto news platforms by Avg. Visit Duration:
publish0x.com 00:06:03
7bitcoins.com 00:05:34
cryptocoin.news 00:04:17
coindelite.com 00:03:44
coinjournal.net 00:03:40
bitcoingarden.org 00:03:00
coinfox.info 00:02:20
cryptostache.com 00:02:15
coindesk.com 00:02:10
zerocrypted.com 00:02:08
Total backlinks
The number of inbound links combined with DA perfectly reflects how often a site is used as a source of data and news. Cointelegraph.com (23,294,492), coindesk.com (17,215,021) and newsbtc.com (8,731,581) take the first three places in terms of the number of links, followed by news.bitcoin.com (8,034,527) and decrypt.co (5,667,050) in fifth.
Top 10 crypto news platforms by links:
cointelegraph.com 23,294,492
coindesk.com 17,215,021
newsbtc.com 8,731,581
news.bitcoin.com 8,034,527
decrypt.co 5,667,050
beincrypto.com 4,853,631
ambcrypto.com 4,224,203
cryptopotato.com 3,288,759
bitcoinist.com 3,048,164
cryptoslate.com 2,161,834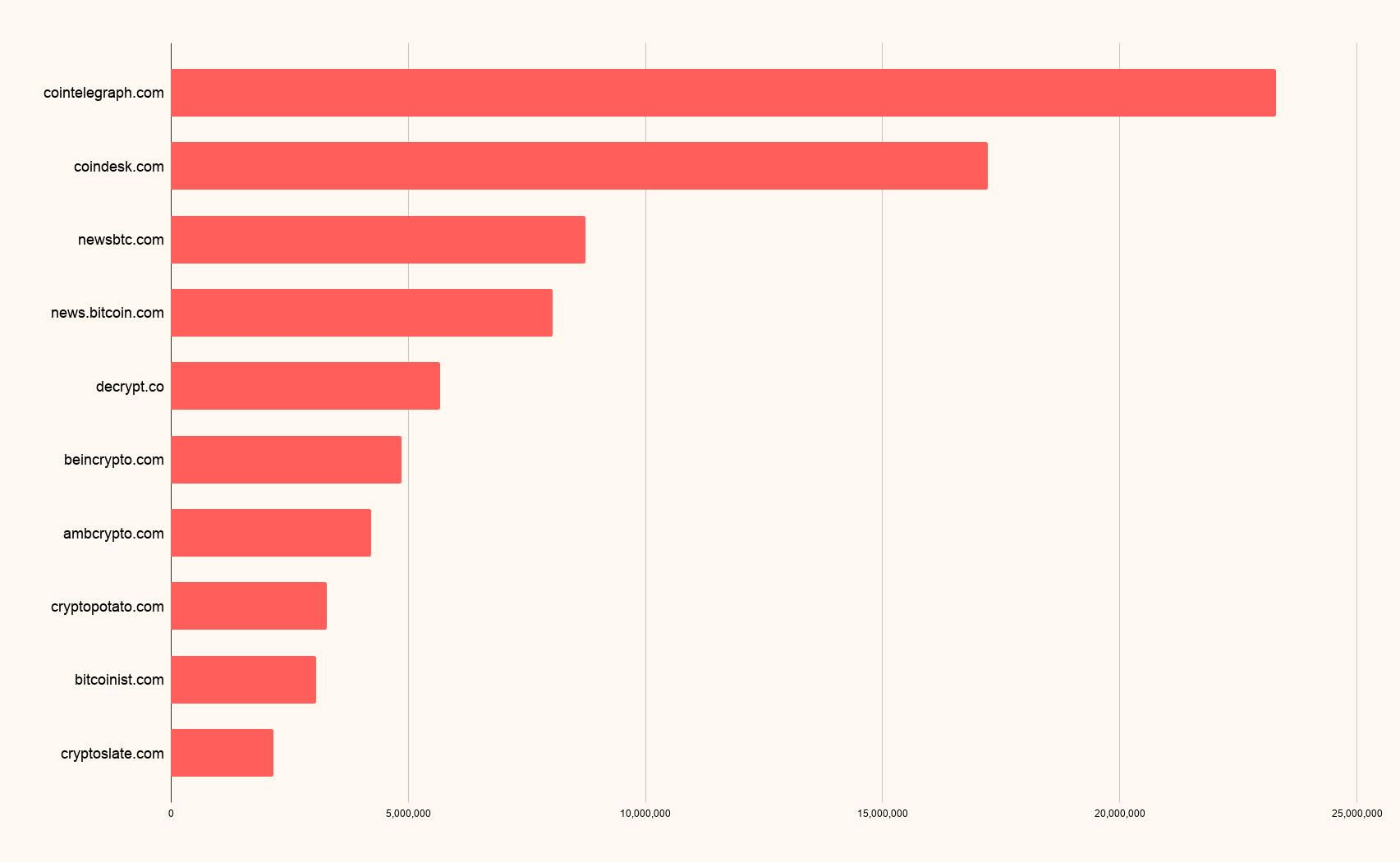 The first 4 sites collected more inbound links (57,275,621) than the next 96 sites from the report combined (47,477,340). This suggests that, for the most part, most news sites do not publish unique news, but write news or analyses based on publications on top platforms.
Links on 94 crypto news platforms vs cointelegraph.com, coindesk.com, newsbtc.com, and news.bitcoin.com:
A few words for leaders
If we want to discuss the leaders, then in the end, cointelegraph.com and coindesk.com performed excellently for the year, becoming the best crypto news platforms in 2020. News.bitcoin.com, decrypt.co, ambcrypto.com and publish0x.com also performed very well.
What next?
In the next reports, I want to take a closer look at the leaders in crypto news, analyze their content, and also understand where exactly they are getting their audiences. We also plan to analyze crypto exchanges, wallets and DeFi projects.
I am working to build a more complete base of crypto news platforms and to have data automatically updated daily. Reposts and donations will help speed up the appearance of the tool.
I would also appreciate help from data analysts in producing more in-depth reports.
You can contact me with any questions
by e-mail admin@btcpeers.com
on Twitter https://twitter.com/Nikopolos
or via Telegram https://t.me/Nikopolos