Sensorium's SENSO Token Arrives on a Leading Exchange, Bitcoin.com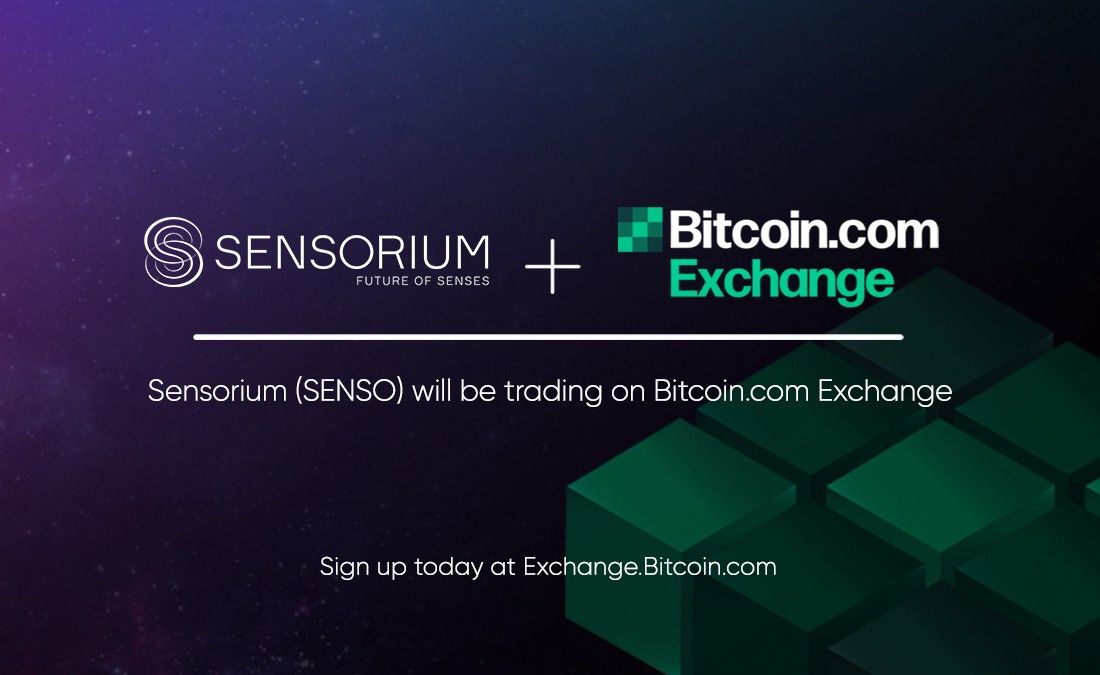 An AI, VR, and entertainment content solution developer, Sensorium Corporation, recently saw its token reach the Bitcoin.com crypto exchange. Bitcoin.com is one of the largest crypto asset platforms in the world, and as such, adding Sensorium (SENSO) among its supported coins looks like a huge step in the right direction for the company.
This is not the only important development for SENSO recently, however. The project's token also found itself on HitBTC and KuCoin. But, apart from exchanges, it also found its use case in allowing users to purchase avatars and other content within the Sensorium Galaxy.
Even so, gaining support on Bitcoin.com is a major step for the project. Many consider this to be one of the best exchanges around, and any token that gets featured on the platform is likely to be closely tracked by crypto community.
Sensorium Corporation's Communications Director, Brian Kean, stated that
"The featuring on Bitcoin.com demonstrates Sensorium Corporation's commitment to expand its operations so that more users can interact with Sensorium Galaxy product offerings." Brian added that their flagship product, Sensorium Galaxy, marks the evolution of social networks: "where users are not limited to just one dimension and can interact in virtual reality. Having our own token allows us to open Sensorium Galaxy to the entire blockchain community."
Similarly, Bitcoin.com exchange's head, Danish Chaudhry, stated that Bitcoin.com is quite pleased to see the arrival of SENSO token. He especially praised Sensorium's symbiosis of blockchain technology and virtual reality, which allow users to interact with one another. Meanwhile, the token allows content creators to monetize their work, and not have to worry about copyright protection.
He also said that it will be interesting to see how the addition on Bitcoin.com might affect the project and its token. He stressed that Bitcoin.com is pleased to see the token join his platform.
Exploring The Market Demand For VR and Online Entertainment Content
Sensorium Galaxy — is a social virtual reality project that provides uninterrupted broadcasting of synched VR content. Chaudhry's interest in what might happen to the project seems optimistic, but is there a demand for projects like this?
One report from 2019 assessed the VR market according to a number of different factors. The report suggests that the growth of the VR industry will exceed 35% over the following few years. The market is expected to grow from $7.9 billion in 2018 to $44.7 billion by 2024.
More and more people are purchasing headsets, which shows the need to continue creating new content in order to keep the community interested.
In 2017, the top VR headset providers used to be Sony (1.7 million units shipped), Oculus (0.7 million units), HTC (0.5 million), Microsoft (0.3 million), and other minor providers (0.5 million).
In 2019, however, the number of shipped units increased significantly, with Sony now providing 2.2 million, Oculus' demand surged to 1.7 million, while HTC  shipped 0.8 million devices. An additional 1.3 million devices were shipped by other, smaller providers, while Microsoft seems to be out of the game when it comes to top providers.
Seems like Sensorium has chances to offer users a different way of VR experience where they can interact with each other. Meanwhile, all events that they are viewing are taking place in real-time, or can be accessed from the library. This kind of attention to a new way of interacting with others also signals a potential shift in how social media looks, feels, and works.
This is possible due to the fact that the Sensorium platform is AI-based, and as such, it wants to be something special — something that no other platform has done before.
Modern VR and AI streaming capabilities have already set up the foundation for the next stage in the evolution of social media and online communication, and Sensorium Corporation believes that it's platform, Sensorium Galaxy might be the logical next step.
This is why its platform, Sensorium Galaxy, will act as a digital reality with content hubs — which will expand human activity and thought in every direction. As users continue to interact with the Sensorium Galaxy world, they will keep developing their avatar — which will serve as their digital twin.
So far, users were limited to one-dimensional social platforms. However, this is beginning to change in the virtual reality and online streaming environment.
A nice example of this was the live music event that just took place about a month and a half ago, at the time when the global pandemic was at its peak. However, attendees were not affected by it, as the whole event took place inside a video game. The performer was the US rapper, Travis Scott, who performed live inside a popular game, Fortnite. The spectacle was visited by over 12 million players from all corners of the world. The total viewer count was much larger, due to the fact that many attended via Twitch and YouTube.
Recently Wave, the virtual concert company that facilitates live music in virtual settings, has raised $30 million in funding.
Another project in the making worth mentioning is Elon Musk's Neurolink. This is a project that focuses on connecting the human brain with the digital interface. Musk spoke about Neurolink more openly in a recent podcast with Joe Rogan, where he explained different advantages and benefits of having and using this technology.
He hopes to see it solve physical and mental problems alike, but more than that, he aims to allow people to connect more directly with the rest of our technology, and increase the input/output speed at which we communicate with our devices.
This would improve learning and research speed, likely leading to a new understanding of technology as it is, and better the development of humanity as a whole.Similarly, Sensorium Corporation also aims to deliver a deeper kind of virtual experience. It wants to offer more than just observing a concert or a show, which has been the peak of VR thus far. As developers state, Sensorium Galaxy will fully use the power of the AI. The AI platform will be able to learn from user behavior, and can eventually become digital replicas of the real people. As mentioned, in a way, an avatar can grow to become an individual's digital twin. This gives the platform a perspective to build a world where a human can exist as a new virtual being.
Numbers point towards the VR sector being a very fertile soil — one that is not only worth exploring further, but also one that could significantly improve the Sensorium Corporation's virtual world chances of success, provided that they continue making the right moves. This goes equally for Sensorium, as well as any other new breed of deep Social VR projects, as this still remains a mostly untapped sector.
Sensorium wishes to expand the very concept of social VR and neuro-interface, and further expand the relationship between technology and social interactions. With technologies available today, as well as those coming in the near future — such as Musk's Neurolink — there is truly no limit to what the future of VR-based, AI-backed social networking can grow to become.