SheepDex started TestNet Competition with Mystery Rewards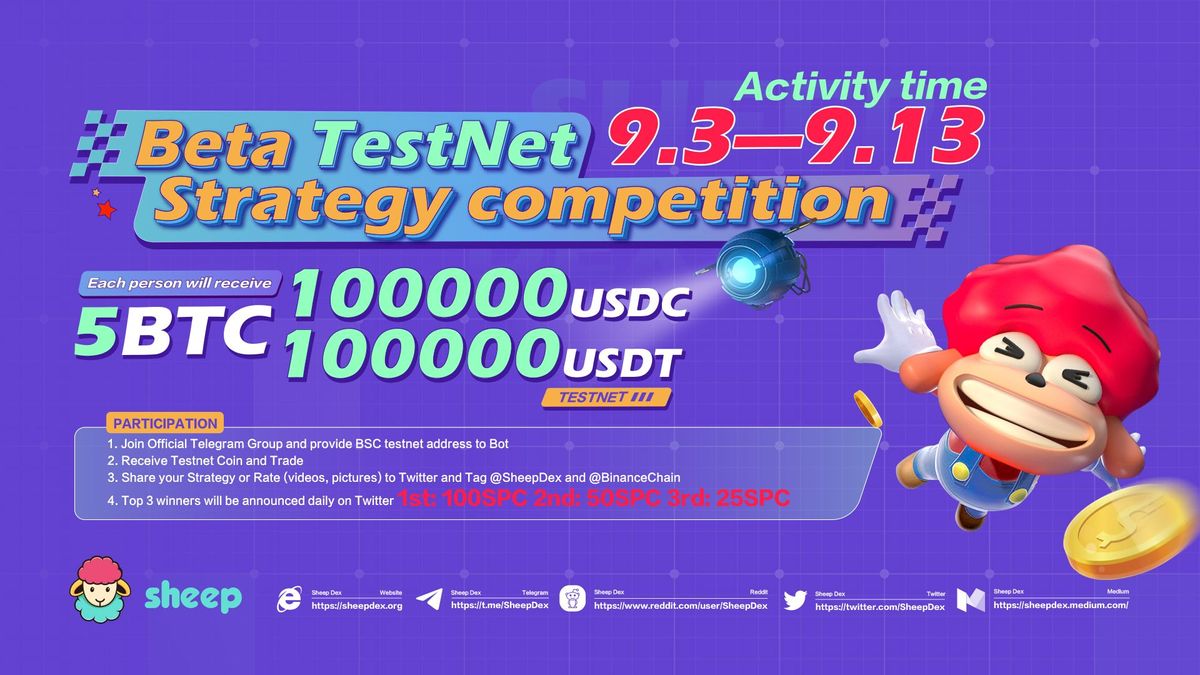 TestNet for SheepDex, a decentralized cross-chain liquidity aggregation platform on BSC (Binance Smart Chain), was launched on Friday 3 September Hong Kong time.
Unlike other decentralized exchanges that focus on spot, it is the first DeFi products where spot and derivatives coexist. Participating in SheepDex can obtain LP rewards and transaction mining rewards, while allowing liquidity providers (LPs) to deploy funds within a certain price range to get transaction fee rewards. This improves capital efficiency and market depth, provides better liquidity to end users and facilitates trading and clearing of derivatives. Among SheepDex's derivatives, zero funding rate perpetual contract is one of the most innovative products, and contract products such as leveraged tokens will continue to be launched. SheepDex aims to be decentralized Binance.
The range order system, same as that adopted by Uniswap V3, underpins the core technology of SheepDex, which concentrates liquidity, reduces trading slippage, reduces losses for users and allows LPs to get a cut of the transaction fees. This makes V3 currently the top DEX among all. SheepDex is 1st DEX brings V3 to BSC, which has greatly improved capital efficiency, increased trading volume, thereby increasing overall APR on BSC.
Secondly, SheepDex optimizes the range supply of liquidity by offering the pioneering LP staking in return for token rewards and users will be more willing to add liquidity with increased incentives.
All DeFi users can participate in this competition. Users participating in the test will be able to receive airdrops. In order to enable the users to experience the Range Order system, SheepDex offers each user 5 BTC, 100,000 BUSD and 100,000 USDC for TestNet. Users can develop their own strategies that boost revenues and prepare for the MainNet release.
At the same time, if you find bugs in the testnet during the testing and submit them to our  admin, you can get extra SPC token rewards. You can also participate in our Revenue Strategy Performance Contest by sharing your daily revenues on your Twitter, and the top three winners of the day will receive SPC token airdrops. The winner of the entire competition will receive the ultimate mystery reward. Join us now to compete against the top players in the world and share your strategies with us.
How to sign up SheepDex TestNet?
Follow SheepDex Twitter https://twitter.com/SheepDex and submit your BSC TestNet address. Developing your best strategies and you will be rewarded SPC tokens.
Search https://t.me/SheepDex_TestNetBot (@SheepDex_TestNetBot) via Telegram to start your mission.
Everyone who attend SheepDex TestNet will receive SPC airdrops
Find BUG to WIN SPC rewards!
Please reporting bugs through below link:
https://forms.gle/tDhH4RTtoaMDdmGAA
If your feedback was accepted, you will be rewarded SPC tokens.
Tutorial for participating in SheepDex TestNet:
https://www.tokencamps.com/news/53314.html
SheepDex TestNet Operation Tutorial:
https://www.youtube.com/watch?v=PvLkJS9FdSY
Check our guide of the most promising crypto