This Cannot Be Erased: NFT Mint Shines a Spotlight on Julian Assange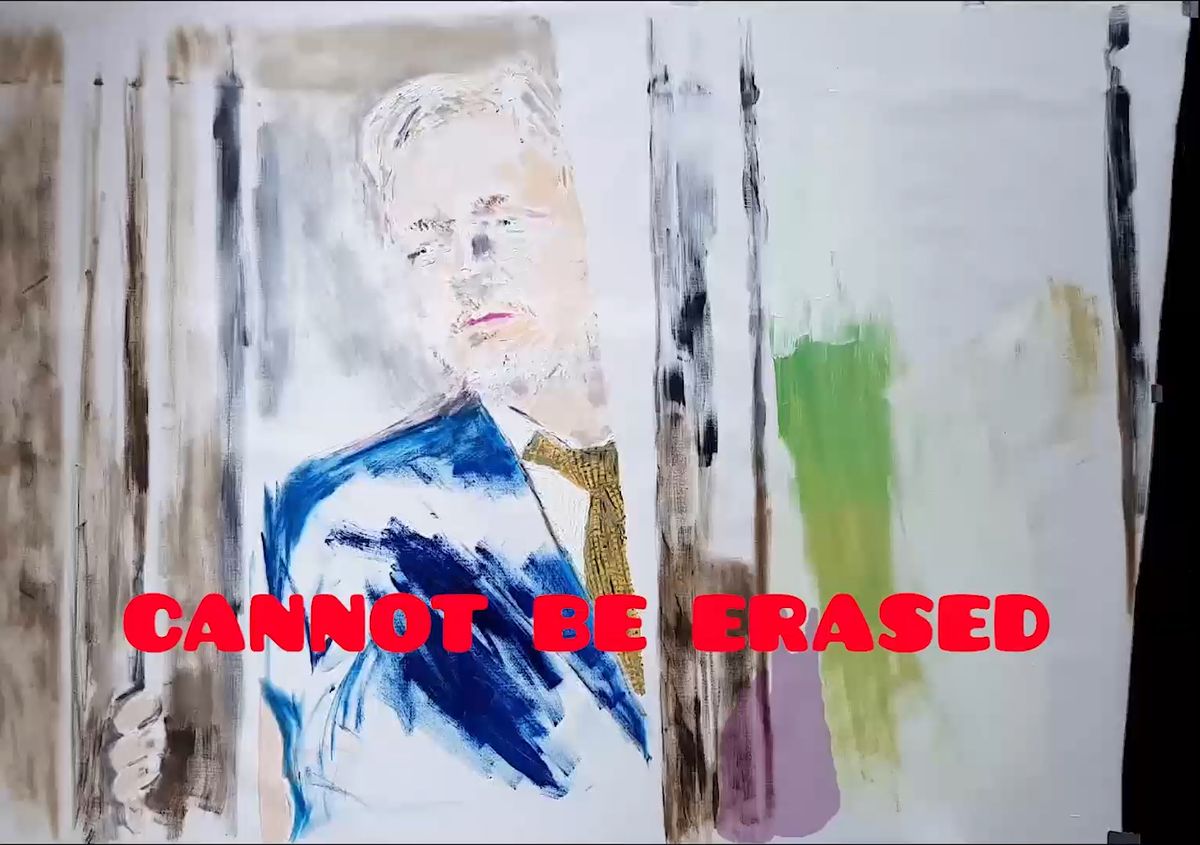 Renowned Greek painter Miltos Manetas has announced his latest collection: a series of NFTs centred on WikiLeaks founder Julian Assange.

The drop, named This Cannot Be Erased, features 111 tokenised portraits of the imprisoned activist whose imminent extradition to the US has been slammed by human rights and free speech advocates around the world.

Manetas, a long-time friend of Assange, previously connected the dissident to anonymous crypto artist Pak, whose NFT collection Censored raised over $54 million to support Assange's legal battle. Over 10,000 backers contributed to the AssangeDAO, making one single-edition NFT from the collection (Clock) the second-most expensive NFT artwork in history.
Long Road to Justice

Part of the 2022 Venice Biennale Festival, Manetas' latest collection will go out in three phases, with each phase featuring 37 NFTs. Artworks will be available on Materia, a blockchain-based platform created by art professionals/collectors and blockchain specialists. Built on its own eco-friendly chain, Materia's architecture is integrated with Ethereum and enables collectors to bridge NFTs to other networks.

While Assange is not directly involved in This Cannot Be Erased, he is aware of the initiative which aims to shine a spotlight on the journalist's protracted legal battle and fight for justice. Last week, UK Home Secretary Priti Patel approved the extradition of Assange to the United States, where he faces espionage charges that carry a maximum prison sentence of 175 years.

Manetas' NFTs have an ephemeral quality, fleetingly displaying the face of Assange, cancelled rapidly before coming back together, never to vanish. The Greek artist's collection is a collaboration with British composer and producer Howie B, who has created a musical theme in different variations to accompany each token in the series. The collection is curated by Paris-based art director Jerome Sans.

As with the Censored collection, proceeds from This Cannot Be Erased will go into a DAO, and each NFT holder will have say in the decision-making of the Internet Pavilion at the Venice Biennale, an annual cultural exhibition organised by the eponymous Biennale Foundation. Thus, members of the Pavilion DAO can ensure funds are invested in projects that support the internet freedom Assange has long championed.
Assange is Internet, Internet is Assange

The seventh edition of the Internet Pavilion, which is the only tech tent at the Biennale, is built around the theme of "AIIA: Assange is Internet Internet is Assange." For each day of the Biennale, Manetas is giving away 222 free oil-on-canvas paintings of the dissident.

Manetas chose to tokenize his Assange portraits to generate more press for the activist, since many mainstream media outlets have discontinued their coverage of the case. Once NFTs are minted onto the blockchain, they are there to stay – hence This Cannot Be Erased.

According to Manetas, he has been fascinated by the behavioural and social shifts associated with the rise of the World Wide Web since the late 1990s, and it was his interest in this changing landscape that first brought him into the orbit of Julian Assange. According to Manetas, silencing Assange is akin to silencing the internet itself.

In 2020, while locked down in Colombia, Manetas began to paint and distribute portraits of Assange as part of the #AssangePower movement. The work was later turned into exhibitions at Rome's Palazzo delle Esposizioni and Belgium's IKOB Museum.

The first mint of This Cannot Be Erased will begin on June 23, with information regarding subsequent drops expected in the coming weeks.