UMAY - the first IDO platform in Central Asia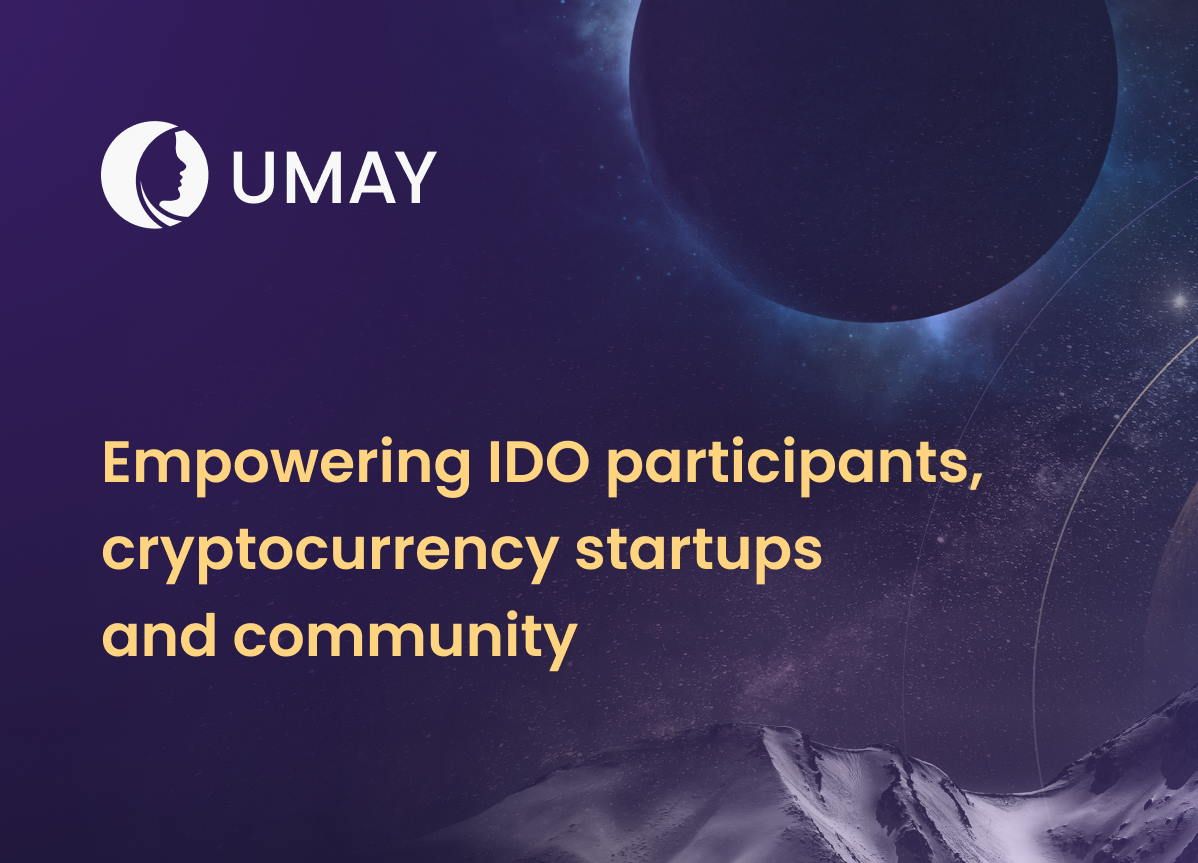 One of the largest problems of modern cryptocurrency and decentralized finance industries is fragmentation. There are a lot of options to create a crypto startup or invest in one, but there is no platform that offers a full range of financial services to both investors and entrepreneurs. In addition, a lot of platforms impose a wide range of restrictions on users and have long lists of requirements for startups that are not always even remotely reasonable. This situation not only ruins users' experience in crypto and DeFi but also hampers the industry as a whole. Fortunately, UMAY finally resolved the issue.

UMAY is a decentralized IDO platform that offers a wide range of services: from IDO Launchpad and Venture Fund to NFT Marketplace and detailed market analytics while protecting users' privacy and making investments easily accessible.
It is quite an ambitious project, especially taking into account that UMAY is the first IDO platform in Central Asia. Let's take a look at it!
UMAY Ecosystem
UMAY is a full-fledged ecosystem that will run on multiple blockchains at once: Ethereum, Binance Smart Chain, Tezos, Polychain, and Cardano will be supported, while other blockchain networks may be added further down the line. A custom-made cross-chain solution will ensure complete interoperability and low-cost, fast transactions for users.
UMAY Token
UMAY token powers the entire ecosystem. It is used for staking and gaining access to DeFi services and for getting passive income from the OTC market. It is also required for participation in IDOs and increasing the user's rank in the system, as well as used for airdrops and discounts in off-chain businesses partnered with UMAY.
UMAY Venture Fund
UMAY Consortium invests in the most promising startups on the market after thorough analysis. At the start, investment funds amounted to $1 million dollars, and the first project that received UMAY's venture capital (10% of 1 million) was the IDOS game project.
As the ecosystem expands, UMAY's community will be able to enter more and more projects at the very early stages. First, the projects on the UMAY Launchpad will be available, but later third-party launchpads will also be integrated.
UMAY Launchpad
UMAY Launchpad is a multichain platform where users can use UMAY tokens to participate in IDOs, invest in promising crypto and DeFi startups, and take advantage of an extremely low threshold for guaranteed allocations.
Projects will be allowed on the Launchpad only after a thorough analysis based on hundreds of criteria. So not only fraudsters will be weeded out, but only projects that have sound business and development plans and show the most promise will gain access to the platform. This way, the risks for investors will be minimized.
Moreover, there will be no need for ordinary users and investors to pass KYC - they can invest and earn interest without risking their privacy. Only startups will have to pass verification in order to prevent fraud.
OTC Marketplace
UMAY Consortium is already a major player in the over-the-counter cryptocurrency market in Central Asia, so the OTC marketplace will be an integral part of the ecosystem from the get-go and will be developed into a full-fledged crypto-exchange further down the line.
NFT Marketplace
UMAY NFT Marketplace will be a multichain solution integrated with multiple blockchains, such as Ethereum, Binance Smart Chain, Tezos, Polychain, and Cardano, offering users access to NFT indices.
UMAY Payment System
UMAY Payment System will simplify financial transactions for both crypto startups and local businesses in the CIS. Moreover, all UMAY partners will enjoy zero transaction fees during the first two years of the system operation.
UMAY Protocol
UMAY Protocol provides the platform's users with DeFi services. Among them are peer-2-peer lending, collateralized lending (including loans with NFT collateral), staking, and issuance of collateralized stablecoins.
Off-chain businesses
Businesses that are part of the UMAY Consortium from the very beginning and those who will partner with UMAY in the future will also be integrated into the ecosystem. For example, Kinopark Theaters (the largest cinema network in Central Asia) and Royal Petrol (a network of over 70 gas stations) are part of UMAY Consortium and will have both the cashback program that will issue UMAY tokens to customers and the ability to receive discounts for UMAY tokens staked. Other businesses will have similar programs implemented once they join the platform.
In conclusion
UMAY is a unique platform that grants promising crypto, and DeFi startups access to capital, allows investors to enter said projects on early stages anonymously, offers a wide range of DeFi, and bridges the gap between blockchain and "real-world" businesses. Basically, it is a "full-spectrum" DeFi platform that will provide access to virtually all DeFi and financial services that are in demand via a single site that will greatly improve user experience and ensure investments in crypto startups will be more accessible and reliable than ever.