WEIcrypto Offers a Frictionless Traditional Banking Experience While Tapping into the Decentralized Structure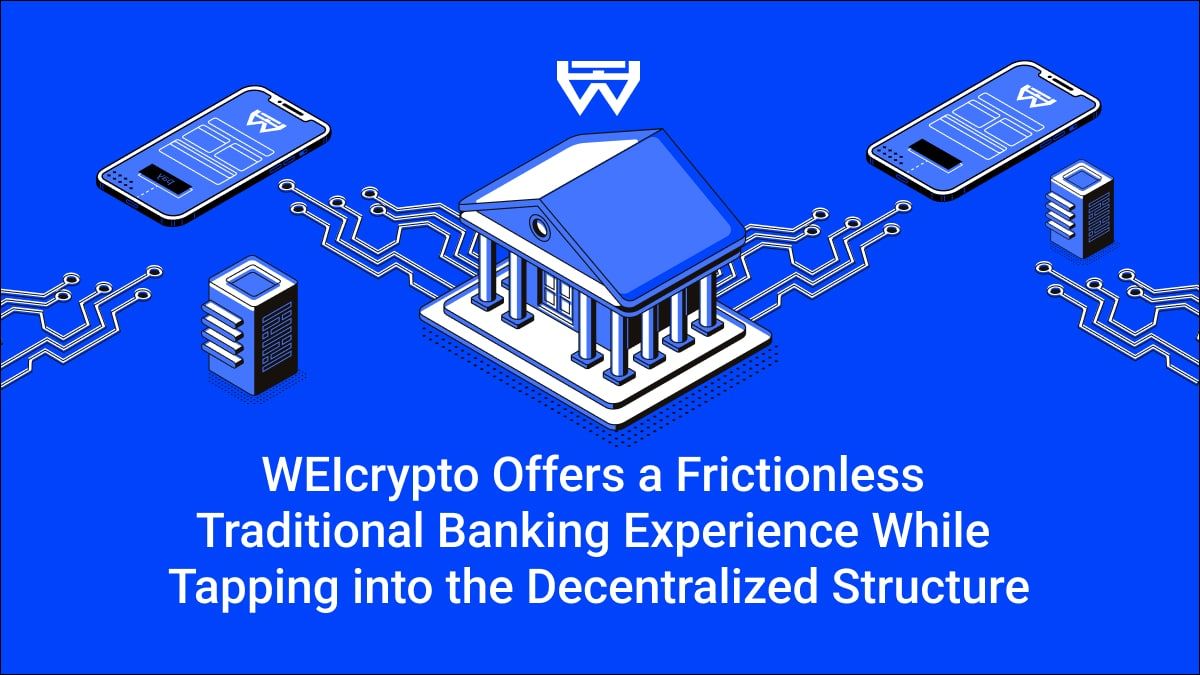 Even with cryptocurrencies and blockchain gaining recognition around the world as a force to be reckoned with, there is still a long way to go before blockchain and decentralization can stamp out the negative views and perceptions.

WEIcrypto is a blockchain-based platform that offers a simplified banking environment that matches its traditional counterparts but keeps decentralization at its core. The result is a financial system that stamps out the negativity clouding DeFi in a manner that is pleasing and easier for people to use.

Combating Perceptions
In a survey conducted by WEIcrypto involving university-level students, the platform asked different questions related to blockchain and cryptocurrencies. Spread across 6 institutions and nearly a thousand respondents, the results shockingly revealed that a majority of people are familiar with cryptocurrency only as an investment asset and believe that cryptocurrencies are not suitable for everyday use. Moreover, some respondents thought that cryptocurrency is a bubble which will eventually lead to its own collapse.

The reality, however, is quite different. Blockchain is a tried and tested technology that offers a much more efficient, secure and faster financial service than traditional banks and institutions. Take cross-border transactions as an example. It can take anywhere from a day to a week for banks to settle the amount. With blockchain, this takes only a few minutes. WEI blockchain takes it up another notch with less than a second required for settlement.

WEIcrypto also makes it cheaper. A single transaction costs less than a cent. If you use a mainstream service like Visa or Mastercard, it can run you over 7% of your transaction easily.

WEIcrypto Services
WEIcrypto uses a simplified experience coupled with its highly efficient network to deliver a powerful ecosystem that enables not only day-to-day usage but also offers some unique services that traditional banks will never be able to.

At the heart of WEIcrypto lies its WEI coin, a simple and better way to spend and earn money. While the coin is easy and cheap to spend, thanks to the faster and more efficient blockchain, the coin also has other offerings. The coin is mined not with heavy computing devices or locking up large amounts of money, but through the WEIback mechanism, which sees both the sender and receiver rewarded with newly minted WEI. This creates an eco-friendly mining method which engages users and incentivises to use WEI as money instead of holding. The WEI network also comes with privacy enabled transactions, thanks to PrivateSend, allowing for both sender and receiver to remain anonymous.

WEIpay is the main offering, payment and cryptocurrency holding system. Similar to your everyday bank account, the web or mobile app enables you to send and receive transactions. Instead of using complex and long wallet addresses, users can send or receive funds using QR codes and a phone number, allowing for ease of transaction. Sending and receiving funds also means users earn WEI, the local crypto assets. So the more you transact, the more you earn.

One more unique offering is the WEIpartner, a loan service by WEIcrypto that is completely interest-free. Using the power of decentralization and risk sharing, the service is open to any individual or firm looking to secure funds for a startup, expansion or just about anything. All it takes is an application but the borrower and presenting complete documentation of the reason for the loan. A 30% of the borrow request is placed as collateral and then the WEI masternode operators vote on the loan proposition. If the proposal is approved, the applicant receives the funding. There is no interest charged on the loan and even the collateral is returned upon returning the borrowed amount. To repay the loan, the borrower just needs to accept WEI as a means of payment

Lowering Barriers
A significant portion of the global population prefers to use mainstream financial systems in their everyday lives. While one may argue that many don't have access to cheaper alternatives, those who even do are not so easily swayed.

The current credit and money system is full of issues such as high-interest rates, slow settlement times, totalitarian control over a client's money and other issues.

WEIcrypto is on a mission to show the real side of cryptocurrencies and DeFi, showcasing that it is a better alternative that gives financial power back to the people. Simple and elegant, the WEI ecosystem has been designed for people from all walks of life.