WhiteBIT Exchange Lists AurusGOLD – New AWG:USD Trading Pair Available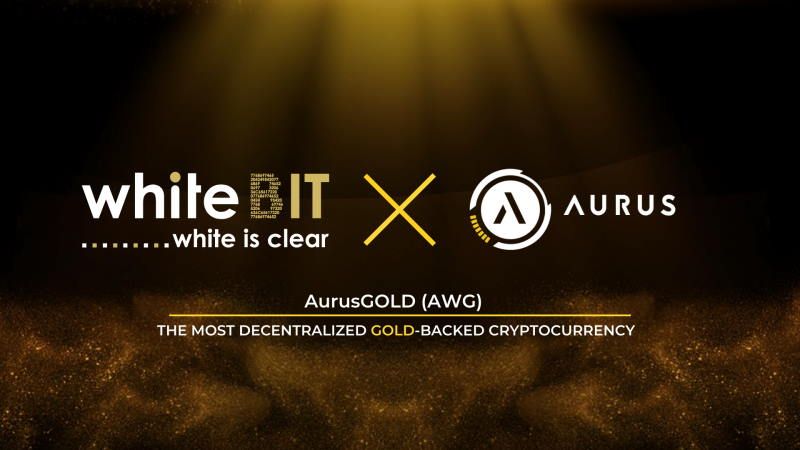 Aurus is an inclusive ecosystem that the entire traditional gold industry can benefit from. The company's open-end protocol enables esteemed gold market players to independently tokenize their own gold-backed token known as AurusGOLD. Each token is backed by and redeemable for one gram of 99.99% LMBA-accredited gold, stored in fully insured and audited vaulting facilities around the world.
The Aurus team, having a strong track record in both the financial and commodity sectors created AurusGOLD with sustainability in mind. Aurus' decentralized approach to tokenization ensures that the company can never "touch" or be able to influence the gold traded or vaulted.
Website: https://aurus.io
White Paper: https://aurus.io/Aurus_Whitepaper_V3.1.pdf
Twitter: https://twitter.com/AurusGold
About WhiteBIT Exchange
Founded in 2018, WhiteBIT is a professional digital asset trading platform that focuses on security, liquidity, and execution speed – attracting beginners and professional traders alike.
Their vision is to build an exchange that will be simple and convenient for crypto-beginners and at the same time provide all the necessary functionality for experienced traders.
As one of the fastest-growing companies in the Cryptocurrency and Fintech space, WhiteBIT provides a unique, trading-focused experience to digital currency and fiat markets. They are strong believers in education and have been actively collaborating and engaging in dialogue with players in the ecosystem.
Website: https://whitebit.com
Telegram: https://t.me/White_Bit
Medium: https://medium.com/whitebit
Exclusive Partnership – Listing Details
In collaboration with WhiteBIT, Aurus is making gold ownership much easier and accessible. AurusGOLD enables users to purchase and trade fractions of a gram of gold at spot price against USD.
AWG deposit & withdrawal will be available on 1st of September at 08:00 (CEST)
AWG/USD trading pair will be available on 1st of September at 12:00 (CEST)
The listing of Aurus' secondary token AurusCOIN (AWX) will proceed on WhiteBIT on October 1st. A revenue-sharing token that derives 70% of the fees generated from the usage of AurusGOLD.
For further information please contact: team@aurus.io or support@whitebit.com.
START TRADING AURUSGOLD ON WHITEBIT NOW - HERE