Why The Launch of Level01 App Makes Me Bullish For The LVX Token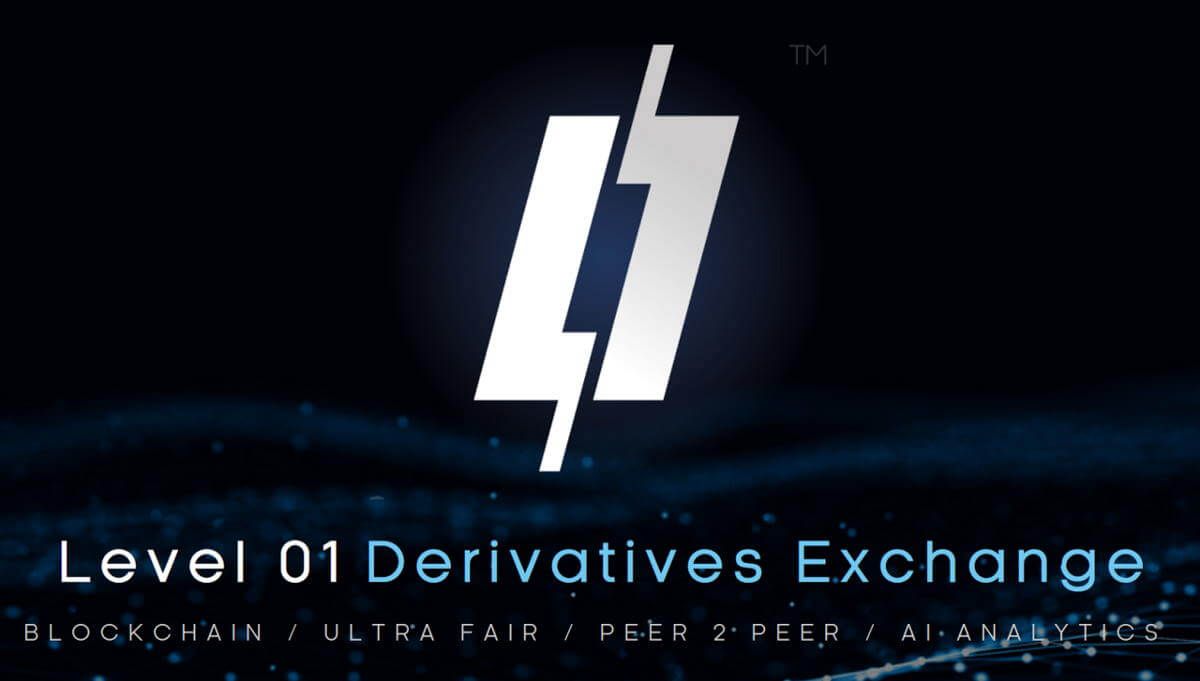 With advances in technology, it is only natural for trading to evolve. And this has been the case. This is an inescapable reality and that is well tabulated in crypto's short history.
From the initial peer-to-peer trading to the emergence of reliable P2P platforms, to establishment of global cryptocurrency exchanges, progress remains positive.
Undoubtedly, exchanges play a vital role. And crypto trading is now solid, a juggernaut and a complex machine that enables the free flow of funds within the crypto ecology allowing participants to invest or trade their favourite digital assets.
Easing Trading by Incorporating Technology
A typical global exchange should be fluid thereby providing liquidity to digital currencies enabling easy and inexpensive transfer of assets from one person to another.
Among the many liquid exchanges, Level01 has taken a different approach by partnering with trusted market leaders as Thomson Reuters for data authenticity and leveraging emerging technologies like the blockchain for transparency and artificial intelligence for risk management.
Truth is, blockchain and crypto are not well understood by many. Still, the market has a lot to offer despite being at infancy after launching slightly over a decade ago.
While experience can be drawn from the traditional Forex and commodities market, the global nature of crypto means it must be easy for the average trader to understand while not compromising on rights.
Level01 is based on the Ethereum platform. It is a decentralized exchange that incorporates artificial intelligence so that their clients can trade profitably over time.
AI is used for fair value pricing and predicting win ratio. According to Level01, it was rigorously tested by 50 experienced traders before integration. Trusted data feeds from Thomson Reuters prevents any form of manipulation. Besides, its interface is easy-to-use and intuitive, even for a newcomer. You can create a trade in just a few clicks.
Jon Loi, the founder, commenting on this feature said:
"Our FairSense AI provides real-time risk vs. reward probabilities for every contract traded in the market, providing users keen insight on the expected movement of the market in the near future. Level01 is currently providing these powerful algorithms to our users for free, however, the utility will be tied to the LVX token in the near future as we add more features."
Level01 potent pairing of FairSense AI and leveraging trusted data from Thomson Reuters are giving traders more benefits than other similar options trading apps. This AI will approximate, in real time, risk-reward rates and thereby helps you to make informed trading decisions.
Why Level01 app will bring LVX prices up further
Level01 recently launched an Android trading app.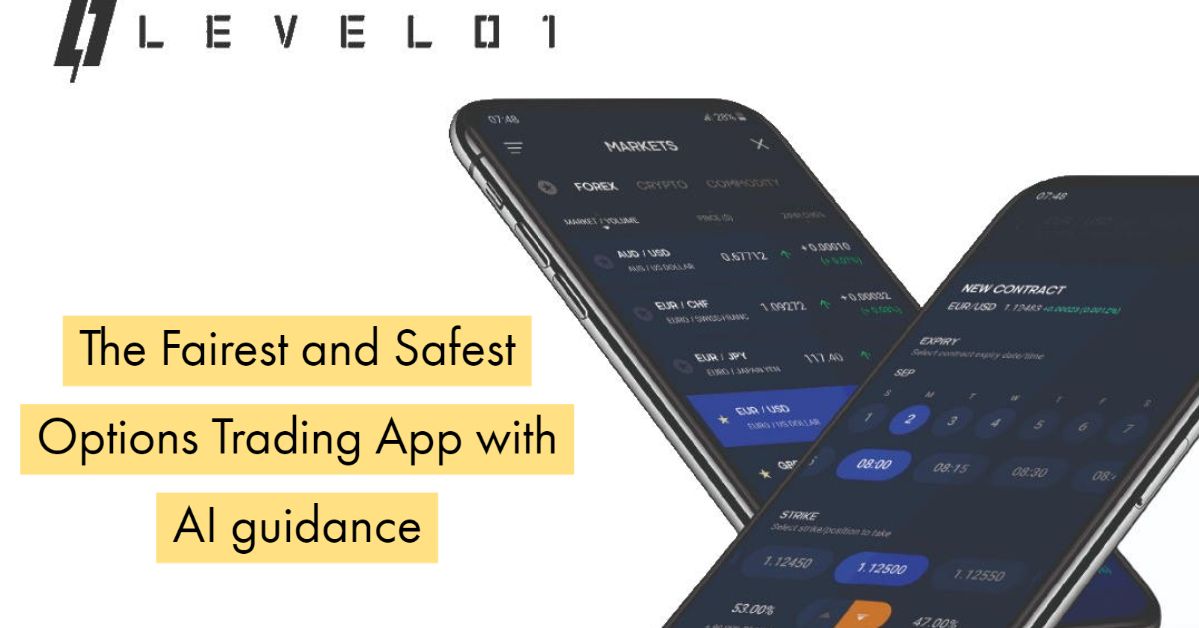 Level01 app launch on Play Store is timely when people from all over the world are reeling from the loss of income and jobs, or quarantined at home. Through Level01, they can trade a variety of assets like Forex, Crypto and Commodity through LVX, the token that powers the Level01 app.
LVX prices, when compared to other crypto assets, have been steady since their listing on DigiFinex. Amid the negative effects of coronavirus which triggered global economic downturns, LVX remains higher and performs as steady as Bitcoin or Ethereum. Behind the innovative technology propelling this DeFi app, LVX is a medium of exchange that can open up the trillion-dollar derivatives market to retail traders like you and me.
We analyzed LVX token and found it trading at new 2020 highs after breaking above Q1 2020 resistance levels, showing over 30% increase upon their app launch on Play Store. This is a good indicator of interest and confidence in what Level01 will bring to the market - an AI-powered app with the potential to open the massive derivatives market to the general public. As a DeFi platform, it is in a sector that is currently enjoying all the spotlights and attention.
LVX is designed to be a utility token acting as a base currency for certain trading pairs. Naturally, the more it is adopted by new users, the higher the demand.
At spot levels, considering the launch of the easy-to-use, AI-powered trading app, it seems like LVX is under-valued and existing demand is not truly representative of Level01's true potential of covering the massive derivatives market.

Already, many top news portals are saying positive things about this innovative company that aims to bring the fairest and safest options trading platform to the financial markets.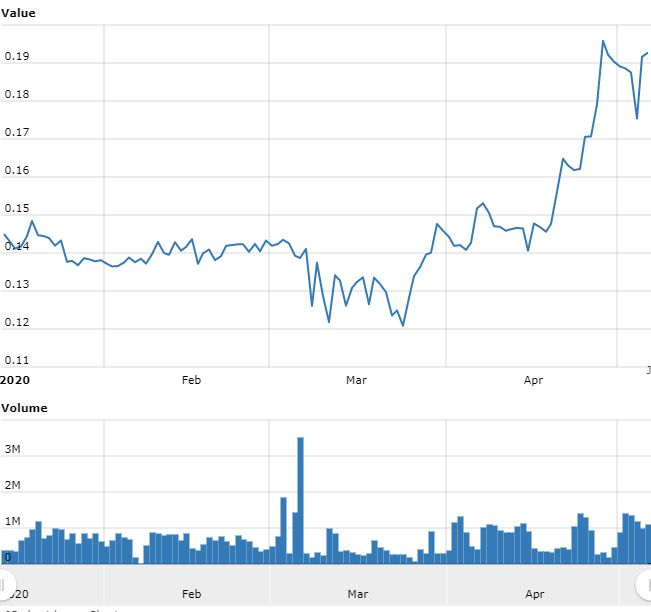 Level01 (LVX) Market Performance
At the time of writing, LVX is trading at a new high after breaking above the consolidation of Q1 2020. It is changing hands at around $0.19 and is up ten percent in the last trading day. Notably, accompanying the breaks above $0.14 or Q1 2020 resistance were high trading volumes. Prices retested support and printed higher in a bull trend continuation pattern. LVX is currently being traded on DigiFinex.