Analysis: MEXC's Debut Crypto Assets Rise in 2022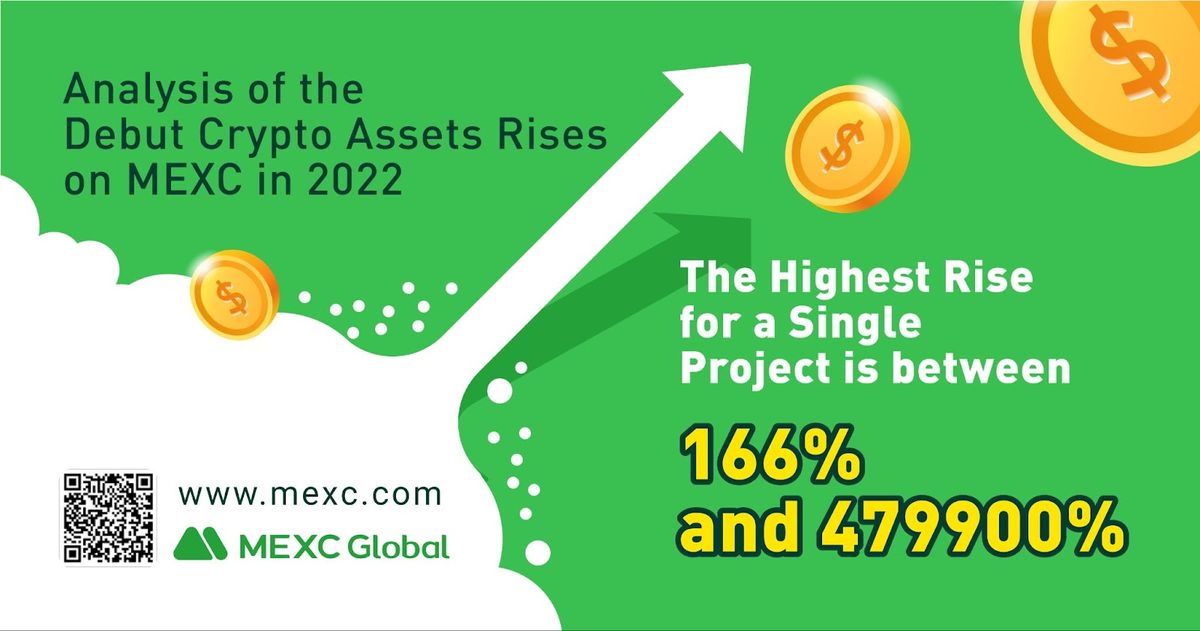 It's no longer news that the crypto market is in a long-term bear market, and the general performance of the industry is significantly lower than in 2021.
At present, BTC is still in a sideways trend. This phase seems to continue until the next bull market or bear market arrives. In fact, the current bullish trend has no apparent signs of breaking through yet because it is similar to previous bear markets and sideways movements (including the current one).
Table: M-Research
For example:
The price action of cryptocurrency markets seems similar to those of major stock indices such as the S&P 500 and the Dow Jones Industrial Average. In other words, when investors feel optimistic about global economic growth prospects and economic data from around the world shows positive signs such as strong employment numbers or declining unemployment rates then they tend to buy stocks instead of cryptocurrencies which lack these favorable conditions at the present time.
In 2021, various tracks including Public Chain, DeFi, NFT, GameFi, Metaverse, Meme, etc., surged across the board. In the secondary market, projects including SHIB, GALA, AXS, SAND, MATIC, LUNA, FTM, SOL, ONE, and MANA all fared well, with the biggest ROI reaching an astounding 16,000% or more. The average return has also surpassed 6600%.
Table: M-Research
However, in the secondary market, a  few famous projects, such as APT (Aptos), OP (Optimism), GLMR (Moonbeam), etc., garnered more and more people's interest. It was also exciting to see that fan tokens formed a distinct and huge track that began to explode ahead of the World Cup.
Nevertheless, several projects in 2022 still have rather good results in the secondary market. For instance, among the top 20 projects with the initial token growth of MEXC, the maximum rise is between 2020% and 479900%, the current increase is between 14% and 60908%, and the average highest increase is 5605%. Among these, GameFi projects have the biggest number, with a total of 7 projects, while NFT projects have 3 projects.
GameFi and NFT Continue to be the Best-Performing Tracks on MEXC this Year

Graph:M-Research
According to M-Research, 25 GameFi projects account for 16% of the total outbreaks, and 29 NFT projects represent 19.3%. Also, even though the DeFi track has fewer breakouts than the NFT and GameFi tracks, it still has 18, or 12% of all outbreaks.
The game category is also one of those categories that are performing well, the X2E category is one of the most popular tracks for 2022 and is tied with the game category in terms of popularity and upward performance
Fan Tokens are Now on a Different Track as the Qatar 2022 World Cup Draws Near.
Note: M-Research previously counted the number of online fan tokens as 17. Now it's 18 plus the recently launched ITA.

According to MEXC, fan tokens have done well, with LAZIO (the S.S. Lazio Fan Token) reaching a maximum gain of almost 814%, SNFT (the Spanish National Football Team Fan Token) reaching a maximum rise of 2075%, and ITA (the Italian Football Federation Fan Token) reaching a maximum rise of 4550%.

Note: 17 online fan tokens were already counted by M-Research. Currently, there are 18 students plus the newly introduced ITA.

As a result, large mainstream exchanges also prefer fan tokens. The platforms with the most online fan tokens include MEXC and Binance. They are divided into the Chiliz, Bitci, and BSC series according to the issuing platform (chain). MEXC has identified 18 fan tokens among them, five of which will be released in 2022.

This year, the secondary market has fewer well-liked new infrastructure projects than it had in 2021. There are just a few initiatives, like OP, APT, GLMR, and EVMO, that concentrate on Layer 2 of Ethereum, the new public chain, and the cross-chain ecosystem.

The Meme projects' overall performance is below that of 2021. Of all the projects that came out in 2022, like SHIT, THE, CAW, and others, only SHIT had a maximum growth of 5,600%.
Conclusion
At its peak in November 2021, total cryptocurrency market capitalization reached close to $3 trillion USD. In January 2022, however, the market cap plummeted 40%, wiping out more than $1.2 trillion USD.
However, as blockchain technologies and cryptocurrencies continue to develop and offer new features, functionality, and capabilities, mainstream adoption looks increasingly likely in the coming years.  

In such a world, the overall demand for cryptocurrencies looks to rise as people add this new asset class to their portfolios and acquire them to power transactions on the blockchain.  With this, total market capitalization for the industry is poised to break records and continue to increase.