Introducing the Bitop Exchange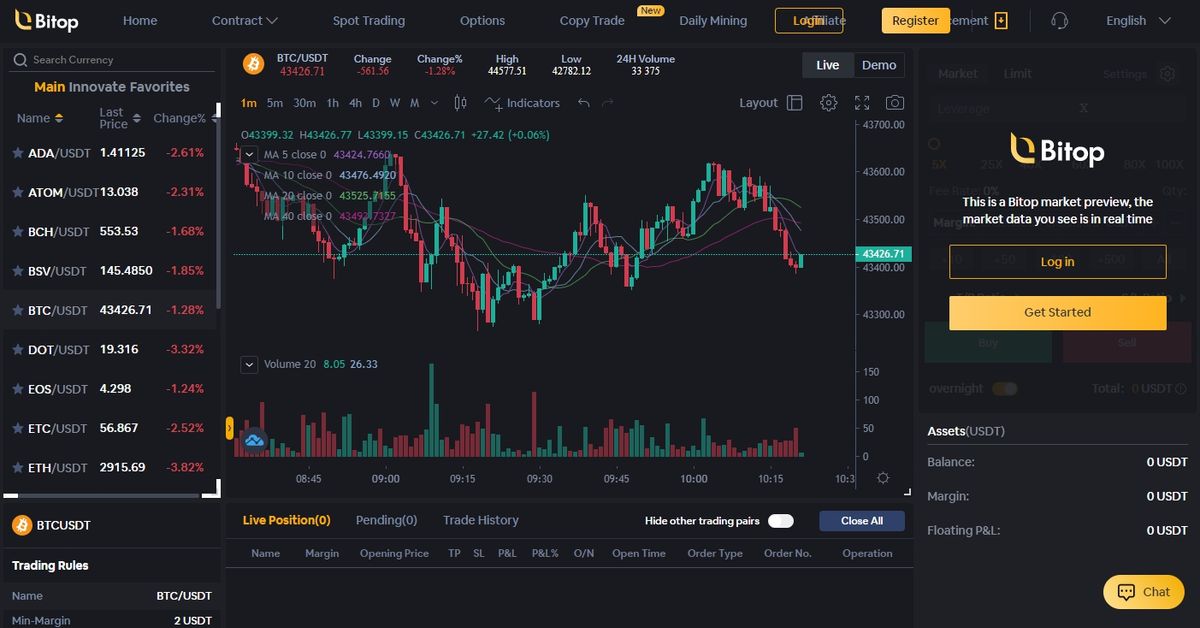 Since the launch of the premier cryptocurrency, Bitcoin, over a decade ago, the value of the digital currency market has risen stupendously to over $1.8 trillion [at the time of writing], as reported by CoinGecko. An unprecedented surge in price from its June 2017 market cap of over $200 billion.
With Google Trends suggesting that cryptocurrency search is at an all-time high [ATH], the crypto industry is presently one of the fastest-growing markets in the world, thanks to the development of a plethora of projects like exchanges that help bridge the gap between traditional financial institutions and the budding digital market economy.
Let's look at the world's leading cryptocurrency CFD exchange, Bitop, that provides its users with an unparalleled 100x leverage for two-way professional and speedy order placements.
Besides providing users coin trading and contracting services, Bitop will utilize the immense power of the nascent crypto trend, decentralized finance [DeFi], digital asset custody, and a variety of businesses to provide customers with an efficient, safe, reliable, and intuitive trading experience, as unequivocally stated by the team.
The BTOP Token
Recognizing the unrivaled benefits of tokenization, Bitop has launched its native token, BTOP.
In a recent press release, the executive team referred to BTOP as the only business value transfer that will circulate on the Bitop Exchange ecosystem.
A utility token, BTOP will offer an array of functionality set-up features, as stated by the press release. One of such facets is offsetting platform transaction fees. On the Bitop exchange platform, all transactions executed, regardless of token traded, will be charged and completed using the platform's native token, BTOP.
BTOP will power the platform's collateralized lending attribute.
BItop, according to its team, will combine DeFi and centralized exchange to institute collateral lending into its ecological construct, offering customers a transparent and sublime experience. Introducing a set of new features, Bitop is working to launch a blockchain-based stable coin mechanism, allowing users to hedge BTOP against looming inflation, mitigating risk.
Reward Mechanism
Sauntering an untrodden path, Bitop will serve as an ideal passive income source to its users, through its native token, BTOP.
As stated by the aforementioned press release, BTOP will act as a reward to users that contribute to the Bitop platform — sharing invitations or referrals, content contributions, social contributions, and sharing contributions. Furthermore, community nodes will be rewarded 20% of Bitop's quarterly transaction fees in the form of BTC, USDT, and ETH.
Surprisingly, users will be rewarded for simply sharing all Bitop-related announcements, website information, and transaction details on various social media platforms. Additionally, content creators will be rewarded each time a new content related to Bitop is devised  
With a total supply of 2 billion BTOP tokens, Bitop strives to cement its place as one of the leading, innovative, and rewarding exchange platforms in the trillion-dollar crypto industry.