PrimeXBT Analyst Kim Chua: Perfect Concoction of Positives Could Power ADA Even Higher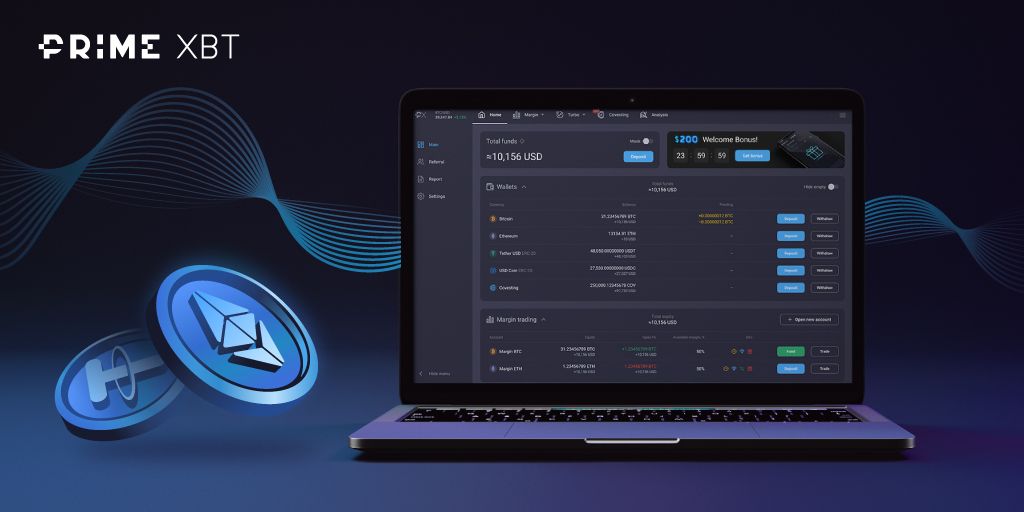 Against a backdrop of hype and excitement, the Cardano team finally delivered on its promise and on Friday night, announced the highly-anticipated launch of its smart contract functionality. This significant upgrade has been earmarked to take place on or around September 12.
The Cardano team has been busy putting up updates recently, showing that much work is being done to ensure a smooth transition. This has greatly excited the Cardano community as well as crypto traders, who have relentlessly been buying the ADA token ever since the team announced on August 6 that the Alonzo Purple, the final stage of testing, was ready to roll.
Following the August 6 announcement, Cardano has begun onboarding users and has kick-started the third and final stage of its Alonzo upgrades which will enable smart contract functionality on the Cardano network. This created a sense of excitement on the ADA token, which saw price explode from $1.40 to above $2.25, a rise of more than 50% in a week.
This then begs the question, is the rally sustainable?
More upside could be in store for the ADA token as indeed, such an important milestone finally coming into fruition, is news for optimism. In the case for ADA, however, there are even more reasons to be bullish.
Excellent Developer Activity Growth
Plenty of projects are already building on the smart contract functionality on testnet. Developer activity has picked up significantly ever since the Alonzo testnet began, with the number of commits for Cardano hitting the top spot on Github for several days since August 6 when Alonzo Purple started onboarding projects. The noteworthy issue here is that the number of commits has been on a steadily rising trend, with August 11 seeing close to 600 commits, up from 545 barely just two days before. This shows that more and more developers are working on or trying to build something on Alonzo, which is a very encouraging start.

The rise in the price of ADA has been backed by strong fundamental factors with increasing developer activity as a show of adoption.
Textbook Bullish Signs on the Technical Charts
The rise in price has also been matched by a healthy increase in trading volume across exchanges - a sign of a sustainable rally. While a sudden abrupt explosion in volume is not a good thing, the steady rise in ADA's volume is a good sign that more investors are piling in with each higher move in price.

With ADA being approved to be listed on Japanese exchanges recently, this opens up the token to a new market of well over 100 million people who previously were unable to buy. Japan is the world's third largest economy and its population has one of the highest crypto acceptance rates in the world.
Furthermore, the small circulating supply of ADA is also one reason why price could continue to skyrocket. Currently, a massive 71% of the total supply of ADA is being staked to secure the network. This is by far the highest percentage of tokens being staked in any crypto project.
This staking amount has risen 11% since early June when the Cardano network first passed the 600,000 addresses milestone. In the lead up to Alonzo's launch, the network now has grown to 749,400 unique addresses as at the time of writing and continues to grow.
An important takeaway we can derive from looking at the staking metrics is that no one is selling his ADA token even after such a big run-up in price over the past week. The Cardano staking program has no-lock up period; a delegate is free to unstake anytime to sell his tokens. The fact that the pool continues to grow despite the phenomenal rise in ADA's price speaks volumes about the long-term commitment from the Cardano community.
This also means that there is not a lot of ADA tokens circulating in the market for buy and sell, compounding any effects of an upward squeeze in price.
All the above factors point towards explosive times ahead for the ADA token, with only the RSI, being in extremely overbought zone currently, as the only obstacle that could slow this train down. Price could meet with some resistance and consolidate as it moves near its ATH of $2.47 made mid-May, which will be a good opportunity for its RSI to cool down a little before the eventual ATH breakout.
However, as we move nearer the Smart Contracts deployment date on Mainnet, a couple of issues could still affect ADA's ability to continue rising. In the unlikely event of complications surrounding the Hard Fork on September 12, price could take a hit.
Also, how the ADA token is to be used in the smart contract applications could throw a spanner in the works for ADA's continued rally, as it is still not widely known if and how the ADA token will be used to run applications on top of the Cardano network.
In the meantime, however, until user-reports start coming in after Cardano smart contracts goes live, hype could continue to send ADA higher after its RSI, which is at a ridiculous 97, cools off a little.
Even though the Hard Fork is still almost a month away, traders need not worry about the hype dissipating as the Cardano Foundation has plenty of activities lined up to keep the excitement going.
Plenty of Marketing to Drive Awareness
To commemorate moving onto the Smart Contracts Era, Cardano has a summit lined-up. Named the Cardano Summit 2021, it will be held online on September 25 – 26, about two weeks after the Hard Fork. The event boasts being Earth-wide, taking place over 7 continents, with a Cardano Hub in each continent, having 20 community-led events, and is expected to have a turnout of at least 50,000 people.
The marketing efforts by the team to celebrate the event is intense, with lots of twitter updates to hype up the event, including opening up invitations for community members to organise local meetups in their respective home countries to be part of the summit. It appears as though a carnival is in store, which could bring greater awareness to people who do not already know about the token or its update. This could potentially bring in another set of new buyers.
Riding on a bullish market, with an important update, a good adoption story, an intense demand-supply imbalance, and a series of marketing events, the time seems ripe for ADA to finally take off.
About Kim Chua, PrimeXBT Market Analyst:
Kim Chua is an institutional trading specialist with a track record of success that extends across leading banks including Deutsche Bank, China Merchants Bank, and more. Chua later launched a hedge fund that consistently achieved triple-digit returns for seven years. Chua is also an educator at heart who developed her own proprietary trading curriculum to pass her knowledge down to a new generation of analysts. Kim Chua actively follows both traditional and cryptocurrency markets closely and is eager to find future investment and trading opportunities as the two vastly different asset classes begin to converge.